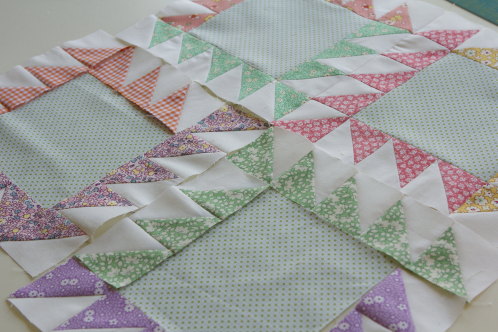 I thought I'd share some of the blocks I worked on last week during the nervous wait while my Dad was in surgery.
It's a sort of a "Lady of the Lake" inspired block… though I'm still toying with the layout.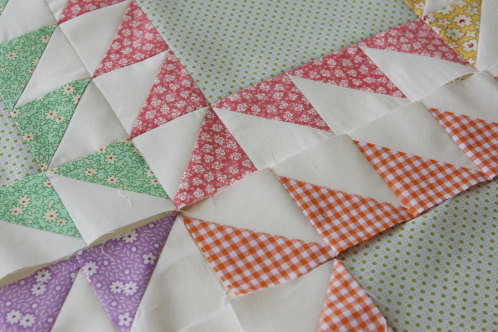 I really like the pinwheels that are made at the joining of some of the blocks.
I also think I like the combination of cheerful 30′s prints with the quiet blue-gray center of the block.  The centers are Noteworthy Blue Mist from the new Sweetwater  by Moda.  I'm still trying to decided if I really love it.
I got a lot done last week since my Dad's surgery ended up lasting a few hours longer than expected.  He had a complication when the doctor discovered that the MCL in my Dad's right knee was in shreds, thanks to a fall on the bleachers just a week and a half before the surgery.  The doctor was surprised that my Dad had been able to get up and walk away from such a terrible injury.
But we always knew my Dad is a tough guy.
So he got a three for one surgery – two knee replacements and a rebuild on his MCL.
… Depending if I love how this quilt comes together, I'm planning on it for my girl's bedroom.  Then I might name it something nicer than Nervous Nelly.

4 Responses to "Nervous Nelly Blocks"