The missing sock phenomenon…  it is such a mystery.
I can understand the kid's missing socks.  The are known to clean by shoving things under the bed, in the closet, or pretty much anywhere but the laundry hamper.
But when my husband and I loose a single sock…  that's were the mystery gets interesting.  We have a hamper… and we use it. It might just be worthy of Mr. Holmes or Miss Marple or at the very least Miss Drew.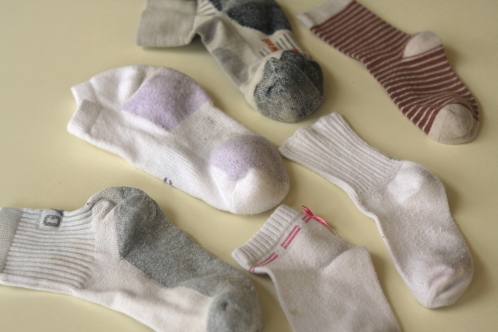 A small pile of single socks haunts my laundry room.  They move from the counter to the laundry basket and back again.  They just hang around, in the way, hoping their mate will turn up.  They don't belong anywhere.
Until now: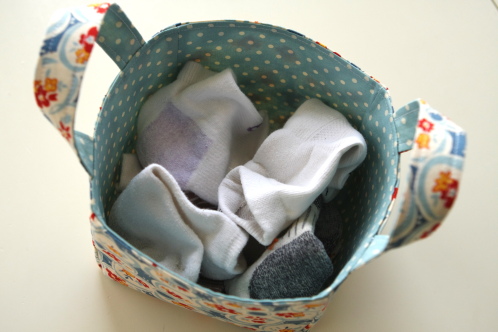 As part of my laundry organization efforts, I got out the sewing machine to solve the problem.  OK, so maybe I didn't solve the mystery.  If I had, I might have been in the running for a Nobel prize.  But I did sew a wonderful fabric basket….
Now all my lonely single socks will have a place to wait until their mate shows up.  Hopefully.
I used this very handy tutorial found at the Sometimes Crafter to make my basket.
For a little more functionality, I added easy handles.
The fabric is from American Jane called Punctuation Ditto Daisies Blue.  It works perfectly with the one bit of art I have in my laundry room,  a WWII poster of Rosie the Riveter.  It also looks great with my navy blue washer and dryer.
My new little basket works so well for socks, I'm planning on making a smaller one today as a place to put all the doodads I retrieve out of pockets, such as lip gloss, crayons, and coins.  I turn up all sorts of treasures on a daily basis.  I'm just happy whenever those items don't turn up in the dryer…  crayons and lip gloss especially.
Now for a few ideas of what to do with the single socks if their mates don't turn up.
Roll them up and have an indoor "snowball" fight.
Slip one on your hand and use it to dust the blinds.
Make a sock puppet.
Tie a knot in the center of an old sock and give it to your dog as a toy… my dog loves his.


50 Responses to "In Search of a Mate"