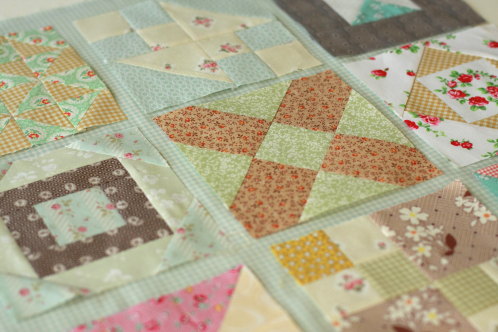 I have a little problem.
I'm having way too much fun making Farmer's Wife blocks…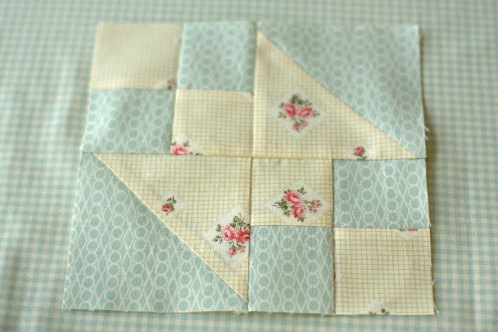 I love playing with the pretty fabrics.   This is block 61 – Northern Lights.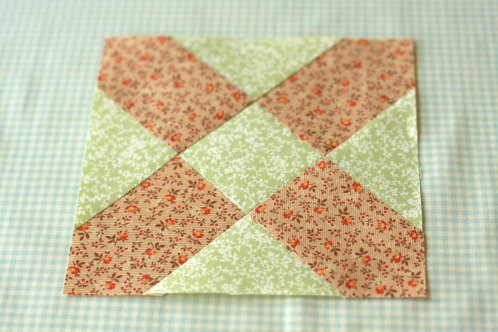 I've loved picking fabrics that match the name of the block.  For block 77- Seasons, I chose the orange and light brown for Autumn and the light green for Spring.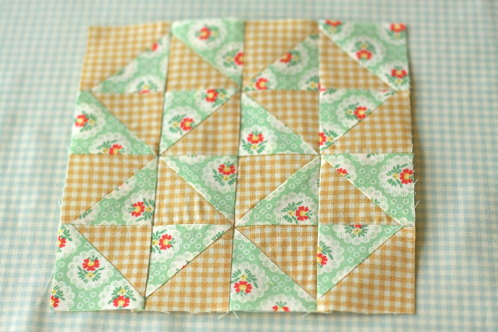 Block 11- Broken Dishes- This Lecien Old New Green makes me think of old tea cups.  This block is the most complicated I've made so far – 32 pieces of fabric in the 6 inch block.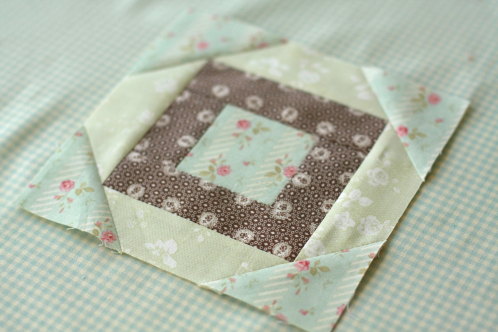 Block 54 – Kitchen Woodbox.  Just like in the book, I've made my "box" in brown.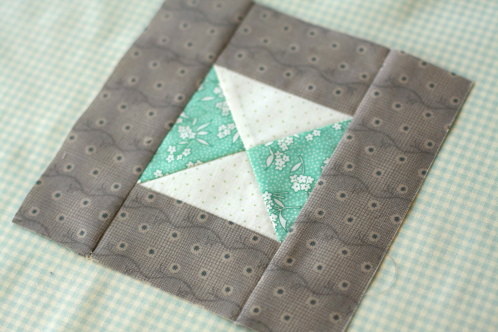 This is Block 109 – Windows.  I liked the idea of a dark "walls" and cheerful green out the window.  But this is a block I'm not sure about.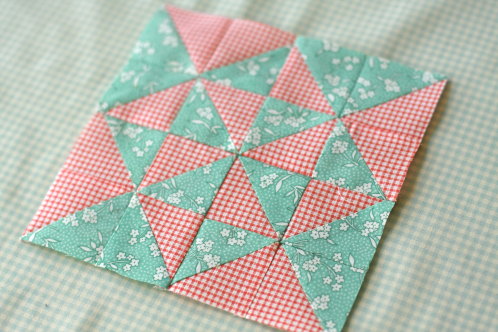 The other block I'm not sure about is this one.  It might just be too bright.  But maybe when it's all laid out, it'll be a nice zinger.  If it turns out to be too garish in the quilt, I may try tea-dying it or just make a new block.   When's it's not with the other blocks, I love the fabrics.  This is #64 – Peace and Plenty-   love, love, love the name of this block.
So far I've made all my blocks without printing a single template from the CD.  I'm pretty sure the templates will lead me to swearing, so I'm happy to get along as far as I can without them.
I've been over-sizing the parts of my blocks and cutting them down.  This is a trick my mom taught me to help with accuracy.  If I'm making a half square triangle unit with a finished size of 1-1/2 inches, for instance, I start by cutting my fabric squares 2-1/2 inches.  That gives me just a little extra fabric (about an 1/8 inch) to cut it down to a perfectly sized unit.

5 Responses to "I have a little problem…"