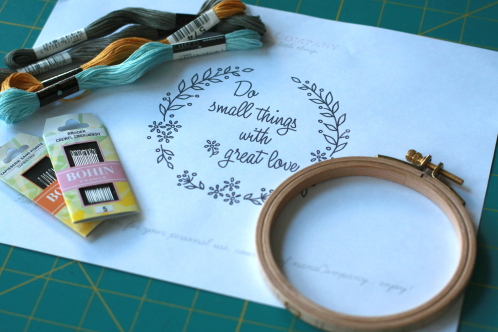 I'm not really in the habit of buying myself Mother's Day gifts.  My husband is one of the best gift givers I know, so I don't have to compensate by buying my own.  He gives me gifts that I really love… like well-made garden gloves, a perfect soup ladle, a tubtrug or a bird's nest necklace.  Other than the necklace, a lot of women would not like the gifts he's given me over the years, but he knows me well and knows I'd rather have a perfect soup ladle than a bouquet of cut roses any day of the week.
But a few weeks ago, I splurged on myself just a little.  I ordered a new embroidery hoop and needles from one of my favorite bloggers, Alicia from Posie gets Cozy.  I've only ever had a super cheap hoop, so I couldn't wait to open my package when it arrived.  The new hoop is truly well-made and lovely.  It was $6.50 and should last me forever, so I don't feel too guilty.
I splurged too when I was at a Material Girls Quilts a few months ago and bought some Cosmo embroidery floss.  I gasped a bit at the price, but when Shelby at the shop told me that it isn't as inclined to knot and it stitches smooth as butter…. well they had me at knot.  And the colors… swoon.
I found the perfect project to try out my new tools yesterday when I dropped by NanaCompany.  Amy has created a new free embroidery pattern that she stitched in the center of a Dresden Plate.  The quote from Mother Teresa is one that I love.
I just wish I could play hooky again this morning and get started, but too many things are pressing in… At least I have a carrot in front of me today to finish my work quickly.  If all goes well maybe I can have a quiet moment on the porch swing later today.
"We cannot do great things,
but we can do small things with great love."

~ Mother Teresa
3 Responses to "Early Mother's Day"