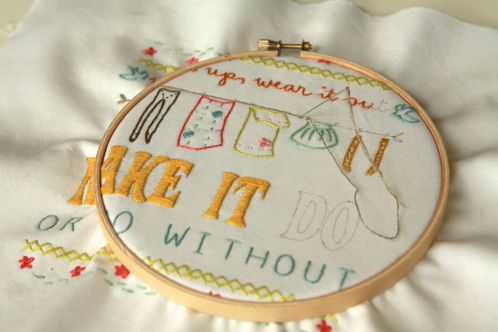 No matter how I try or how late I stay up, I usually wake up bright and early- with the sun.
This summer I decided I didn't want to get up and try to be productive.
Instead, I head out to the porch swing to stitch in the quiet of the morning.  The birds sing.  It's cool and quiet.  Much better than doing something I have to do.
I've been working on and am almost done with my "Make it Do" embroidery project from Sarah Jane.  When it's done, I might shed tears, I've loved every dear stitch.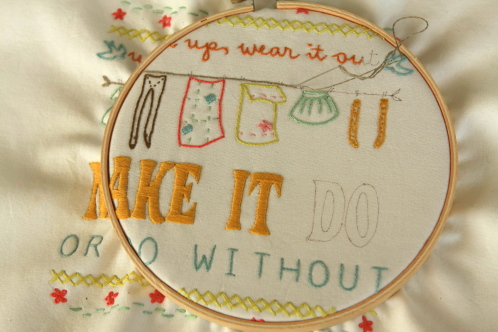 I've changed the colors from the pattern to fit with my kitchen.  The colors make me happy.  Color can do that to me.  When I'm done I'll be looking for a wonderful way to frame it and hang it in my kitchen.
The other thing that makes me happy: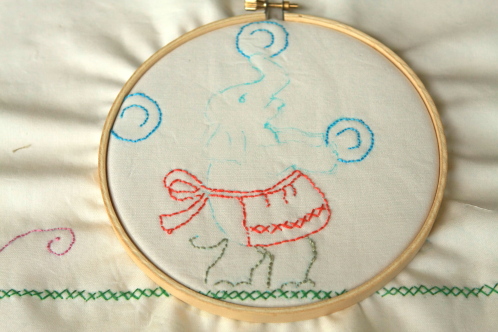 My girls are early risers too.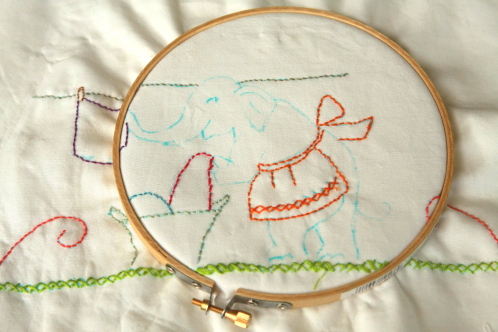 They love to wake up early and come out on the swing with me.  We all sit and swing and talk and stitch.  I've become an expert knot detangler… but for some reason a knot on porch swing just doesn't have the power to aggravate like a knot anywhere else might.  They are working on "Cleaning Elephants" a free pattern courtesy of doe-c-doe, a site brimming with lovely free embroidery patterns.
It is such a simple thing… a time that is otherwise lost in sleep or mundane routine… that has become a balm to my soul.  I carry the peace and tranquility I get from that brief time out on the swing with my girls like a talisman long into my day.
Next project I would love to work on… if I can piece it together quickly…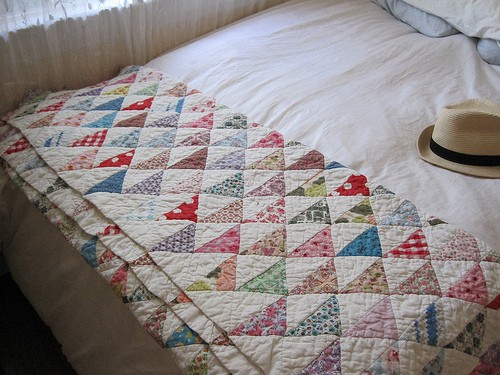 I'm going to make this for my family room sofa.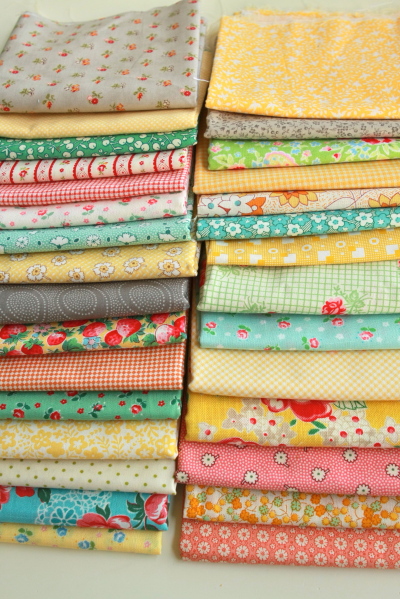 This is the stack of fabrics I've been collecting for the quilt.  Most of them out of my stash or my mom's. (Thanks for buying so much Old New, Mom… I'm sure you had your daughter, aka the Fabric Thief, in mind when you bought it.)
I've been thinking that I would hand quilt it… because having it machined is so pickin' expensive… and because it might keep me happy on my porch swing all the nice days into the fall.

14 Responses to "Early Morning Projects"