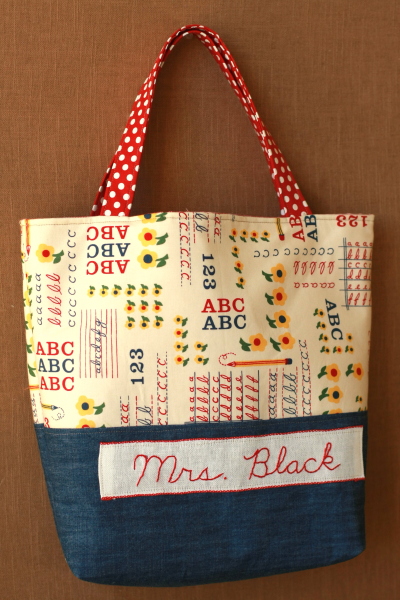 It's the last day of school.  The kids just ran out the door.
The last thing Ben said as he was running out was, "I'm so bummed 5th grade is over."
It's been a great year for him.  He's had great kids in his class and a great teacher.
She is Native American, a Lakota Sioux from South Dakota.  She grew up on a reservation, left home to attend college at Stanford… and somehow ended up at our little school here in Utah.  She is very smart, very interesting, and Ben has loved her.
My girls have also loved school this year.  Their teacher is so nurturing and sweet.  They also love the kids in their class.  "There are only a few crazy boys and the rest of the class is awesome."  It's always hard for good things to come to an end.
Just in time, 2:00 am to be exact, I finished book bags as thank you gifts for their wonderful teachers.  Nothing like leaving things to the last.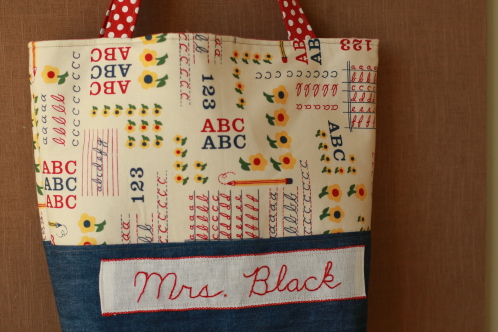 Right before bedtime last night, Lily and Emma finished embroidering their teacher's name on really cool ribbon I found at Just Sew in Highland.  I was also lucky enough to find Sandy Klop's new line there too.  Yay Amy!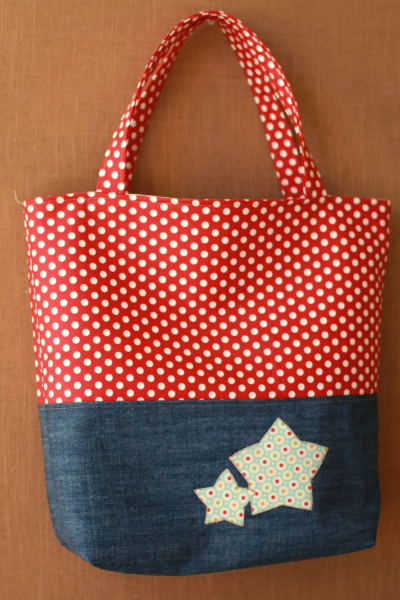 For Ben's teacher, I machine appliqued two little stars to her bag in honor of her granddaughter whose Sioux name means star.  Since her granddaughter is a kindergarten student at our school, Ben's whole class loves her.
I used my very easy pattern, A Bag for All Reasons… and it's a good thing it's fast and easy, since I didn't get started until late last night.  If you are interested, the pattern is found here.

5 Responses to "Book Bags for Teachers"