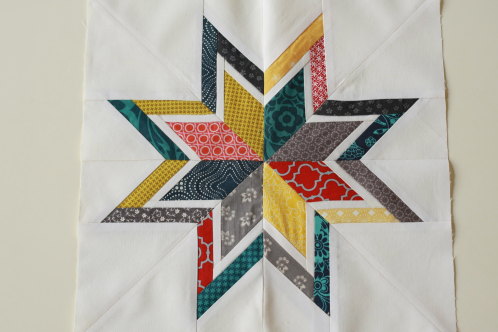 I'm still playing catchup for my Bee's Knees Quilting Bee Blocks.
This is the October block for April. It was paper piecing and I've found something out about myself:  Paper piecing goes against my nature.  I'm just too "waste not" to be very good at it.  I even called my friend Amy to talk about the block, and she said the biggest hurdle for paper piecing is to get over wasting fabric… give yourself plenty of extra.
But I must be stubborn, because I kept trying to get away with pieces too small.  I must admit, that despite my frustration, I love this block.  It's very pretty.
I'm 100% sure I'll never make a whole quilt from it, but I'm very happy I had the chance to make one block.  It was a good challenge for me.  If you'd like to try your hand at paper piecing, this block pattern can be found here.  And I used this paper piecing tutorial here.
Now I just need to whip up November's block and I'll be all caught up.  With any luck, I may even finish it today…. in November.  Wouldn't that be novel?
3 Responses to "Bee's Knees Lone Starburst Block"