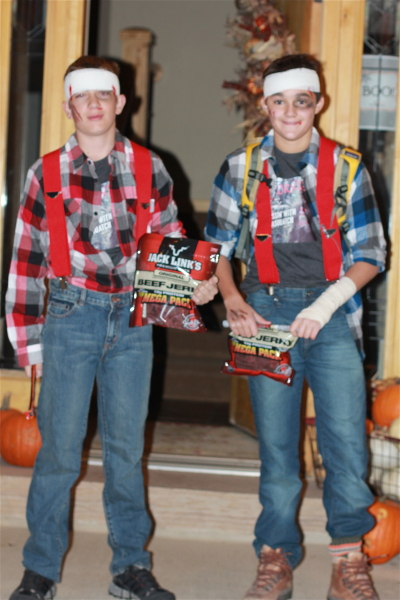 I have just a quick post today to share our costumes.  But before I get started, if you haven't already, be sure to leave a comment for the Hungry Jack giveaway— $175 Visa gift card plus Breakfast Celebration kit is such an awesome giveaway!
Our costumes this year are Make it Do, but still turned out fun.
Ben is a guy that survived "Messin' with Sasquatch."  Ben and I came up with the idea.  A good buddy of Ben's dressed up too and his mom helped us pull all the ingredients together… like the plaid shirts, suspenders, and fake blood.   We made tee-shirt using Avery printable transfers… they read, "I Survived Messin with Sasquatch"  The picture is terrible, but you get the idea… they have to be to school before the sun rises!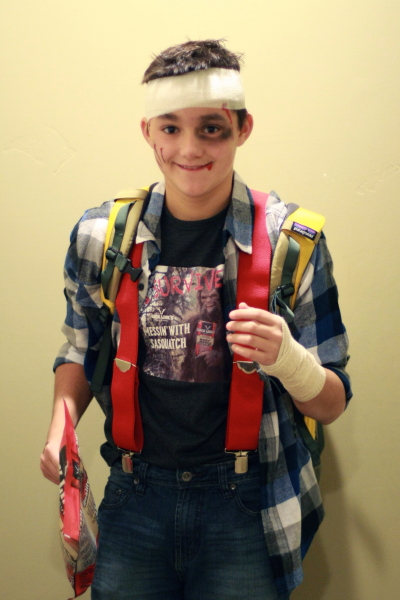 He looks sooo grown up, I want to cry.  Gone are the days of Robin Hood, Knights, and Ranger's Apprentices.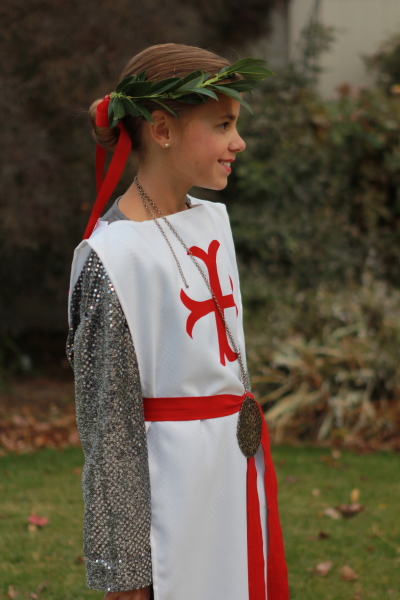 Lily and Emma's school requires them to dress up as a historical character that they study in class.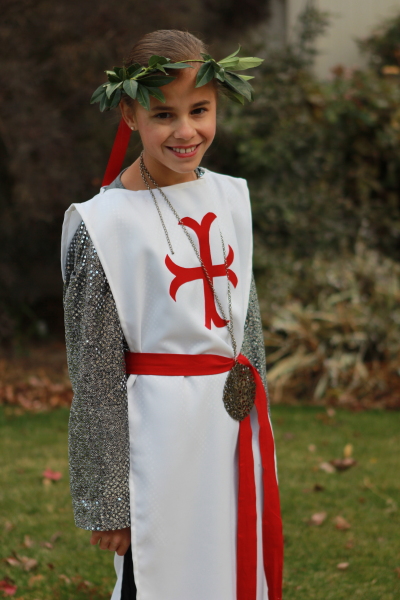 Lily is Joan of Arc.  Luckily we were able to use Ben's old knight costume, that I made several years ago.  I made the laurel wreath from leaves from my neighbor's yard.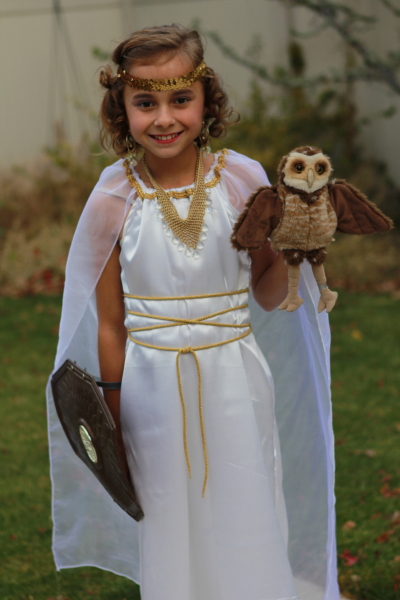 Emma's costume was the only real sewing I had to do this year.  She is Athena.  The dress was modified and improvised from a pattern we had.  I used the cheapest fabrics I could find and the whole costume ended up less than $10, most of that for the trim.
Wishing you all a very spooky day!  Wish me luck in scoring some Butterfingers.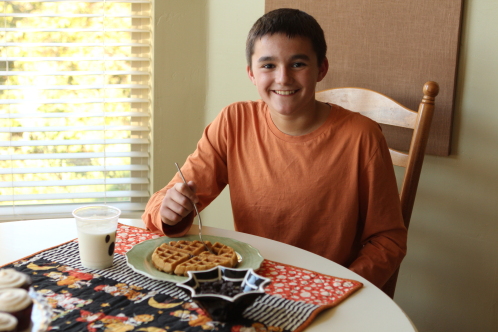 I am SO excited about this awesome giveaway sponsored by Hungry Jack™ and I think you'll be excited too!  It's a Breakfast Celebration Kit that includes yummy Hungry Jack products and $175 Visa gift card!
But first I want to talk a little about family traditions.  I'm a believer that having traditions is an important part of a strong family.
Traditions bring a rhythm to life.  Traditions make it easier to spend time together and are a powerful tie that holds a family together.
On most weekends my family takes the time to make and enjoy a really good breakfast together.  Around holidays, it's fun to give breakfast a holiday flair.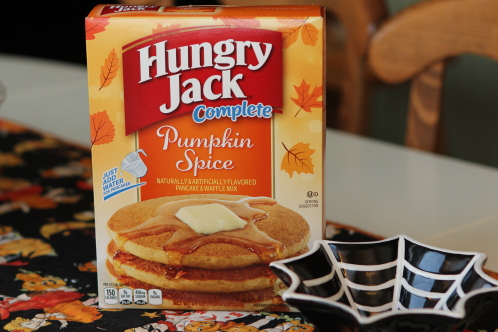 We've been so impressed with the flavors of the Hungry Jack seasonal mixes.  The Pumpkin Spice Mix was no exception.  You can just add water for pancakes, and with a few more ingredients you can make a yummy waffle recipe too.
With Halloween coming up, Pumpkin waffles were the perfect way to celebrate.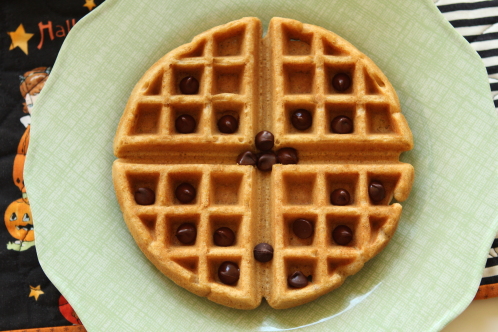 Because I'm a good mom, and it was the weekend, I let the kids put a few chocolate chips on their waffles.  Before long they were making the chocolate chips into a jack-o-lantern face…. Can you see it?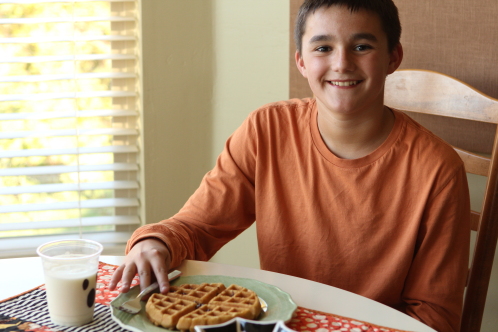 We even made ghost milk… just a sharpie on a plastic cup.
Here are a few tips for making and celebrating weekend breakfast traditions:
Develop traditions that are fun, but don't overdo.  The best traditions feel natural… and are not a burden.  You don't need to be cooking for hours in the kitchen or going overboard decorating the table… keep it more about the time you spend together.
This may seem obvious, but create traditions that you want your children to remember.  As I think back on my own childhood, the traditions I remember most have a warmth to them.  They are of times together that were uncomplicated and happy.  I want to create the same spirit with our family traditions.  A long, relaxed breakfast together is the perfect way to create those kinds of memories.
Involve your family.  Take turns choosing your favorite meal… and have your kids help cook.  The actual meal might be forgotten, but I cherish my memories of cooking with my kids when they were little.
Today's totally awesome giveaway is a "Weekend Breakfast Celebration" kit complete with new Hungry Jack products and a $175 Visa Gift Card!!!
To enter, simply leave a comment answering this question:
What is your favorite breakfast celebration?
The Rules:
Contest closes on Saturday, November 2, 2013 at 10:00 pm MDT
Only one comment per person please.
Random winner will be announced on Monday, November 4
Thank you to Hungry Jack for sponsoring this awesome giveaway!   Be sure like Hungry Jack on Facebook where you can find recipes, promotions, and more.  You can find more recipes and promotions on the Hungry Jack website.
- – – – – – – – – – – – – – – – – – – – – – – – – – – – – – – – – – – -
This is a sponsored post written by me on behalf of Hungry Jack.  All opinions and ideas are my own.