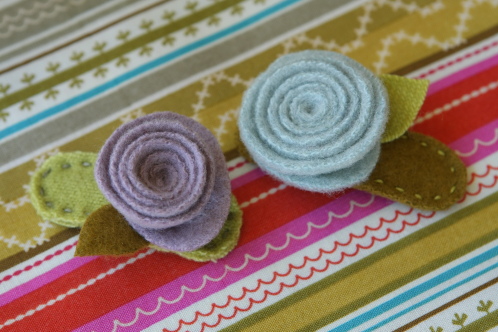 Holy cow, it's almost time for my kids to head back to school… and that means one thing:
My project list is very long.
Since I might be the most hairdo challenged person on the planet (my girls can only dream of french braids), the only hope my girls have of looking cute is hair accessories.
Last spring I saw a darling headband made by Amy on Diary of a Quilter.  The rose tutorial had come from Betz White.  That little project has stuck in my mind all these months, and last night I made a few hair clips out of the roses.
I loved making these clips.  The roses are easy and so very pretty.  And any chance to use my scraps of wool is a happy day.
Here's how to make these sweet little clips:
You are going to need:
scraps of wool (I've found that wool with a tighter weave works best… thicker, tight weave wool especially works best for the roses.)
craft glue (I used Tacky Glue)
generic hair clips
embroidery thread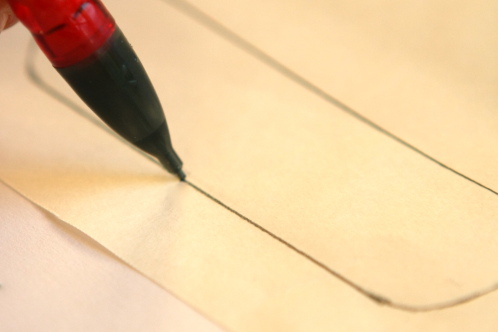 Measure a rectangle with rounded ends that fits your hair clip in the center, leaving room for stitching all the way around.  My hair clips are 5 cm long by 1.5 cm wide, so my rectangle was 6.25 cm x 2 cm.  It's best to err on the larger side, as you can always cut down the wool after you've stitched it.
Trace your template on the paper side of freezer paper.  (I love freezer paper for wool!)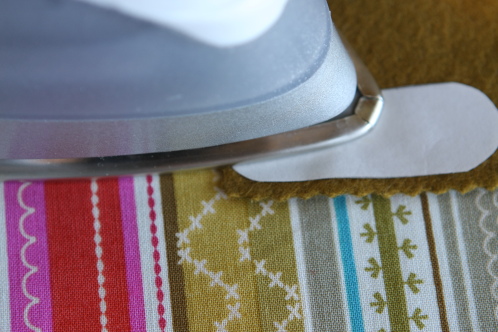 Cut out your template and place it on your wool, waxy side down.  Press with a warm iron until the template sticks to the wool.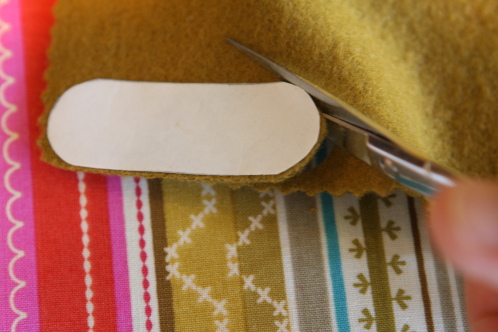 Carefully cut around the template.  Peel the template off… it magically leaves no trace.
Using the same template, repeat the process of pressing it onto the wool and cutting around.
(You can use the same template multiple times… until it runs out of stick.)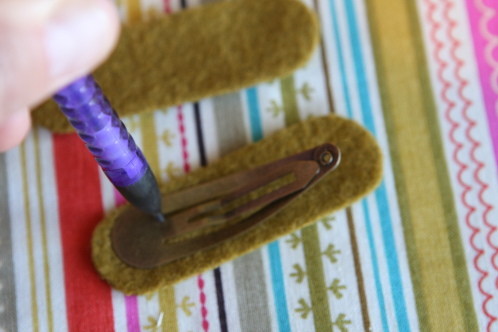 Lay your hair clip on the piece of wool and center it.  With a pencil, or marking pen, mark where the back of clip joins the front.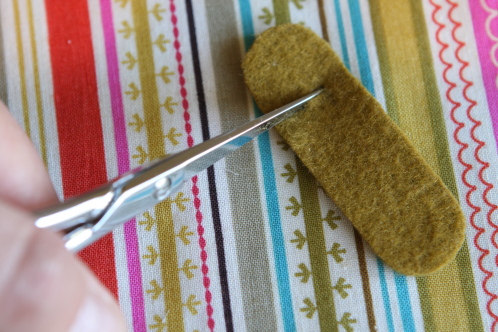 Clip a small opening at that mark…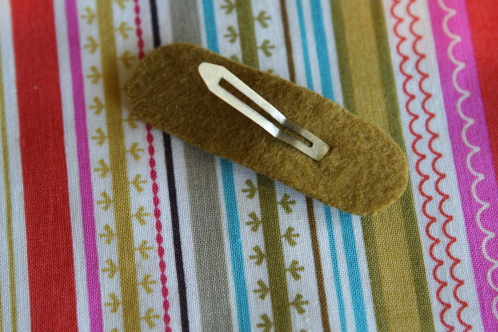 Just wide enough to slip your clip back through.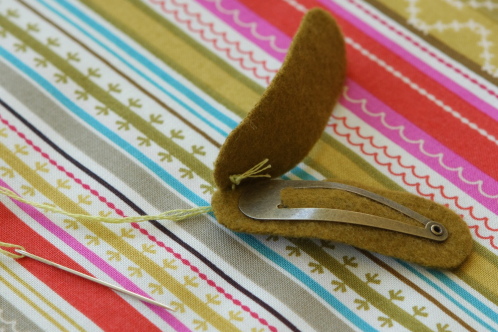 Making your knot in the center, between your pieces of wool, stitch together the front and the back around your hair clip.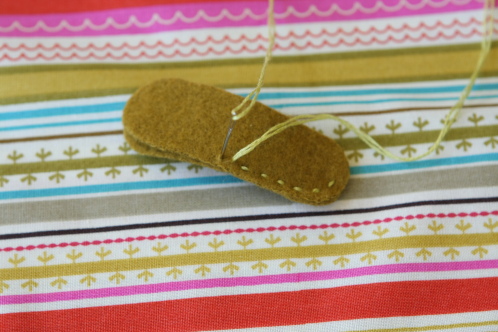 I used an easy running stitch.  I've used two strands of embroidery thread, and because I'm lazy, I've doubled it by tying the two ends of my thread together.  It looks better to have all that thickness of thread.  Once around, tie a knot and push your needle into the center of the clip and pull it through.  Clip the thread so it disappears into the center.  This will hide your knot.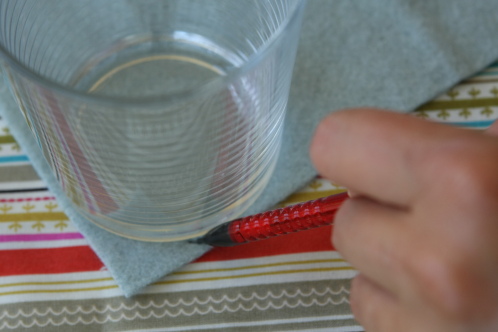 Now it's time to make the rose. I used a 3 inch wide cup bottom to trace my circle…. use what you have…
Cut out the circle.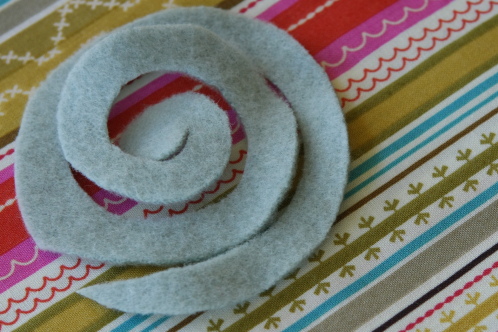 Following Betz White's tutorial, I cut my circle in a spiral, about 1/2 wide.
Starting from the outside point, roll until you reach the center circle.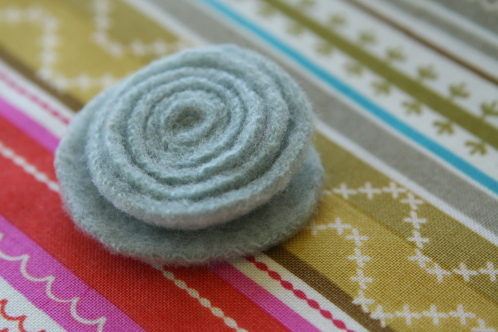 It should look like this.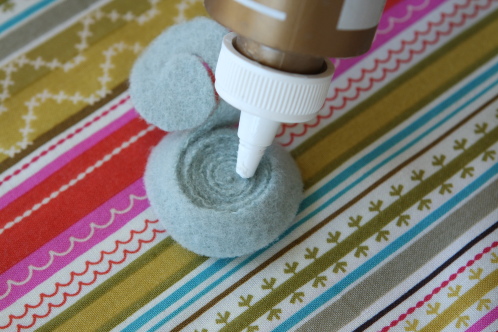 Using a bit of craft glue, glue the back circle into place.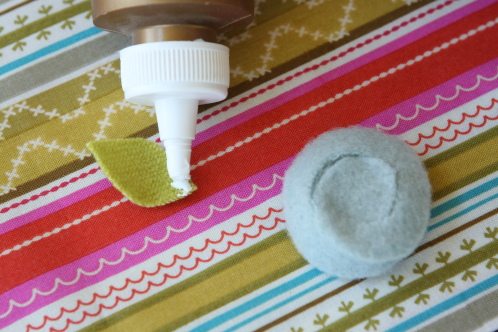 I added a small leaf.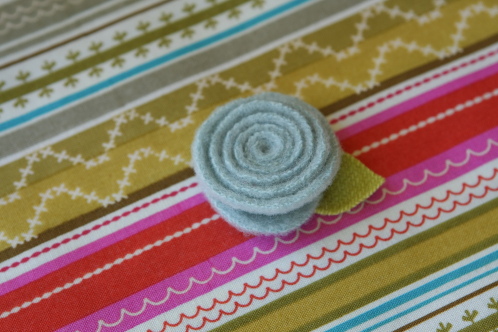 I love how the this rose turned out.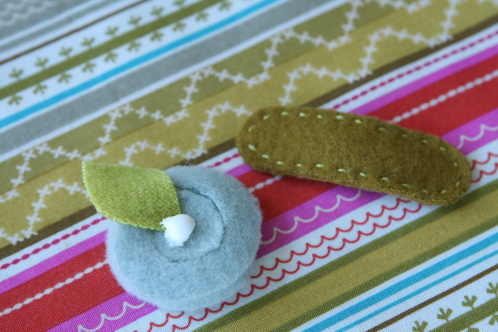 Next using a small dab of glue, glue the flower to the clip.  Don't use too much or you'll have trouble with the next step.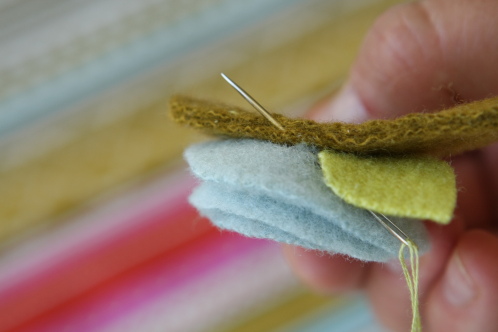 Once the glue is dry, stitch the flower to the clip using a blind stitch.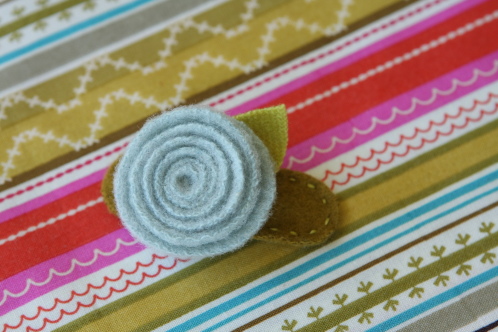 And it's done. I love that I can match my clips to the girls outfits.  I also love that these clips are so quick and easy to make… but they really look special.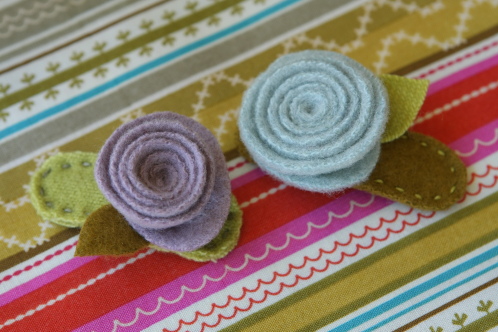 I could be tempted to make one in every color.
Check one thing off my list…  99,999 more things to go.
15 Responses to "Lovely Hair Clip Flowers"