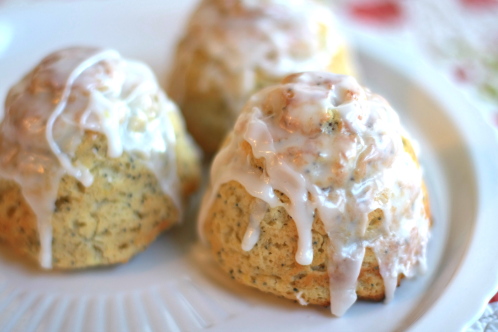 This past week I've been slogging by with a cold and sinus infection.  Bleck!  Whenever I get feeling rundown like this, I get a craving for happy yellows and lemons.  Fresh lemon squeezed in hot water is one of my favorite ways to fight a cold.  The vitamin C is just a bonus as far as I'm concerned.  I love they way sipping a cup makes me feel.
This week I also got myself motivated enough to make some Lemon Poppy Seed Muffins using a gift from my mom…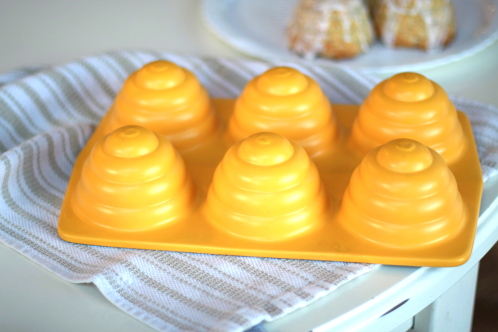 … this wonderful beehive cupcake pan from Deseret Book here in Utah.  I've been itching to make something in the pan, and these jumbo muffins were just the ticket.
For the recipe I used the Orange Poppy Seed Muffin recipe that I shared a while back, but traded the orange for lemon.  Rubbing the lemon zest and sugar will lift anyone's spirits, not to mention eating the yummy lemon muffins.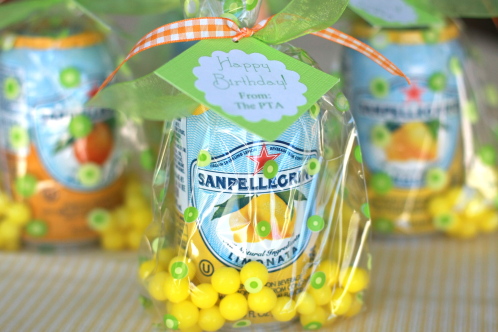 The other thing that has been hanging over my head since school started is the birthday gifts for teachers and staff at my children's elementary school.  I am Hospitality chairperson in the PTA… for more than a few years running.  Each year it's a challenge to find an inexpensive gift to give.  My typical budget is around $1 per person.
That small budget has meant that we often make homemade gifts, like cookies or mini bundt cakes and deliver them each month.  But time is also a challenge for my team and me this year, so we needed something that we could buy and get ready all at once.
We decided on delicious lemon and orange Italian sodas.  We were able to buy the drinks at Costco for around 45 cents a soda since they are on sale right now.  Even adding fun Lemonhead candies and packaging, I still came in on budget.  By the way, until tomorrow Oct 1, Hobby Lobby has all their packaged ribbon at 50% off.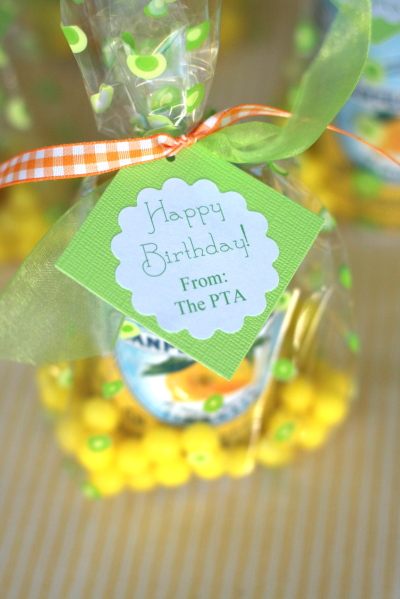 I'm a sucker for a good pun and wanted to write, "Thank you for Quenching our Thirst for Knowledge" on the tags, but didn't have room… so we opted a simple Happy Birthday!
Since I'm a bit late, I am so relieved to have that job decided and done… and am happy they are lemony and cheerful.
I love the teachers and staff at our school and I want to a gift that is thoughtful even if it's not expensive.
Now for the winner of the $25 Visa Gift Card Giveaway courtesy of the Arm & Hammer Switch & Save Challenge: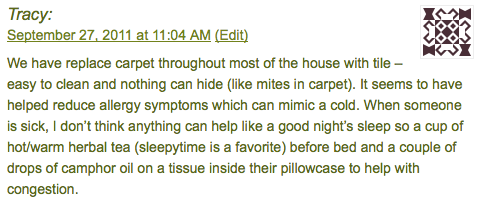 Congratulations Tracy!  Send me an email with your address, so I can send your gift card out in the mail.
Have a lovely weekend!

One Response to "Lemon pick me ups and Giveaway Winner"