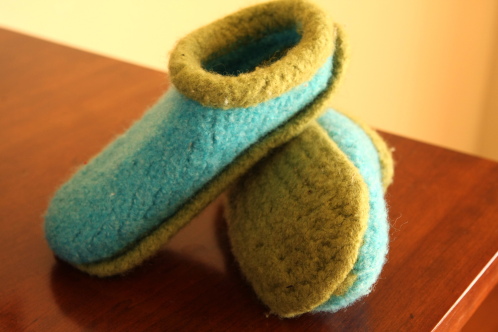 Several people have asked about the pattern for our favorite felted slippers that my mother-in-law, Kit, makes for us.  I've done a bit of checking and they are a Fiber Trend Pattern called Felt Clogs.  She uses one pattern for children and another for adults.  Here's a link to purchase the pattern from Fiber Trends as a downloadable PDF.  If you prefer a hard copy pattern (mailed to you) here's a link to purchase the Felt Clogs Pattern for Adults
and for children
.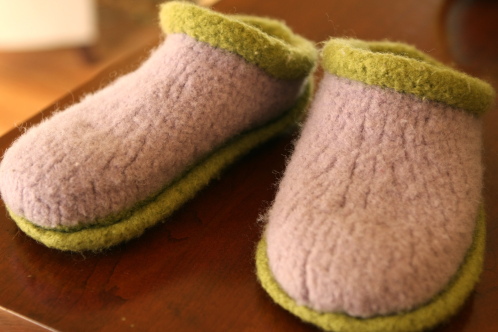 Kit tells me the pattern is well written and is fast to make.  It does take a lot of counting and concentration and is suitable for an intermediate knitter.  They have a double sole that is comfortable and helps them last.  You do need to use 100% worsted weight wool for the felting to work.  Kit buys her wool from the Wool Cabin in Salt Lake City, which is also where she bought her patterns.
If you've never been there and you are in Utah, The Wool Cabin is one of my favorite shops.  They have a great selection of yarns and patterns, but that's not the only reason I love the Wool Cabin.  The ladies there have been so sweet to our family.  I used to knit there every Wednesday when my son was a new baby.  We would sit around and knit and laugh.  My son was officially dubbed the "Wool Cabin Baby."
When I was pregnant with my twin girls I started knitting little Debbie Bliss sweaters for them.  I was halfway through the first sweater when the unexpected happened.   I went into early labor and ended up having my girls at 26 weeks.  Unknown to me, Allison, one of the owners of The Wool Cabin, arranged to get the yarn and finish the sweaters for me.  It was the sweetest gift.  If you drop in, be sure to say hi from me.
It's snowing and cold here and we are very happy to be wearing our cozy slippers.
I will be posting sporadically until after the New Year since we have lots of fun in our plans.  I wish you all the same!

7 Responses to "Felt Slipper Pattern"