My kids will be out of school tomorrow.   "Holy Cow!  School just started, like, yesterday…"
I'm actually looking forward to having my kids home this summer and the time we get to spend together.
But I know from the past that I need some structure or summer will be hard.
I've been working on a schedule and reworking our job charts.
I always have high hopes when I redo job charts, but the reality is, I really struggle sticking to them.
Don't get me wrong.  My kids are hard workers and get their jobs done… most of the time.  Where I struggle is keeping the job charts current each week, marking things off, and keeping consistent with a reward system.  I'm trying to make them easier to stick to.
Three things are going on the charts that I know will help them next fall when school starts again.
10 minutes of math practice
Writing in summer journals
For the reading, our town is too small (uhhuh… cheap) to have a public library.  Usually we are able to go the our school library once a week, but since they are retro fitting our school for earthquake safety, I'm thinking it's time for Draper Library pass.  Draper is around the point of the mountain, but it would be wonderful to be part of a large library system again.  We do have a library bookmobile that comes to our town every two weeks too, but it's just a bit limited unless you remember to order something ahead.
Our wonderful school librarian, shared that, "Students who don't read over the summer show a decline in test scores from the end of the school year to the beginning of the new school year.  Research done at Harvard University by James Kim shows that reading 4 to 5 books over the summer helps to prevent the summer slump."  Reading is top of my list for the kids this summer.
Math will be easy, since we've downloaded some wonderful iPad apps so the kids can play like Math Bingo, Rocket Math, or playing with the Hundreds Chart.  It's not hard to get kids to want to play a math game when it's video game.  If you don't have a tablet, there are also lots and lots of math worksheets available to print for free online.
Last but not least, we've made journal covers in the past, this year I'm adding a fun twist.  If the kids don't know what they want to write about or if I want them to write on a certain subject, I'm making a journal jar.  Here's a list of the prompts I've written and if you'd like, you can download a copy here.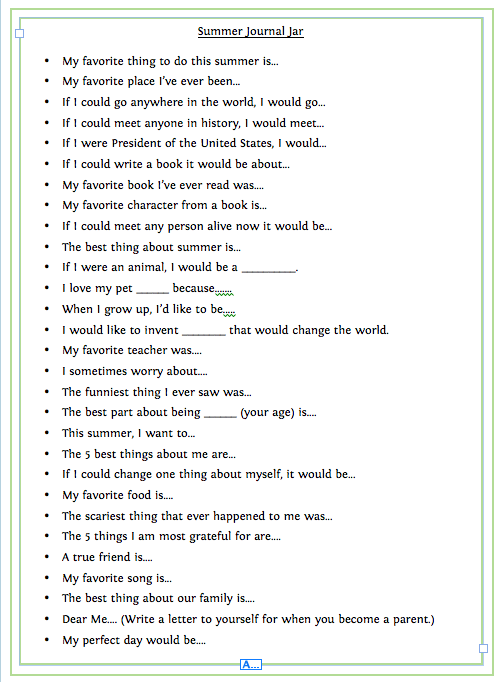 I can't wait to read some of the things my kids will write this summer.   One day to go before it all starts….

7 Responses to "Summer Brain Drain"