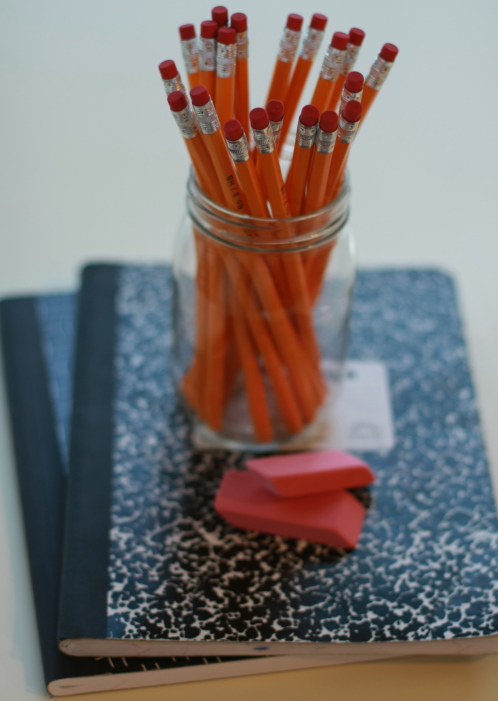 It's the same every year.  My girls can hardly wait for school to start.  They get a bit nervous, yes, but mostly the start of school is a fun time.  They love new clothes.  They love shiny new pencils and notebooks.  They love the productive routine of school and more time with their friends.
My son is a different story.  He does not do well with transitions.  He becomes surly, nervous and anxious in the week or so before school starts.
He hates giving up his fun (and lazy) summer days.  He dreads the structure and the need to sit still for hours each day.
He worries that his friends won't be in the same class or that he won't like his teacher.
One way to make the transition easier for my children is to have traditions- things we do each year- that get them ready for the big day.
Here are a few Back to School tradition ideas:
Have a special family Back to School dinner the night before.  Talk about school.  Ask what the kids are excited about.  Encourage them to talk about what makes them nervous.  Some of the best conversations our family has are over food.
Make getting school supplies a fun affair-  Every year my kid's grandparents take them out to buy school supplies.  They look forward to spending quality time with them and getting just what they need to start the year.
Our friends have a big neighborhood Back to School Movie Night under the stars party.  So fun.
Lay out their nice first day of school outfit the night before.
Make a yummy lunch and be sure to include an encouraging note.  My mom did that every year.  I don't remember what she wrote… but I remember how her notes made me feel.
Bake a batch of cookies hot out the oven for when the kids come home on the first day.  This is another tradition from my mom that I've carried on.  We talk about their day over a glass of milk and warm cookies.
And one last tip that really help kids get ready for school:
Start the school bedtime routine about a week before school starts.  It's a challenge for kids to transition from the late night bedtimes of summer!
School starts for us next week.  And those are a few simple things we're doing to help the transition.
It seems that summer went by way too fast, but ready or not, here we go.

7 Responses to "Back to School Traditions"