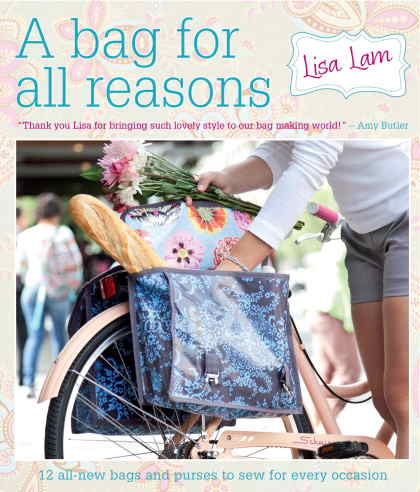 Last week, I received the new book, A Bag for All Reasons by Lisa Lam on my doorstep.  I'm so excited to also have a copy of Lisa's book available to give away today, but first, here's a little bit about the book.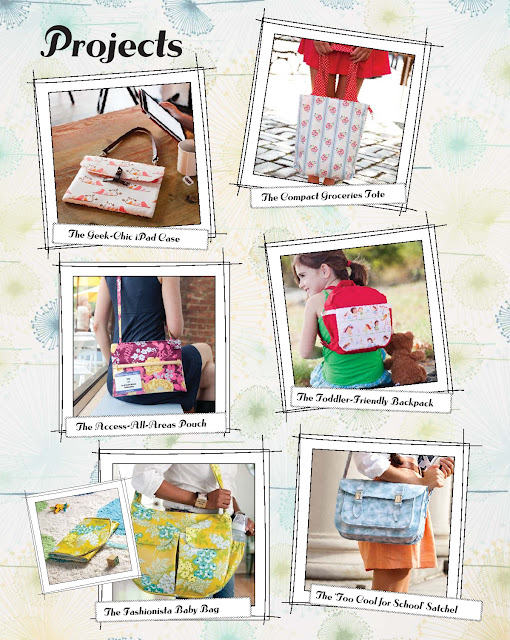 There are so many good projects in this book from purses to iPad cases to a sorted laundry bag.  There's even a train style vanity case that my girls are swooning over… I'm thinking maybe for Christmas. In fact, there are several project in this book perfect for gifts on my list this year.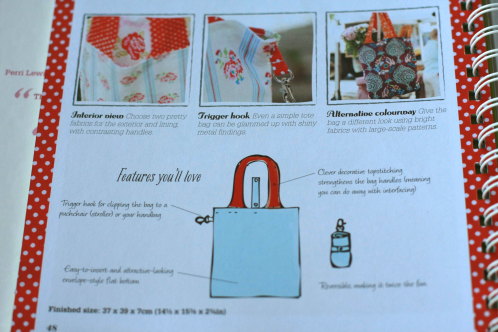 But this is my next bag project (and it's for me).  It's a grocery tote that rolls up into a small bundle that I can keep in my purse or in my car.  I may just make 3 or 4, so I'm never caught without my re-useable bags at the grocery.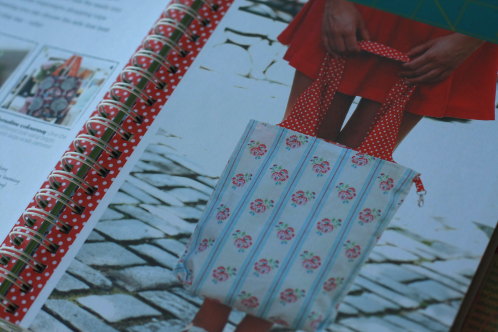 Yeah for sewing books with a spiral binding!  And even better, the patterns in the back are full size fold outs… no cursing at the copy store trying to enlarge a pattern.  The patterns are printed on nice sturdy paper, and will last a long time.  The pattern instructions throughout the book look very clear and easy to follow.  A Bag for all Reasons is very well thought out and well made.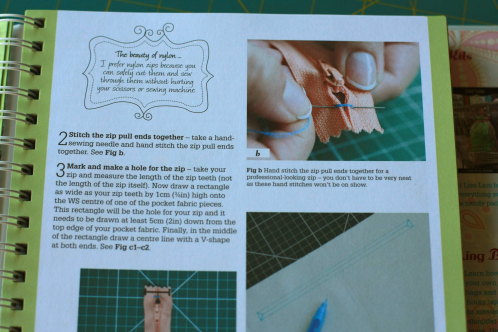 My other favorite feature of this book are the wonderful step by step instructions and advice for all sorts of (sometimes daunting) bag making skills, like putting in a zipper or snaps.
I also like the advice for how to modify and alter patterns to suit your style and needs.
The Bag for All Reasons is a resource gem.
You can see a preview of the book, by clicking here.
The Martha Pullen Store is offering a 30% discount to Make it Do readers, when you purchase Lisa's books The Bag for All Reasons or The Bag Making Bible (which is now on my wish list).
Enter the coupon code "BAGS2012" to receive the discount.
—————–
And now for the Giveaway!  Today you can enter to win a copy of The Bag for All Reasons.
Simply leave a comment answering:
"Are you making gifts this year for the Holidays?"
The Rules:
Comments close on Thursday, Oct 11, 2012 10:00 MDT
Only one comment per person please.
Random winners will be announced on Friday, October 12
121 Responses to "A Bag for all Reasons Review and Giveaway"