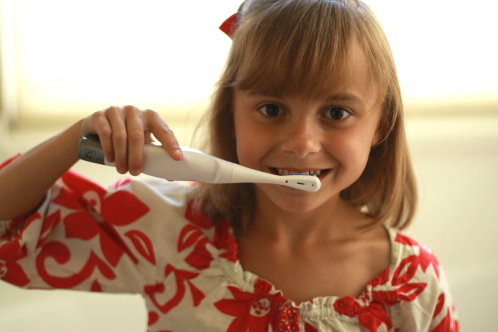 Maybe I had one too many bad dental experiences as a kid.
Even if it's just cleaning and checkup (as an adult, mind you)  I lay back in that dental chair and tense right up.  Before I know it my hands are in fists and the poor dental hygienist soothingly asking me to relax.
Yes, when I was a kid I had cavities.  I even knocked out a few teeth and had to have crowns…  Whatever the reasons for my fear factor…. I totally dread that drill!
But that's not the only reason I don't like the dentist.
$$$$$ Because even if you have dental insurance, a trip to the dentist can mean big bucks out the door.
It begs the question, "What can I do, in the comfort of my own home, to minimize the FEAR factor of a dental visit?"
I asked my kid's dentist Dr. Jensen to share a few of his best tips:  He hit the regulars…
Brush twice a day at a minimum.
Brush for two minutes each time you brush.
Floss (You've heard the old saying, you don't have to floss all your teeth, just the ones you want to keep.)
He also said:
When I asked what type of toothbrush was best, he said "Use the toothbrush that you are most comfortable with."  That makes it easier to be motivated to brush.  I personally love an electric toothbrush and as it turns out, so do my kids.  It feels so good to brush with, it makes it easier to brush for a full two minutes.  My dentist did suggest a soft bristled brush was best.
Visit your dentist at least once a year, preferably twice.  An ounce of prevention is worth a pound of cure.  Even though it's hard to schedule an appointment when times are tough financially, it's much cheaper to fill a small cavity than to wait until you need a root canal.
Good nutrition is very helpful in maintaining a healthy mouth.
He said to be sure to ask your dentist if he offer's a cash or a referral discount.
There are a few more money saving tips I would add to his list.
Have a clock with a second hand in the bathroom so you and the kids can know how long they are brushing.
IF you have an accident that breaks your natural teeth, check with your medical insurance first.  Ours covered my husband's two shattered teeth from a ski injury last winter.  It saved us a bundle to use medical insurance.
Watch for coupons for your dental cleanings.  There are some amazing dental Groupons if you are watching for them.
If you have a cafeteria plan, it can be a great pretax way to save money for dental expenses.
I'm not sure I'll ever be totally relaxed when it comes to the dentist.  But I hope that by taking good care of our teeth, my visits to the dentist will be anticlimactic.
- – - – - – - – - – - – - – - – - – - – - – - – - – - – - – - – - – - – - – -
This is a sponsored post for Church & Dwight Co., Inc, the maker of ARM & HAMMER branded products, who is compensating me to try different products. Get a $4.00 coupon for ARM & HAMMER Spinbrush then head over to The Switch & Save Challenge where you can enter to win $25,000.

2 Responses to "The Dental Fear Factor"