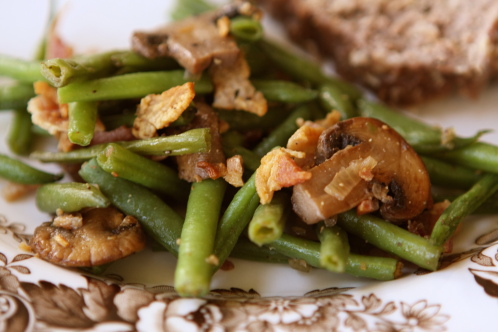 Green Beans Crimini Mushrooms Bacon Shallots Perfection
I love Thanksgiving more than words.  Many years, this year included, we are hosting Thanksgiving dinner at our home.
I've hosted Thanksgiving dinner enough times to learn a trick or two.  It's been lots of trial and error, but I've figured out the timing of our meal, what can be prepped ahead, and what can't.  I've also figured out, for the most part, how to juggle cooking a large dinner (up to 30 people) with one oven.
That means many of my side dishes are cooked or warmed on the stove top.
This recipe for green beans came out of that necessity.  It's now become a favorite staple at our Thanksgiving Table.
Here's how I prepare my Favorite Thanksgiving Green Beans:
This recipe serves about 12 people.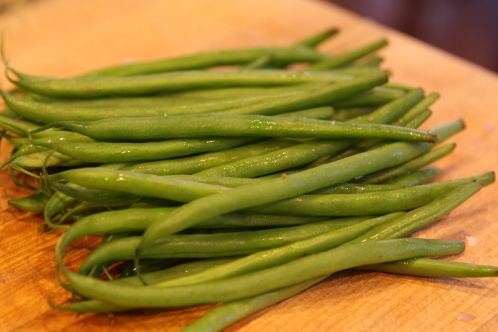 I start with 2 pounds fresh green beans.  Fresh tastes the best.  If I can't find nice quality fresh, I use frozen… but never canned.
I like to chop them into bite sized pieces.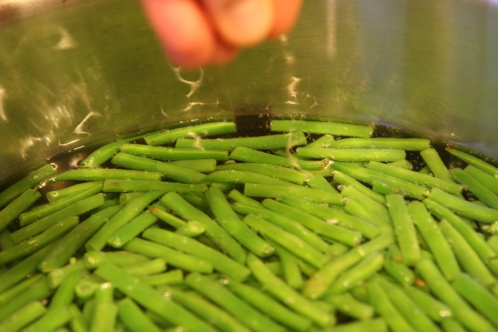 Toss them into a pot of boiling water with a good pinch of salt.  Let them boil for 3 to 5 minutes until they are cooked but still on the firm side.  Nobody wants to eat soggy beans!  How long to cook them depends on how thick they are.  These beans were very thin and cooked up in no time.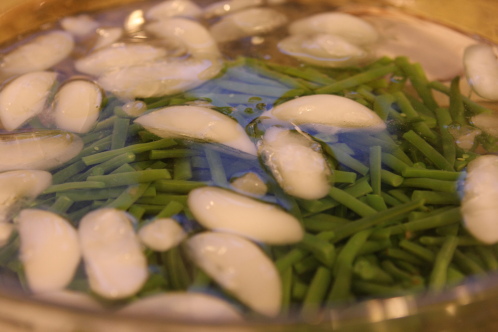 When they are done cooking, drain them, and throw them immediately into an ice bath.  That will stop the cooking.
For Thanksgiving, I do all this a day ahead.  Once the beans are cold, I drain them and pat them dry with a clean cloth.  Then throw them in a container in the refrigerator.  One less thing to do on Thanksgiving Day.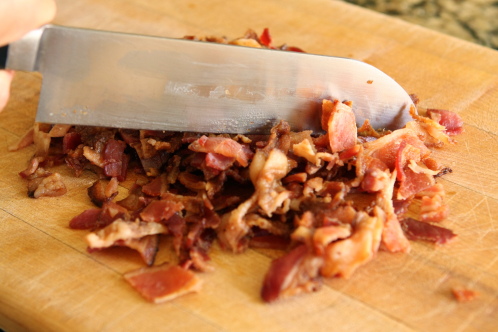 The other thing I made ahead is the bacon.  For two pounds of beans, I use 6 slices of bacon… or about 6 oz.  Cook the bacon until crisp.  Allow them to cool and chop.  That also goes into the refrigerator until the next day.  If I want really decadent flavor for the beans, I also save a little bacon drippings.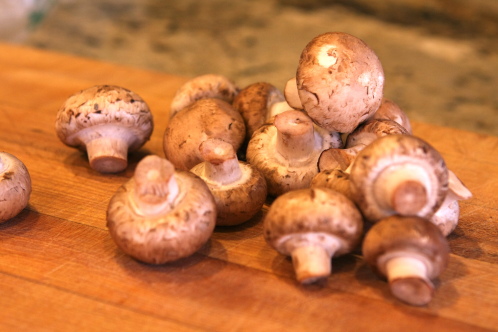 One last prep item for the day ahead.  I clean and slice my mushrooms.  I NEVER run mushrooms under water.  I use a damp cloth and rub off any dirt.  I must confess to not being super fussy when it comes to cleaning mushrooms.  As long as there are no pieces of loose dirt on them, I don't worry about scrubbing too hard.
Crimini mushrooms are meatier and slightly more flavorful than the button mushrooms I grew up eating, and they look a little fancier.  They are perfect for these beans.
Slice them about a pound of mushrooms and place them in a container for the next day.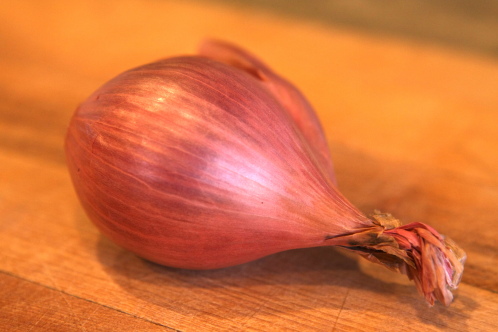 In the morning.  I chop up one small shallot.  About 1/3 of cup finely chopped shallot to be exact.  I chop a shallot in the same way I chop onions.  I slice off both ends in the case of a shallot.  I slice the shallot horizontally and then vertically leaving one end in tact.  Then slice across both making fine, even little pieces.  It's the quickest, easiest way I've found to chop a shallot.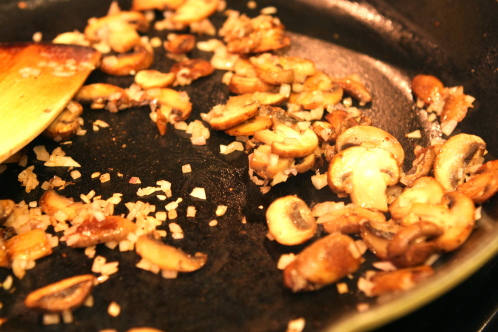 It was getting dark where my stove is… blast daylight savings… it gets dark so early.
About 40 minutes before showtime, I put my dish together.
In a large saute pan over high heat, pour about 1 tablespoon of olive oil and 2 teaspoons butter.  If I'm using bacon drippings, it goes in place of the olive oil.
As soon as the butter is melted, throw in the mushrooms and saute them over high heat.  I like to spread them out in the pan, season with salt and pepper and leave them alone while they turn a lovely golden brown.  Stir them around and leave them again.  Less stirring is more with mushrooms.  When the mushrooms are nice and golden, I throw in the shallot and cook it all for a minute or two.
Once the shallots start to be fragrant and translucent, I toss in the green beans and bacon.  Season with more salt and pepper to taste.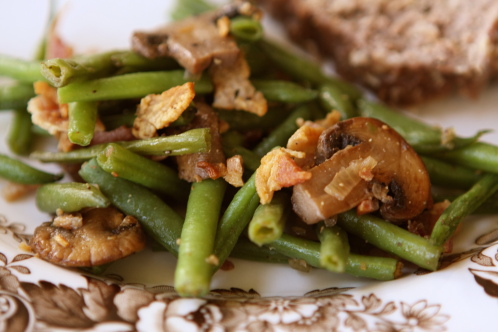 I reduce the heat on the beans to the lowest setting, until it's time to place in a serving bowl and serve.  These beans are relatively simple to make.  But they look and taste divine.
Here's the whole recipe:
Favorite Green Beans
2 pounds Fresh Green Beans
6 slices Bacon (about 6 Ounces)
1 pound Crimini Mushrooms
⅓ cups Finely Chopped Shallot
2 teaspoons Butter
1 Tablespoon Olive Oil (may Be Replaced With Bacon Dripping For Flavor)
Salt And Pepper, to taste
Preparation Instructions
Prep green beans by removing stems and cutting into bite sized pieces. Add to boiling water with a generous pinch of salt. Blanch the bean for 3 to 5 minutes until tender crisp.
Drain beans and place immediately into an ice water bath. Allow to cool complete and drain again.
Cook bacon until crispy. If you so choose, reserve 1 tablespoon of bacon drippings. Chop bacon into small pieces.
Prep remaining ingredients by slicing Crimini mushrooms and finely chopping shallot.
In a large saute pan add 1 tablespoon of olive oil (or bacon drippings) and 2 teaspoons of butter. Melt over high heat and add the mushrooms. Season to taste with salt and pepper. Cook until golden brown, about 5 minutes. Add shallots and cook until fragrant and translucent.
Add green beans and bacon and toss well. Cook until heated. Check for flavor and season with salt and pepper as needed.
Note: The beans can be blanched and the bacon can be cooked a day ahead. The mushroom can also be sliced. This prep can save a lot of time on Thanksgiving day.
Click here for the printable recipe found in my Tasty Kitchen recipe box.

8 Responses to "Thanksgiving Recipes: Favorite Green Beans"