I've had at least three friends ask about gravy this week.  Yesterday when I got an email from a blogging friend's husband,  I decided the gravy question must be the question of the week.
Gravy has got to be one of my favorite parts of the Thanksgiving meal.  I generously drown not only my turkey and potatoes, but I also love it on my stuffing and even sometimes my green beans.  What is a hot homemade roll for, if not to mop up gravy from my plate?
As a girl, I took great pains to form a perfect, gravy basin in my heaping spoonful of mashed potatoes.
Bland or lumpy gravy would never do!
Even though I don't have the step by step photos to accompany this post (since we won't be making gravy until Thanksgiving day) I'll share our gravy tips and recipe.  On Thanksgiving, my husband makes the gravy and it is by far my favorite gravy of the year.  He usually makes an obscene 12 cups of gravy, since running out or not having leftovers would be a tragedy.
My husband uses a gravy recipe adapted from Emeril Lagasse.  Between my Dad and Emeril, Drew was well educated on how to make a killer Thanksgiving feast.
Here are our step-by-step gravy tips:
The first step is making the turkey broth.  For that, Drew uses that very unappetizing bag of giblets and neck. He also uses:
1 tablespoon vegetable oil
Turkey neck and giblets (of course)
1 large onion, coarsely chopped
1 large carrot, cut in large chunks
3-4 of the small inside leafy stalks of celery
1 bay leaf
3 cups of canned low salt chicken broth
3 cups water
In a large saucepan heat the oil over medium-high heat.  Add the turkey neck and giblets and saute until just turning brown (watch out they pop and sizzle!).  Add the vegetables and bay leaf and cook for several minutes until start to soften.  Add the chicken broth and water.  Simmer until reduced by about 1/3.  Put a strainer over a bowl and pour the broth through the strainer to catch all the large pieces.  Set the broth aside until needed for the gravy.
We usually just let the broth simmer on low on the stove most of the day, until we are ready to make gravy. If it starts reducing too much, just add a little more water.   We strain the broth just before making the gravy, so the liquid remains hot.  Here's one place we depart from Emeril, he chops up the giblets and puts them right into the gravy.  That's WAY too gross much for me.
The next key to the best Thanksgiving gravy is the turkey drippings.  Last year I wrote about how we make our turkey.  If you read that post you'll know my husband places all sorts of good stuff on the bottom of the turkey roasting pan: carrots, celery, onions, and chicken broth.  All that combines with the drippings coming off the turkey and to make a flavor that is sinfully AWESOME.
After the turkey is done cooking, Drew puts the turkey on the rack on a large cookie sheet and covers it with foil to rest, then he takes all that super pan goodness and pours it all through a strainer into a glass bowl.  In the bowl is the drippings and a whole lot of fat.  That's when it's nice to have one of these: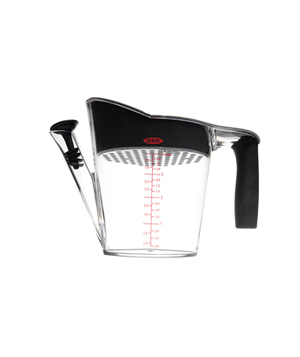 It's a Fat Separator
.  It allows you to pour off the good stuff leaving several inches of fat behind.  If you don't have one, you can use a ladle and then large spoon to skim off all the fat.
You can now make the gravy in your turkey roasting pan or in a large saucepan.  If you are not using the turkey roasting pan, still deglaze the pan by putting the roasting pan over medium high heat and pouring in a cup or so of your turkey broth.  Scrape up all the brown bits of flavor and pour it all into the bowl of turkey broth.
Since our roasting pan pulls double duty, we make our gravy in a large saucepan (very large since we make so much). The first step is making a roux.  Melt 1/2 cube (1/4 cup) of butter in the pan.  Sprinkle in 1/4 cup flour and stirring constantly cook the flour for a couple of minutes.  Add 1 cup of white wine plus 1 cup of turkey broth whisking constantly to avoid lumps.
Simmer for about 10 minutes to thicken.  Add all of the drippings and about 3 more cups of the warm turkey broth. Add 1/8 teaspoon of poultry seasoning and season to taste with salt and pepper.
If our gravy is not thick enough, Drew makes a slurry by adding 1/4 cup of cornstarch to a bowl.  Whisk in 1/4 cup of turkey broth (or chicken stock or water if you don't have broth) until their are no lumps and the cornstarch looks dissolved.  Slowly add it into your gravy until you reach a desire thickness.
Here's the recipe ingredients for the gravy:
4 cups turkey broth reserved turkey drippings 1/4 cup butter 1/4 cup flour 1 cup of white wine 1/8 teaspoon poultry seasoning salt and pepper to taste Optional for making a slurry for thickening if needed: 1/4 cup cornstarch 1/4 cup turkey broth (or chicken broth or water)
Well there it is.  It's my favorite gravy of all time.  One more day…  I can hardly wait.
For a incredibly helpful gravy troubleshooting tips be sure to visit this post by the very talented Dara of Cookin' Canuck.  I love her tip about a potato for salty gravy.  Simply brilliant.
6 Responses to "Thanksgiving Gravy Demystified"