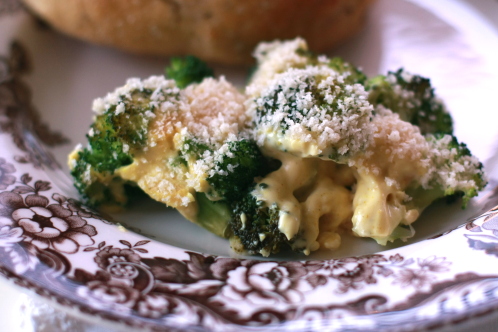 We all have those favorite dishes that mean Thanksgiving to us.  It's those dishes that Mom or Grandma always made.  This Broccoli Casserole was always part of our Thanksgiving Feast growing up.  While I always loved this broccoli dish, it was never the star of our Thanksgiving meal.  It always played a supporting role to the turkey, stuffing, potatoes and gravy.
When my husband and I began hosting Thanksgiving at our home, on a whim, I decided to include the broccoli dish on our menu.
The reasons for making Broccoli Casserole came more down to how easy it is and the fact that I could make it a day ahead (without baking it, of course).
But after serving this Broccoli Casserole for the first time, I realized how nicely it rounded out our Thanksgiving feast. With most of the dishes being either savory or sweet, this bright and tangy dish is a perfect addition.
Foodies beware.  This recipe contains Cream of Chicken soup, so you might want to turn away.
Humble though it is, not a year goes by when someone doesn't say, "I hope you are making that broccoli dish again this year."
Yes, yes I am.  Here's how: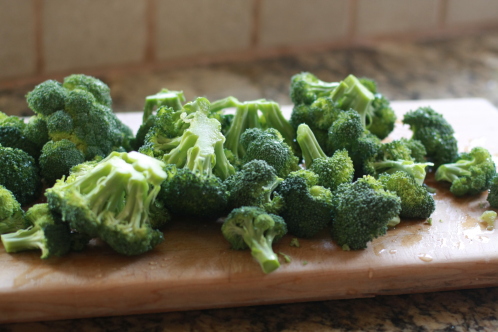 Start with 2 lbs. of firm fresh broccoli.  I just weigh it at the store when I'm buying it.  Chop it all into bite-sized pieces.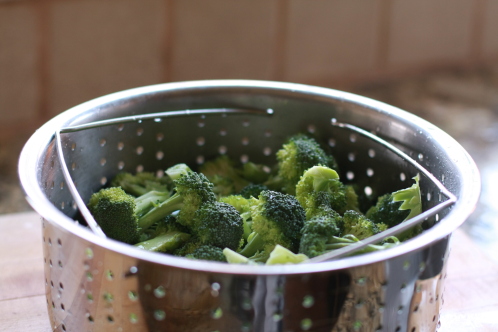 Do you have a basket steamer?  I couldn't live without mine.  Most vegetables either get steamed or roasted at my house.  There are few vegetables that get boiled.
Steam the broccoli until it turns bright green and is just barely fork tender.  Don't overcook!  I hate mushy broccoli!  Besides it will be cooking in the oven for 30 more minutes.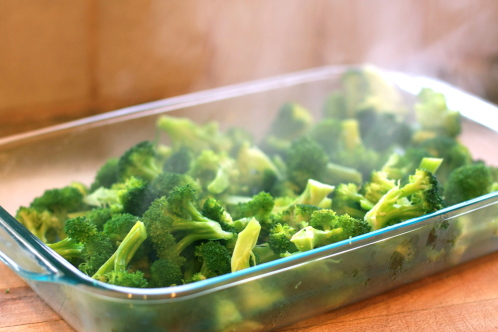 Once it's cooked, pour the spears in to a 9″ x 13″ casserole dish and spread them out evenly.  Set aside for now.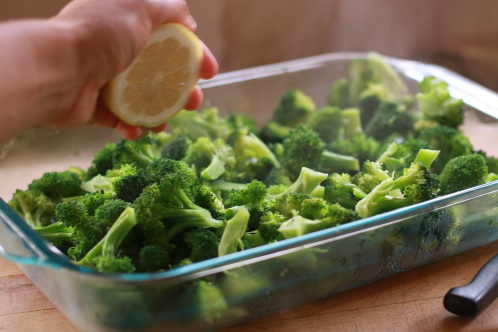 Squeeze the juice of one whole lemon over the broccoli.  I usually have one hand under the lemon to catch all the seeds, but couldn't take the picture with no hands ; ).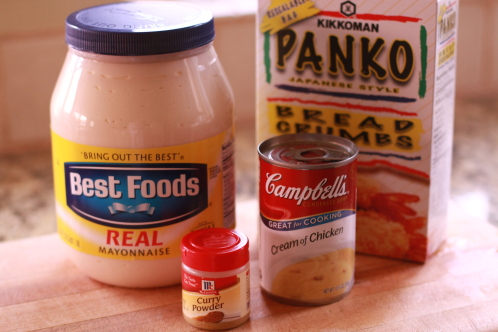 Now for the topping.  You'll need one can of Cream of Chicken soup (this is SO a casserole), mayonnaise, Curry Powder (yeah!), salt (not shown) and breadcrumbs.
My use of Panko breadcrumbs was a controversy when I made this Broccoli for this post.  My family universally said they preferred the Italian Bread crumbs I usually use.
Panko is more crunchy and didn't brown as nicely….  If you make this dish, I'd love to hear what you prefer.  Is it just what my family is used to?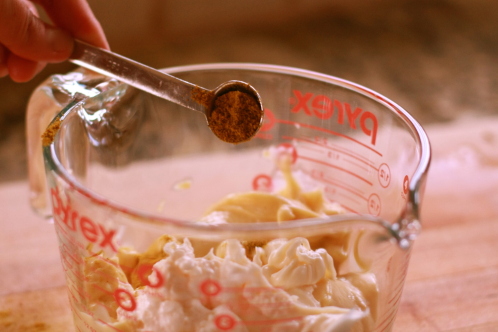 Mix together the soup, mayo, Curry powder, and salt.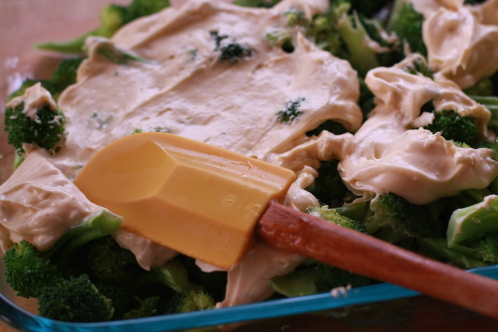 And spread it as evenly as possible over the top of the broccoli.  Don't stir them together… just spread it out like frosting.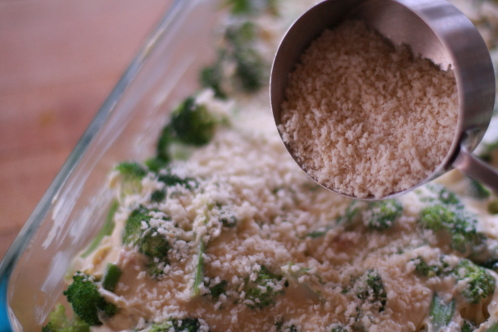 Top it all off with 1/2 cup of breadcrumbs and bake in the oven for 30 minutes at 350 degrees.
I always toss the broccoli in with my stuffing as it bakes.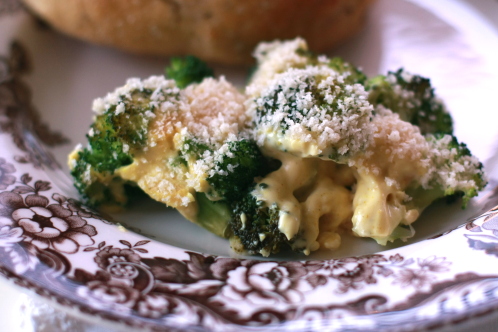 It doesn't get any easier for a great addition to your Thanksgiving Feast.
One more bonus about this dish: it's great to make (and not bake) a day ahead.  I love anything that can be prepped ahead for Thanksgiving Day.
Here's the recipe:
Broccoli Casserole
2 lbs. fresh broccoli Juice of 1 lemon
1 can Cream of Chicken soup 1/2 cup Mayonnaise 1/2 tsp. Curry Powder 1/2 tsp. salt 1/2 cup bread crumbs Chop broccoli into bite sized pieces and steam until just tender.  Spread out evenly in a 9″ x 13″ pan.   Squeeze lemon juice evenly over broccoli.  Combine soup, mayonnaise, curry powder and salt in a mixing bowl.  Spread over broccoli.  Sprinkle top with bread crumbs.  Bake at 350 degrees for 30 minutes.
9 Responses to "Thanksgiving Broccoli Casserole"