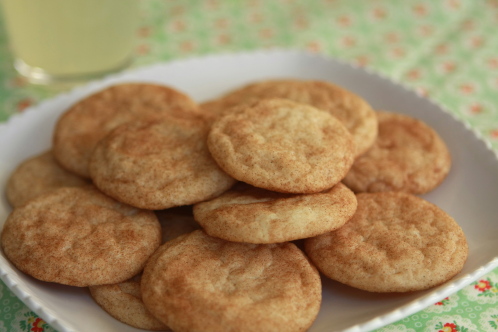 See that delicious plate of Snicker Doodle cookies?
My son said they were the best cookies I ever made.
Except that I didn't make them.  Doh!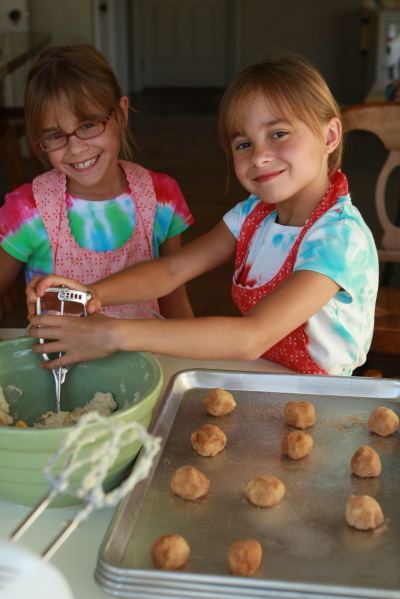 My girls did.
They measured.  They cracked eggs.  They mixed and scooped and rolled.  They even put the cookie sheets in the oven- VERY cautiously.
The cookies were for their lemonade stand.  This summer they have been earning and saving money to buy tennis rackets… and they needed 10 more $$$ each.
So they got busy….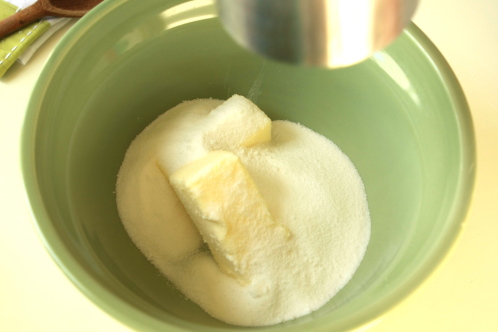 …. creaming sugar into butter.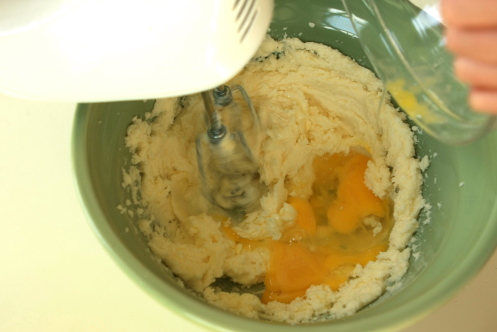 They cracked one egg each.  I've taught them to crack eggs into a separate bowl so there are no shells in their cookies.
Watching kids crack eggs his hilarious, don't you think?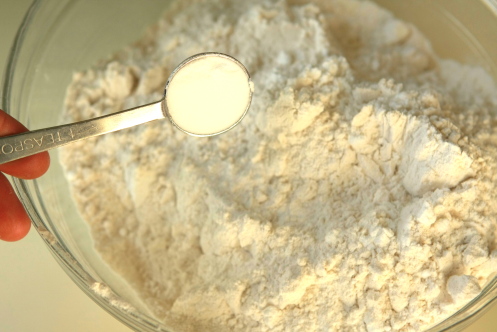 Especially since it was my girls on the mixer, I suggested they mix the dry ingredients in a separate bowl.  You really want to get the soda and cream of tartar incorporated into the flour so they are well incorporated in the cookies.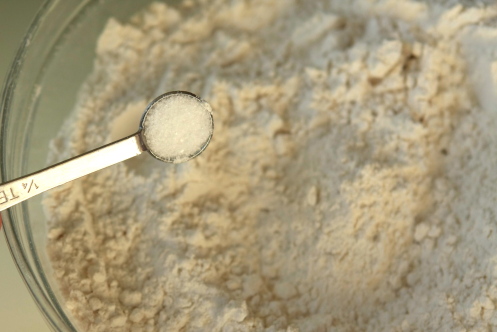 They added some salt.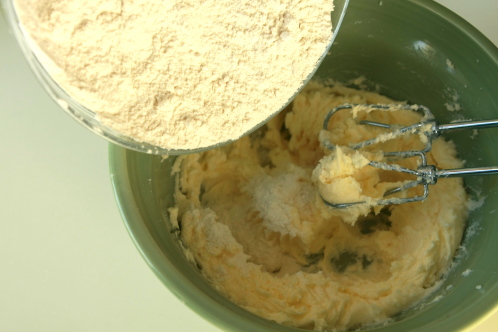 It's nice to have one sister slowly adding the bowl of dry ingredients,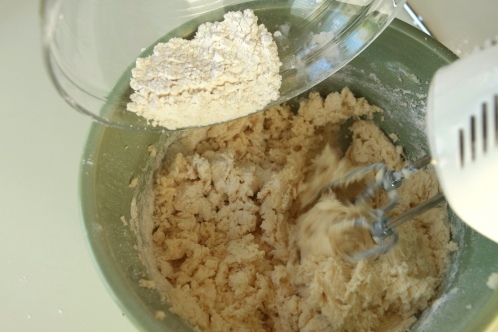 … while the other mixes.  They took turns on the mixer actually.  That was the coveted job.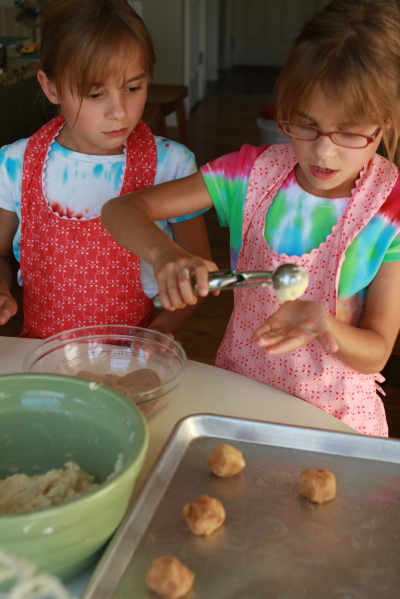 Snicker Doodles are such a good cookie for kids.  They love to roll them.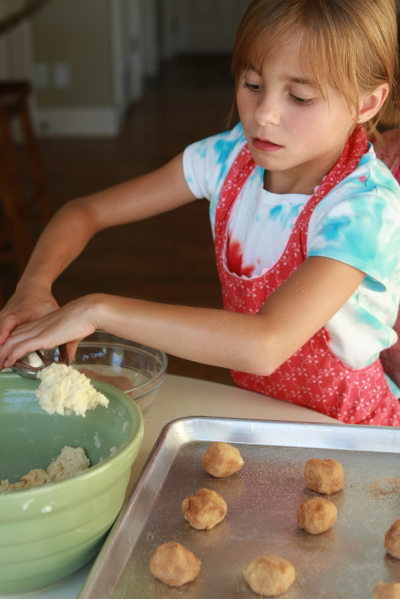 We love to use a cookie scoop when we make cookies.  It makes sure they are even.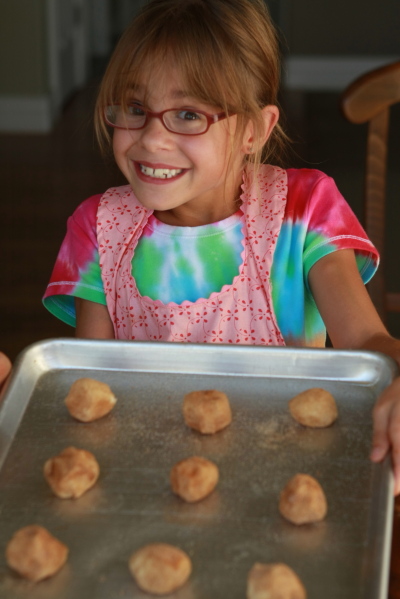 Ready for the oven.  She's a little nervious.  Can you tell?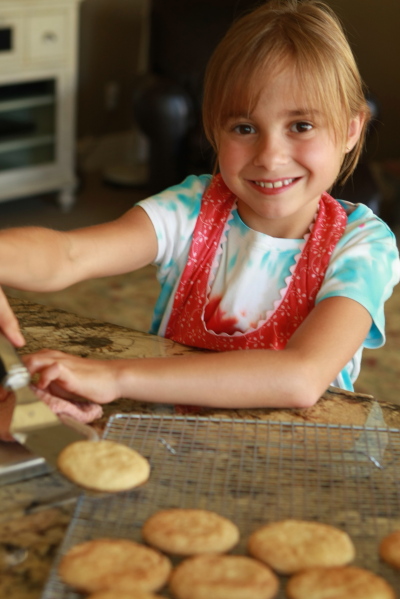 No need.  They turned out beautifully.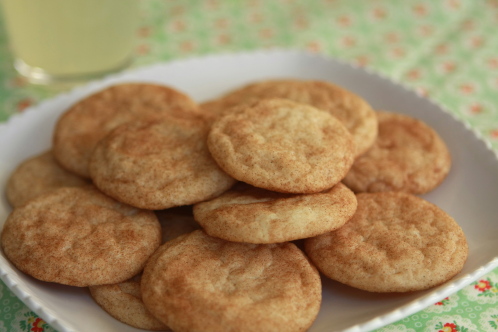 They made just enough money for their new tennis rackets and some balls, with $3 dollars to spare, before the rain storm hit and sent them running to the house with their pitcher of lemonade and plate of cookies.
So Dad took some very excited and proud kids to the store last evening.
Guess what I'll be doing today?
See you at the court.  I'll be the one sitting on the bench with my embroidery.
Here's the recipe for my VERY favorite Snicker Doodles:
Snicker Doodle Cookies
1 cup butter 1 – 1/2 cups sugar 2 eggs 3 cups flour 2 tsp. cream of tartar 1 tsp. baking soda 1/4 tsp. salt For rolling: 3 Tbsp. sugar 3 tsp. cinnamon
Preheat the oven to 350 degrees.  Cream together sugar and butter.  Add eggs and blend well.  In a separate bowl mix together the flour, cream of tartar, baking soda, and salt.  Slowly mix into the sugar mixture until incorporated. Shape into 1 inch balls and roll in cinnamon sugar mixture.  Bake on a greased cookie sheet at 350 degrees for 8 – 10 minutes.
12 Responses to "Snicker Doodle Do"