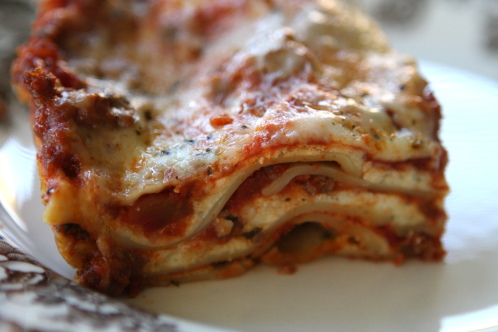 A recipe like lasagne is never completely quick to make.  But this recipe cuts a few corners, and makes up as fast as any.  Plus, our family always has enough leftovers to eat it again another night.  It's one of my old standby recipes when I'm taking dinner to a family with children.  I don't know many children who turn their nose up at lasagne.  Two pans of lasagne are almost as easy as making one, so if you're not taking dinner, make two anyway.  Lasagne is a great candidate for freezing.
When my wonderful father-in-law first gave me his recipe and I saw it contained Prego, I thought I could  improve it by using a better tasting bottled sauce.  I had tried Prego before and didn't like it, it was too sweet for my tastes.
So I substituted the Prego for Newman's Own Marinara, a bottled sauce that I like.  But to my surprise, the lasagne wasn't nearly as good.  It needs that sweeter sauce to balance the flavors… and I've been a fan of Prego in Short Cut Lasagne ever since.  I've since made a few other changes to my father-in-law's original recipe, and this recipe is now one of my go to recipes when I want a hardy meal and I don't have all day.
For using a bottled sauce, this lasagne has great flavor and consistency.  It's holds together nicely, but isn't dry.
Here's how to make this easy and delicious lasagne: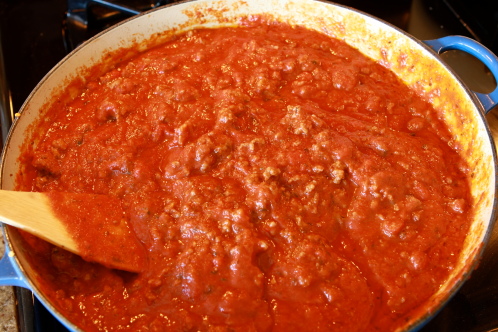 Brown your meat over high heat.  Reduce to low and add the bottle of Prego.  Allow to simmer on low while you prepare the rest of the ingredients.
A tip about the sauce, if it reduces too much, use some of the pasta water to loosen the sauce a bit.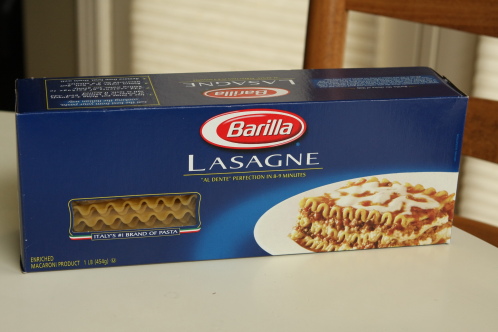 If you are using regular lasagne noodles, boil them al dente (on the firm side) because nothing is worse than soggy overcooked noodles in lasagne!  Remember you are going to be cooking it for an hour in the pan.
If you are using no boil noodles, a further short cut, you can skip this step.  Just an FYI, Barilla makes good No Boil Noodles.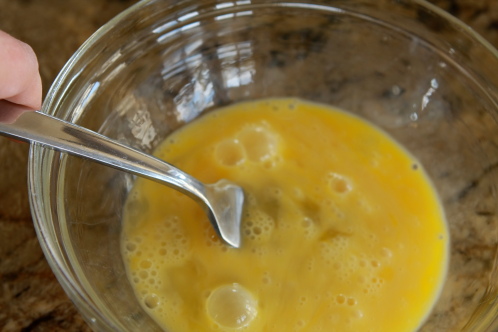 Now make the Ricotta layer.  You can also use cottage cheese, which makes a great substitute for Ricotta.  For this lasagne, I didn't have Ricotta, and I wasn't about to run to the store.  Beat two eggs.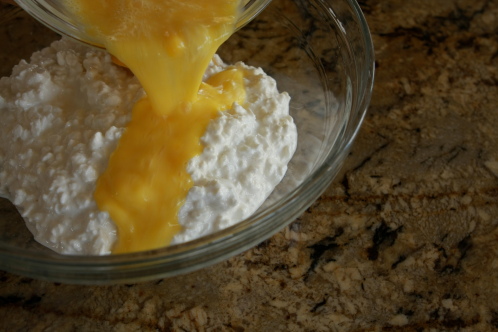 Add eggs to 1 pint (2 cups) of cottage cheese or Ricotta.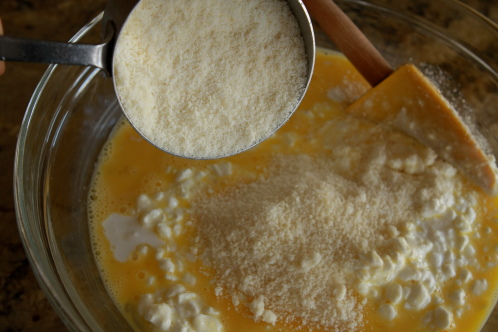 Add grated 1/2 cup Parmesan cheese.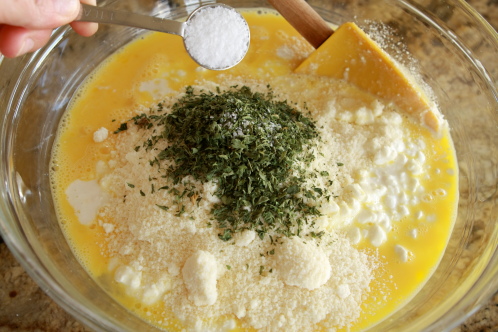 Add 2 tsp. dried parsley, 1/2 tsp. salt and…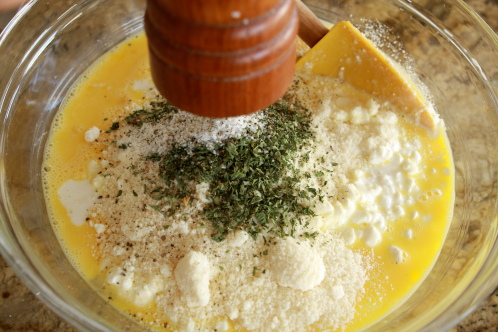 1/2 tsp. pepper.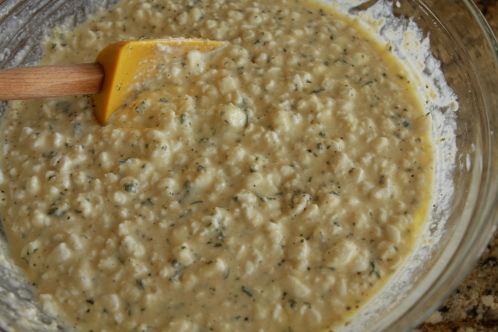 Give it a quick stir.
Now to the assembly of the lasagne: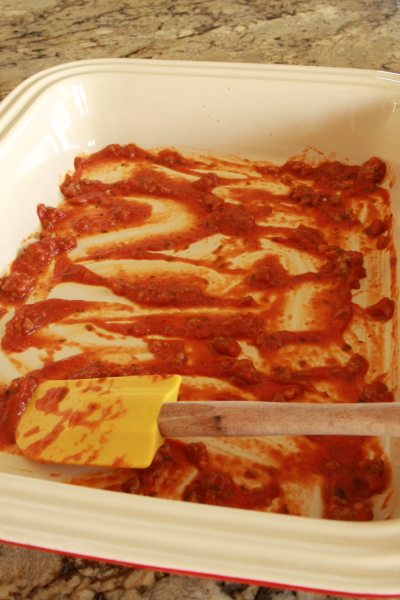 Spread a little sauce in the bottom of your pan.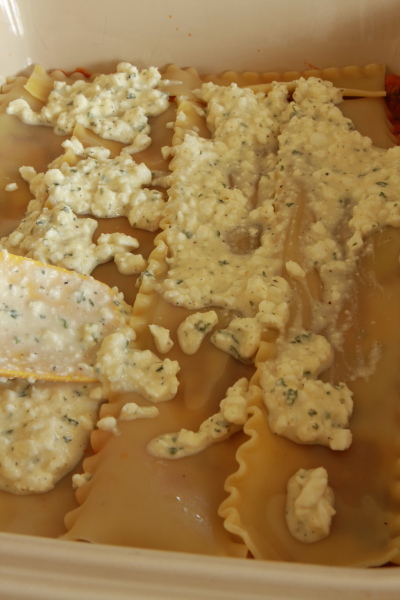 Lay out your noodles to cover the whole pan and add about 1/3 of the white mixture. I like to spread it out evenly with my rubber spatula.
Sprinkle about 1/3 of the Mozzarella evenly.  (I set aside a little cheese to use as a topping at the end.)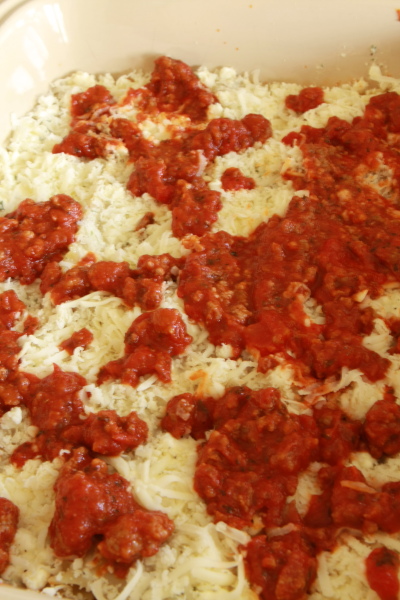 Add 1/3 about of the meat sauce.  I also spread it around gently with my spatula.
Repeat this process two more times.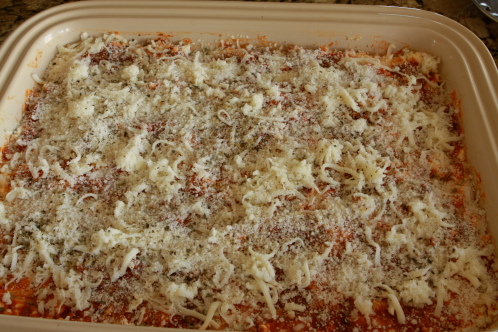 Top with remaining Mozzarella and 1/4 cup Parmesan cheese.  I also like to pour about 1/2 teaspoon dried basil and dried oregano into my hand I rub them together and sprinkle it evenly over the lasagne.  Cover the dish well with foil, a good seal is especially important if you are using No Boil Noodles.
This is a great dinner to make in the morning, and save it in the refrigerator until dinnertime to cook.  Bake at 350 degrees for 1 hour.  In a pinch, I've even cooked at 375 degrees for 45 minutes as long as my noodles are precooked.
Here's the recipe:  I'll be posting the link to a printable recipe in the next few days.
Short Cut Lasagne
Ingredients:
1 Box of Lasagne noodles
1 24 ounce bottle Prego Traditional Sauce *Use a larger bottle if you like your lasagne saucy.  **When doubling the recipe, the 67 ounce bottle of Prego from Costco, it is perfect for making two pans
1 lb. Mild Italian Sausage or Hamburger (or 1/2 lb of each)
1 lb. shredded Mozzarella
1 pint Ricotta or cottage cheese
2 eggs, beaten
3/4 cup grated Parmesan cheese
2 tsp. dried parsley
1/2 tsp. salt
1/2 tsp. pepper
1/2 tsp. dried basil
1/2 tsp. dried oregano
Directions:
Precook the Lasagne noodles al dente.  Or buy noodles that don't require precooking.
For the red sauce:
1.  Brown the sausage and hamburger.
2.  Add the Prego sauce
3.  Simmer over low heat until until needed -if gets too thick add a little water to loosen it up.
For the ricotta layer, mix together:
2 beaten eggs
two cups of Ricotta or cottage cheese
2 tsp. dried parsley
1/2 tsp. salt
1/2 tsp pepper
1/2 cup grated Parmesan cheese
In your pan layer:
A little sauce
Noodles
Cottage cheese mixture
Shredded mozzarella
Meat sauce
Noodles
Cottage cheese mixture
Shredded mozzarella
Meat sauce
Noodles
Cottage cheese mixture
Shredded mozzarella
Meat sauce
Top with remaining cheese, remaining Parmesan cheese, and sprinkle with 1/2 tsp. dried basil and 1/2 tsp. dried oregano
Cover pan with foil.  Cook at 350 degrees for 1 hour.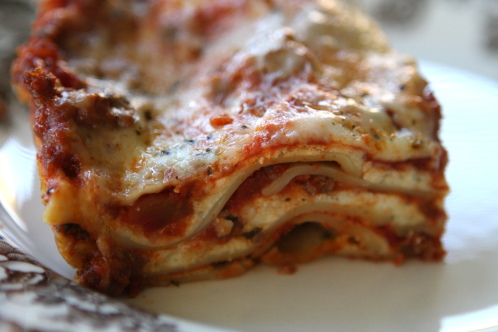 My kids LOVE when I serve lasagne with garlic bread.  I love to serve it with a simple Caesar salad- chopped Romaine lettuce, croutons, shaved Parmesan cheese, cracked pepper and Cardini's Caesar dressing.

7 Responses to "Short Cut Lasange"