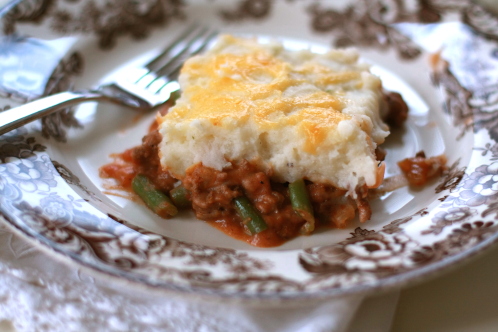 Yeah!  It's another $50 Visa Gift Card today sponsored by Betty Crocker as part of Better Homes and Garden's Dinner Ideas Tonight.  But first, I can't wait to share this recipe with you all.
All is right with the world when my family can gather for dinner on a cold Winter evening to enjoy a delicious Shepherd's Pie.  It is my ultimate comfort food.
Shepherd's Pie is also one of my family's favorite meals for sure. Whenever we are sitting at the table enjoying it, I wonder why I don't make it more.
I don't make it often and there is one good reason.  It's the potatoes.  Mashed potatoes take TIME.  You've got to peel, chop, boil, drain, mash and season.  It takes me a good thirty minutes to make mashed potatoes.
Then I had an ah ha moment.  I could TRY making Shepherd's Pie with good quality boxed potatoes and see what happened.  There would be a high bar since I have a few very discriminating eaters at my home.  But it was worth a try.
I made my favorite Shepherd's Pie recipe last week with Betty Crocker Roasted Garlic Mashed Potatoes and guess what? My kids loved it.  My husband, who I was sure would turn up his nose, said, "You know what, this is really good."  (Always the tone of surprise… )
I thought it was delicious…  and doubly delicious since I had my Shepherd's Pie made from scratch, well almost scratch, and into the oven in less than half an hour.  Awesome.
Here's how: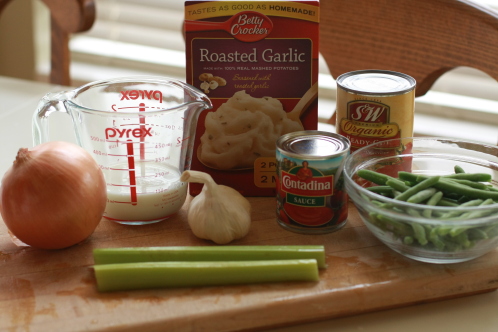 Here's the beginnings of my meal: an onion, a few cloves of garlic, celery, green beans, tomato sauce, diced tomatoes, milk, and the Roasted Garlic Mashed Potatoes.  You'll also need a generous pound of hamburger and some nice sharp cheddar cheese.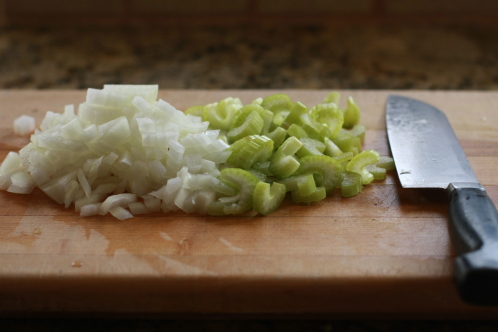 Prep the vegetables by chopping up the onion and slicing the celery.  I used half of a large onion (or a whole medium) and two stalks of celery.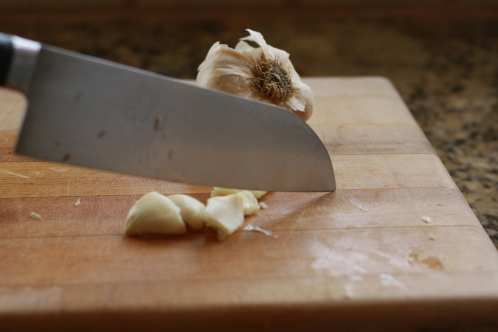 Mince the garlic.  Two nice big cloves should be just about perfect.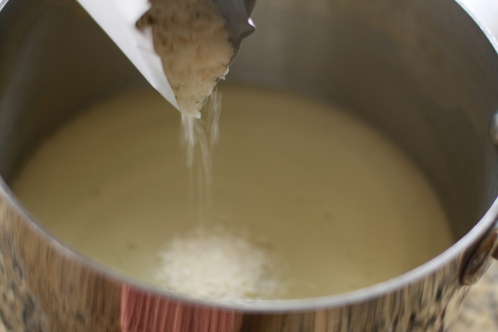 Oh the time savings!  Whip up the Roasted Garlic Potatoes in just a couple of minutes.   Make both packets in your box of potatoes.  That makes about 5- 1/3 cup which is a good amount for the pie.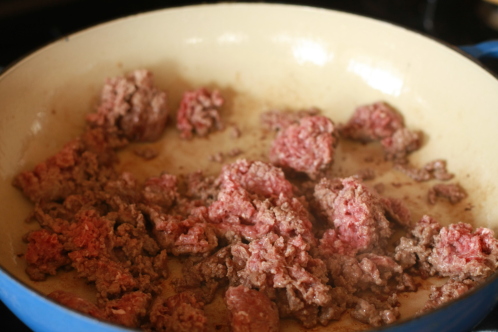 Heat olive oil in a large skillet over medium high heat.  Add the meat and season with 1 teaspoon of salt and 1 teaspoon of pepper.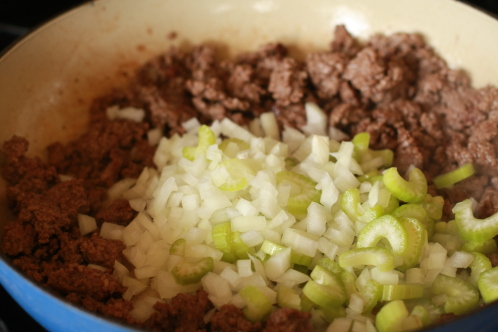 When the hamburger is well browned add onion and celery to the pan.  Cook for a couple of minutes, stirring often until the onions start looking translucent.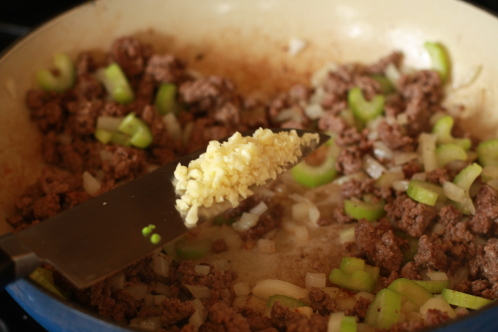 Stir in the garlic and cook until just fragrant, about 30 seconds.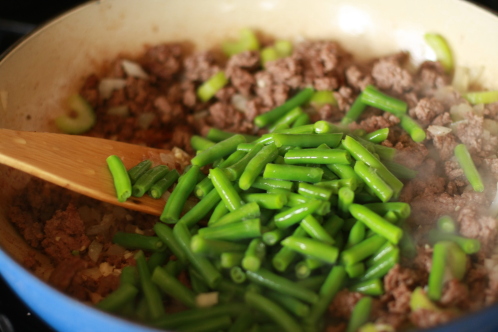 I'm using frozen green beans today which saves another big step (of trimming, chopping and blanching).  I love keeping frozen bean in the freezer.  They taste wonderful and really save on time.  When I start cooking, I put my beans in a small bowl and run a little water over them to start them thawing.  If they are not already, chop your green beans into bite sized pieces and toss them in the pan.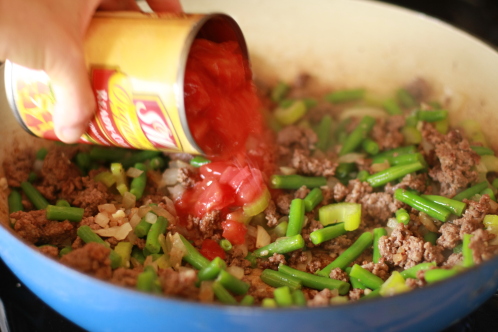 Add one cup (or half a can) of diced tomatoes (with the juice) and about a 1/2 cup of canned tomato sauce.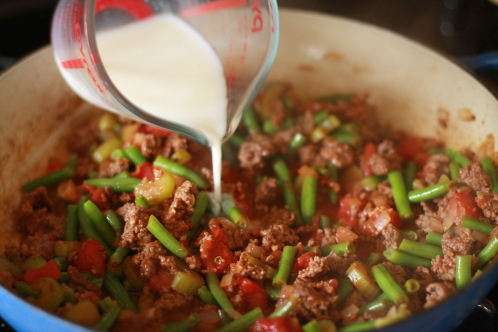 Add 1/4 cup of milk.  I like 2% or whole milk in my Shepherd Pie, but these days I never have more than 1% in our home.  To make up for the whimpiness of low fat milk, I often substitute a little of the milk for half/half.  Reduce the heat to medium low for a few minutes to simmer while you prepare the pan.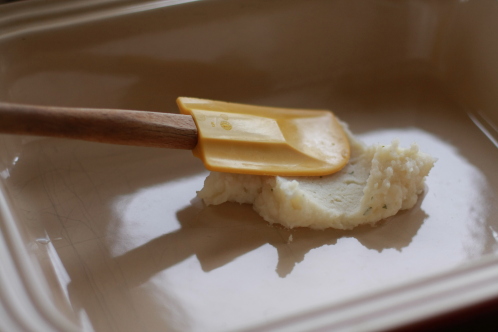 I'm using a medium sized casserole pan that measures 10.5 inches by 8.5 inches.  Any medium casserole pan will work.  I've also made it in my rectangle 2.2 quart Pyrex pan and it's the perfect size.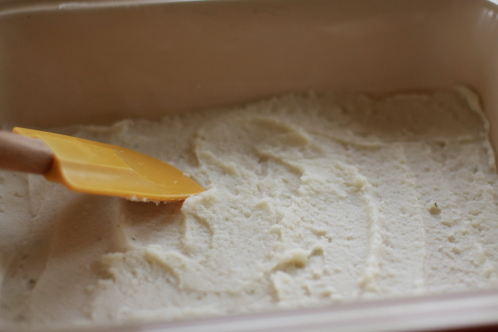 Spread about 1 cup of mashed potatoes evenly on the bottom of a the pan.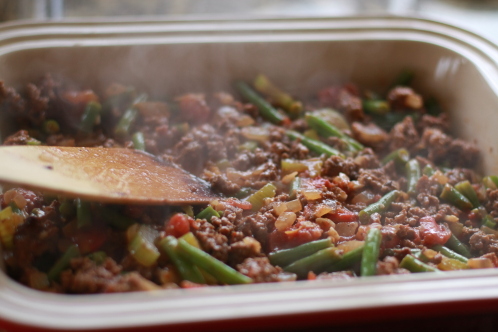 Pour the meat mixture into the pan and spread.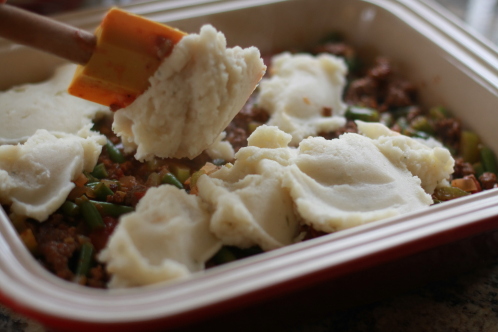 Now for the top.  Dab large spoonfuls of mashed potatoes all over the pie.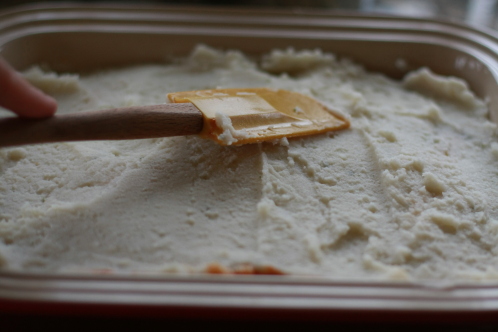 Then spread the potatoes out evenly… just like frosting a cake.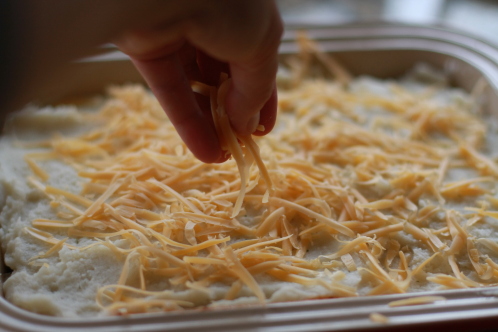 Top it all off with a cup of good sharp cheddar cheese.
Cook in a preheated 350 degree oven for about 40 minutes, until it's golden brown and bubbling.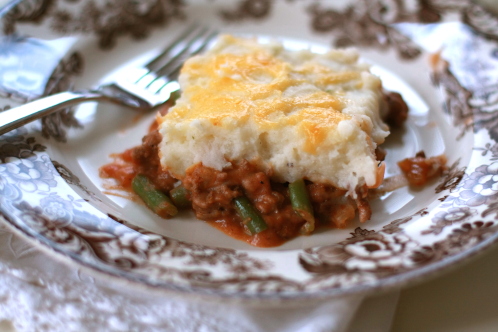 I love to allow it to cool on the counter for 10 to 15 minutes before serving.  Just long enough to gather everyone at the dinner table.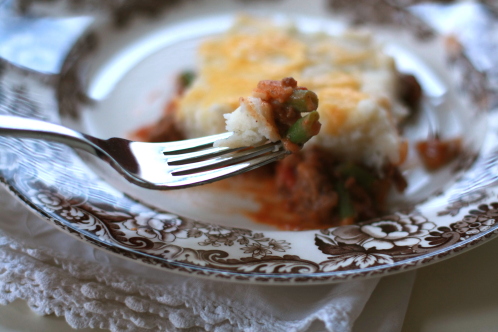 This is make-you-happy comfort food… and you don't even need to tell your family you cut a few corners.  It's so good, they'll never know!
Here's the recipe:
Shepherd's Pie
1 box Betty Crocker Roasted Garlic Mashed Potatoes – both packets (or 5 – 6 cups of homemade mashed potatoes) 1 Tablespoon Olive Oil 1 pound Ground Beef 1 teaspoon salt 1 teaspoon pepper 1 whole medium onion, chopped 3/4 cup celery, chopped 2 cloves garlic, minced 1 – 1/2 cups frozen green beans, bite- sized pieces 1 cup canned diced tomatoes with juice
1/2 cup tomato sauce 1/4 cup whole milk 1 cup shredded sharp Cheddar cheese Prepare potatoes according to box instructions.  Heat olive oil in a large skillet over medium high heat.  Add ground beef and cook until browned.  Add onions and celery and cook, stirring often, until slightly softened.  Add garlic and cook until fragrant, about 30 seconds.  Add green beans, diced tomatoes, and tomato sauce.  Simmer for about 5 minutes.  Add milk and simmer for several minutes more, stirring often. In a medium casserole pan, spread 1 cup of mashed potatoes evenly in pan.  Pour meat mixture over the top and spread out evenly.  Top with mashed potatoes and spread evenly.  Sprinkle cheese over the top. Cook in a preheated 350 degree oven for about 40 minutes or until golden and bubbly. Cool for several minutes before serving.  Enjoy! Click
here for the Printable Recipe
found in my recipe box on Tasty Kitchen.
- – - – - – - – - – - – - – - – - – - – - – - – - – - – - – - – - – - – - – - – - – - – - -
And now I'm so happy to be hosting another $50 Visa Gift Card Giveaway courtesy of Betty Crocker and the Spud Hub.  Could there be anything more timely for the Holidays?
If you haven't already, be sure to stop by the Spud Hub, where you'll find a treasure trove a wonderful, easy dinner recipes and ideas.  And while you're there be sure to enter to win the Sweepstakes for a $250 Gift Card for Groceries.
To enter the $50 Visa Gift Card giveaway, leave a comment on this post sharing your favorite recipe shortcut.  If you don't have one just say hi!
The Rules:
Contest closes on Thursday, December 22, 2011 10:00 MDT
Only one comment per person please.
Random winners will be announced on Friday, December 23, 2011
- – – – – – – – – – – – – – – – – – – – – – – – – – – – – – – – – – – – – – – – – –

Disclosure: This is a sponsored post by Betty Crocker.  All opinions and ideas are my own.

109 Responses to "Shepherd's Pie and a Giveaway"