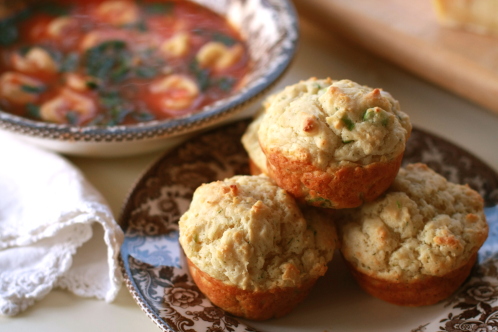 I'm so happy to be able to giveaway a $50 Visa Gift Card today sponsored by Betty Crocker as part of Better Homes and Garden's Dinner Ideas Tonight.
But first dinner and the giveaway for dessert….
- – - – - – - – - – - – - – - – - – - – - – - – - – - – - – - – - – - – - – - – - – - – - – -
Nothing brings my kids to dinner table faster than hot bread.
It's like magic.
They can't seem to hear me when I ask them to pick up their backpacks and coats off the ground… but pull hot bread sticks or rolls out of the oven and say "dinner is ready" and they come running.
This month, I am too busy to make yeast bread or rolls, but a good savory muffin is a different story.
I can have Potato Dill Muffins and my kid's favorite Spinach Tortellini Soup ready in about 30 minutes.
My sister-in-law brought these muffins to a family dinner party years ago.  They were so delicious I begged her for the recipe.  But I haven't made them often since I rarely have a cup of mashed potatoes on hand.  (Mashed potatoes disappear faster than hot rolls at our house.)
Then I discovered that boxed potatoes work great in the recipe.  They are easy to keep in my pantry to add to a hurried midweek dinner.  Boxed potatoes work great in any potato bread recipe.
Here's the how to: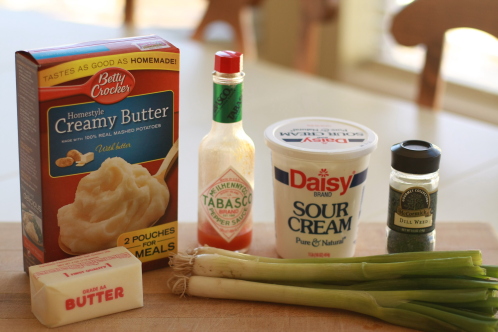 These dinner muffins get their texture and flavor from potatoes, dried dill, green onions, sour cream, butter and a splash of Tabasco.  I could swear I just bought that bottle of Tabasco and look, it's almost gone.  I think my husband drinks Tabasco sauce.
Start by preheating the oven to 400 degrees.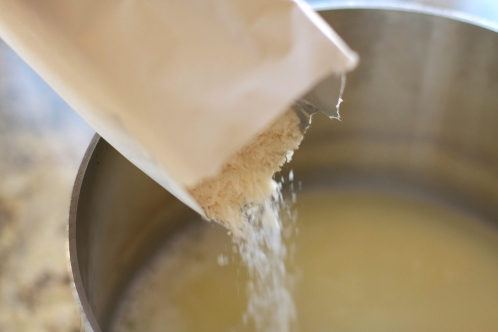 Next make the boxed potatoes – I used Betty Crocker Homestyle Creamy Butter for this batch. There are two packets in the box, and you just need one.  Each packet makes about 2 cups, so there will be one cup left over.  Either double the muffins if you have a big family, or make Potato Soup and throw the remaining potatoes in the soup.  In just a couple of minutes you've got hot mashed potatoes.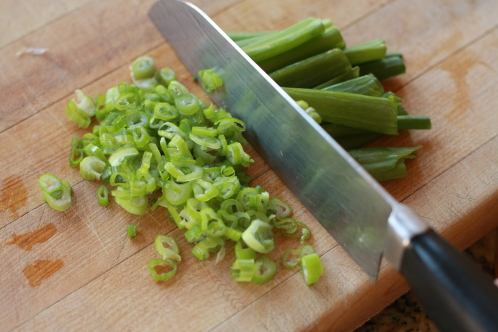 Next prep the green onions.  I'm using the just the tops for this recipe, since I like the color in the muffin.  You'll need 2 tablespoons.  Set them aside for now.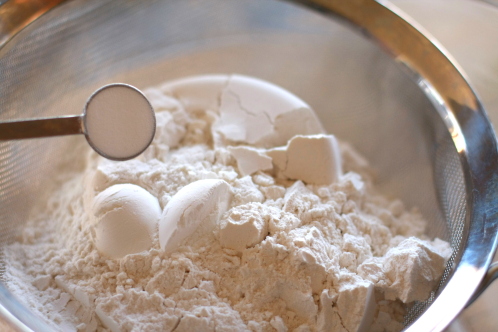 In a large mixing bowl, sift together the dry ingredients:  2 cups flour, 1-1/2 tsp. baking powder, 1/2 tsp. baking soda, and 1 tsp. salt.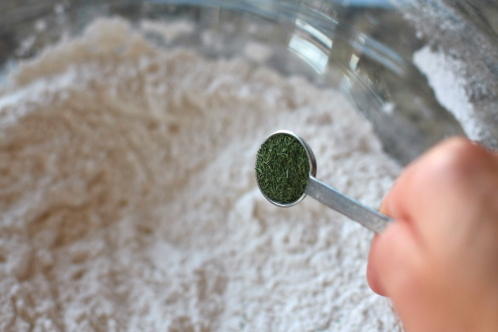 I like to stir in 1/2 tsp. dried dill at this point.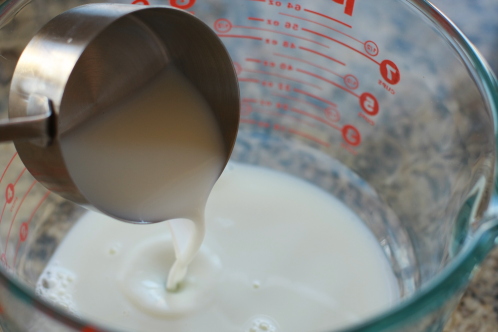 In a separate bowl add 3/4 cup milk and 1/4 cup (1/2 cube) melted butter,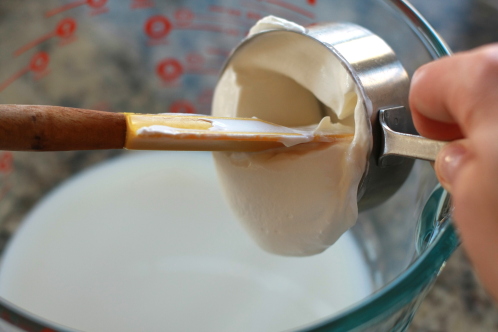 Add 1/2 cup sour cream.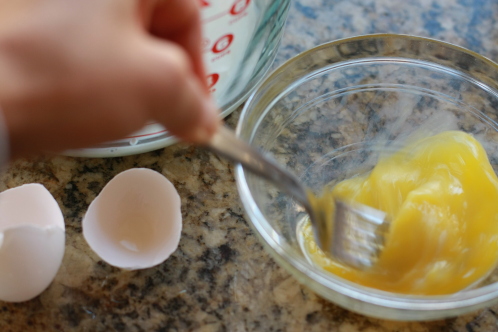 Lightly beat one egg and pour it in…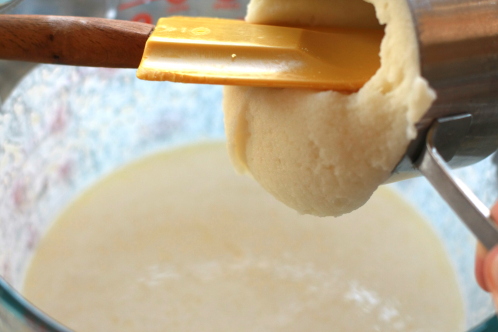 Add one cup of prepared mashed potatoes.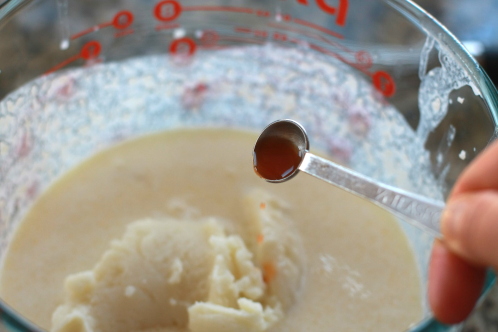 Last but not least, add 1/8 teaspoon Tabasco.  It'll brighten things up nicely.
Mix all the wet ingredients together.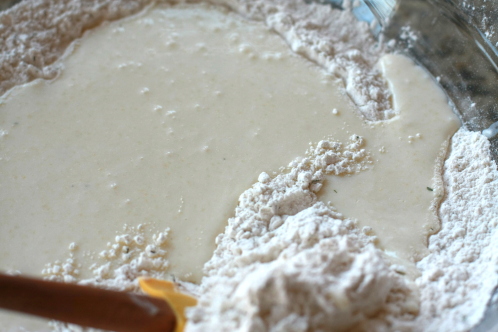 Make a basin in the center of your dry ingredients and pour in the wet ingredients.  Fold gently.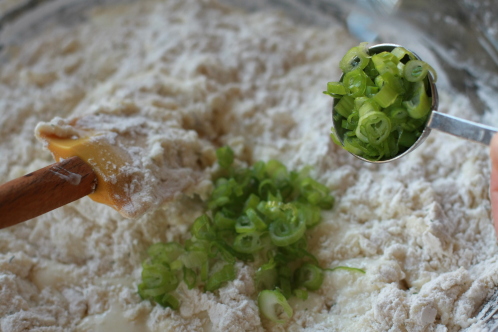 After folding for just a second, toss in the chopped green onions.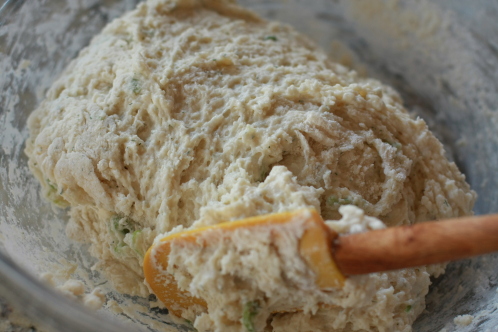 Fold together until the flour is just incorporated.  Don't overwork the dough or your muffins will be tough.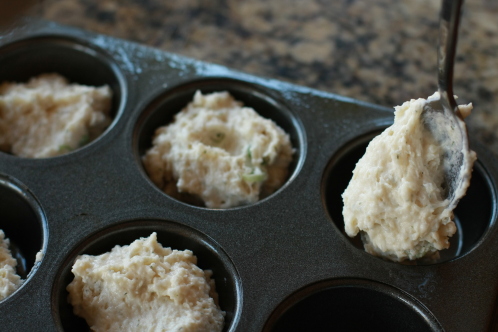 Drop by spoonfuls in to a greased muffin tin.  This recipe makes twelve muffins.
Pop them in a 400 degree oven for 15 – 20 minutes.  Just about the time to you need to make the soup.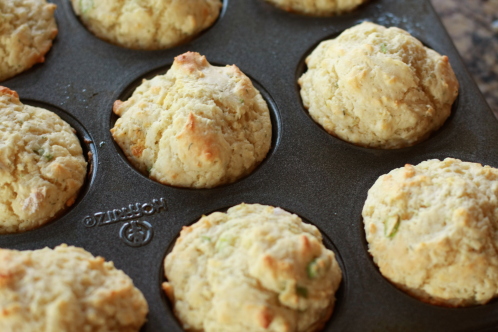 They come out golden and delicious.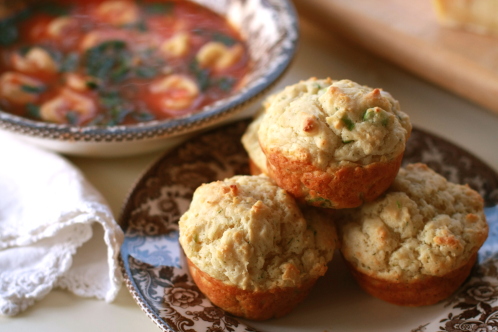 This dinner was so good, you'd never know how fast it came together.
I love that this muffin recipe can be easily adapted for your favorite flavor combination.  Try different herbs, cheese (Asiago or Parmesan) or even jalapenos.  You just need to keep the amounts roughly the same as the dill and green onions.
Here's the recipe:
Potato Dill Muffins
2 cups flour 1 – 1/2 tsp. baking powder 1/2 tsp. baking soda 1 tsp. salt 1/2 tsp. dried dill 3/4 cup milk 1/2 cup sour cream 1 cup mashed potatoes 1/4 cup melted butter (1/2 cube) 1 egg lightly beaten 1/8 tsp. Tabasco 2 Tbsp. green onions, chopped Preheat oven to 400 degrees.  In a large mixing bowl sift flour, baking powder, baking soda and salt.  Stir to combine. Add dill and stir.  In a separate bowl mix together milk, sour cream, mashed potatoes, butter, egg, and Tabasco until well blended.  Make a well in the dry ingredients and add milk mixture.  Stir until just combined.  Gently fold in the green onions.  Pour into greased muffin tin and bake for 15 to 20 minutes until golden.  Makes 12 muffins. Click
here for the printable recipe
from my Tasty Kitchen Recipe Box.
Click Here if you'd like the recipe for my Spinach Tortellini Soup.
* * * * * * * * * * * * * * * * * * * *
And now for a sweet treat from Betty Crocker.  Today we're giving away a $50 Visa Gift Card just in time for the Holidays.
To enter, visit the Spud Hub at Better Homes and Gardens, then come back and leave a comment on this post here sharing which recipe you would like to try.
The Rules:
Contest closes on Thursday, December 15, 2011 10:00 MDT
Only one comment per person please.
Random winners will be announced on Friday, December 16, 2011
And while you visit the Spud Hub, be sure to enter to win the Sweepstakes for a $250 Gift Card for Groceries.
- – - – - – - – - – - – - – - – - – - – - – - – - – - – - – - – - – - – - – - – - – - – - -
Disclosure: This is a sponsored post by Betty Crocker.  All opinions and ideas are my own.

114 Responses to "Potato Dill Muffins and a $50 Visa Gift Card Giveaway"