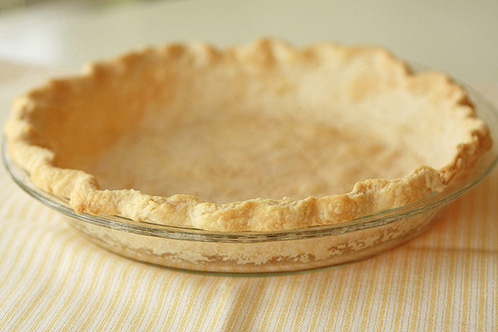 With Thanksgiving just a few days away, I'm sure there are more than a few of you out there getting ready to bake pie this week.  I have 30 people for dinner this year and I have been debating which pies to make and how many of each.
My list looks like this right now:
I know, there are no fancy pies on the list, just my tried and true favorites.  I may top one of the pumpkin pies with a fun and unusual topping, but mostly I'm sticking with what my family loves.  There is something comforting about these delicious old-fashioned pies on the very traditional day of Thanksgiving.
Since my oven will be full of turkey on Thanksgiving Day, I will be making the pies with my girls on Wednesday.  We will be watching/listening to movies and baking to our heart content.
Here's a few tips that might make your pie making easier.
Give yourself plenty of time. Pie is one of those things that just can't be rushed.
Cut in the fats and flour by hand, either with a pastry cutter or with your hands. My mom once tried to shortcut this process with her food processor.  Though she only pulsed the ingredients together, my brother-in-law asked her, as he ate his pie, "What happened to the crust?"  It just wasn't as flaky or tender.
Make sure your fat of choice (lard, butter or shortening) is very cold. Cold fat = flaky crust.  My mom taught me to measure my lard and put it in the freezer for the 10 minutes it takes me to measure and sift the dry ingredients.
Don't dump all the cold liquid into your pie at once. The amount needed really depends on things like humidity and your flour.  If your crust seems right, stop.  You may even need more than the recipe calls for occasionally.
When making a pre-baked crust for a cream filled pie, be sure to pierce the crust all over with a fork. This prevents the crust from shrinking in the oven.  With the recipe I use, I've never found the need for pie weights.  It can also help to chill your crust before baking to prevent shrinkage.  If you do need pie weights, you don't need to buy them- just line your pie with foil and fill with dry beans or rice.
You can make and pre-bake the crusts for cream pies several days before you need them. Let your crusts cool completely and cover gently with a piece of foil.  Put them in a cool dry spot until you fill them.
Since cream pie filling is made on the stove top, I make the cream pie fillings on Thanksgiving morning. That still gives plenty of cooling time in the refrigerator, but ensures the pies are fresh.
One tip for a banana cream pie: I slice the bananas on the pie when I serve them. That way they don't go brown, and taste fresh.
When putting the top on a double crust pie, I like to use a small cookie cutter to cut a fun shape (acorn, heart or scalloped circle) from the center of the pie as a vent and for decoration. I cut it out while I still have the crust on my pastry frame.  Then I roll the crust halfway on the rolling pin, center my cutout and roll the top crust into place.
Before rolling the top crust into place, I dip my finger in water and run it around the bottom crust. That little bit of moisture helps seal the two crusts together.
I also love to brush my top crust with a little evaporated milk, half/half or even milk, then sprinkle it with granulated sugar. It makes a lovely golden crust.
Make pie a tradition. This past week, my mom and I taught a pie class for about 50 people.  Together we made around 100 pies.  It was epic.  And fun.  One of the women there makes pie with her sisters and sister-in-laws each Thanksgiving.  She said they all make their favorites and they make around 20 pies together.  It's something they all love and look forward to. Some of my fondest memories of childhood are of making pie with my mom.  I remember stirring the fillings, helping flute the edges of the pie, and best of all baking and eating cinnamon pie scraps.  It's a tradition I've carried on with my girls and one we love and look forward to each year.
If you have a good pie baker in the family, make a date and bake pie together. Those family pie traditions are treasures.  Several years before my husband's 90 year old grandmother passed away, my husband went to her home and baked pies with her for Thanksgiving.  He took notes as they baked.  That memory is priceless to him as are the tips she shared (that now I use).
I've shared a tutorial on Perfect Pie Crust here and here.  The tutorials are one way to make pie, but there are many ways to make a great pie crust.  It's more of a method that can be used with many recipes.  The recipe I use most often, the recipe from my mom, is a fabulous crust that is tender, flaky and easy to make.
This Thanksgiving seems especially poignant to me.  My heart has been so full of gratitude.  I look forward to all the lovely moments this week of preparation and spending time with my loved ones on Thanksgiving day.
Last but not least, I'll share a few fun quotes I found in preparation for the pie class we taught.
"Good apple pies are a considerable part of our domestic happiness" ~Jane Austen
"When you die, if you get a choice between going to regular heaven or pie heaven, choose pie heaven. It might be a trick, but if it's not, mmmmmmmm, boy." – Jack Handy
"One little thing can revive a guy/ and that is a homemade rhubarb pie/ Serve it up nice and hot/ maybe things aren't as bad as you thought." ~ A Prairie Home Companion
"Cut my pie into four pieces, I don't think I could eat eight." – Yogi Berra (Thanks Judy!)
"In the childhood memories of every good cook, there's a large kitchen, a warm stove, a simmering pot, and a mom."  Barbara Costikyan
9 Responses to "Pie Baking Tips"