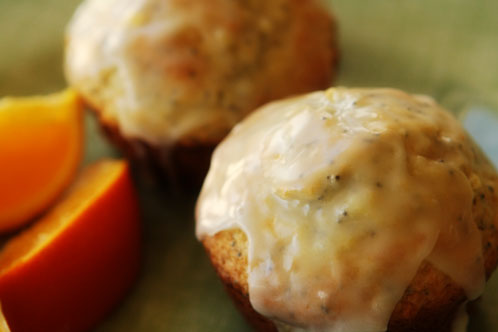 Do you know the muffin man?
The muffin man?
The muffin man.
Yes.  My kids watched Shrek this past weekend.  Why do you ask?
Today I'm making and eating and writing about muffins.  Yum.
This is a perfect recipe this time of year… when citrus is inexpensive and delicious.  Today I made orange muffins (because that's what I had on hand) but you can also use lemon, either way this recipe is delicious.
Orange Poppy Seed Muffins… not to be confused with my Orange Glazed Poppy Seed Bread… which if you haven't tried, you should.  It is awesome bread!
Making this muffin recipe is a pick me up to the soul.  It smells so cheerful and bright.
Here is the recipe:
Orange Poppy Seed Muffins
2/3 cup granulated sugar zest and juice of 1 orange
2 cups flour 2 teaspoons baking powder 1/4 teaspoon baking soda 1/4 teaspoon salt 3/4 cup sour cream 2 large eggs 1 teaspoon vanilla extract 1/2 cup butter (1 stick) 1 Tablespoon poppy seeds For the glaze: 1-1/2 cups powdered sugar 3 tablespoons fresh squeezed orange juice
Preheat oven to 400 degrees.  Grease 12 cup muffin pan or line with paper cups.
Melt 1/2 cup of butter and set aside to cool.

In a large bowl, zest the orange and add sugar.  Using your hands, rub the orange zest and sugar together until well blended and fragrant.  Add flour, baking powder, baking soda, salt and poppy seeds.  Mix until well blended.
In a separate bowl whisk together sour cream, eggs, vanilla, orange juice, and melted butter until well blended.  Pour liquid mixture over the dry ingredients.  Gently stir until just combined.  Do not over mix, a few lumps are fine.
Spoon into muffin pan.  Bake at 400 degrees for 15 – 18 minutes, or until golden brown and cake tester comes out clean.
While the muffins are baking, make the glaze by whisking together the powdered sugar and 3 tablespoons orange juice until smooth.
Remove muffins from pan, place on a cooling rack with a cookie sheet beneath to catch the overspill.  Allow to cool for a few minutes before drizzling the glaze over muffins.
Head on over to my Tasty Kitchen Recipe Box if you'd like to print the recipe.
And here's the step by step: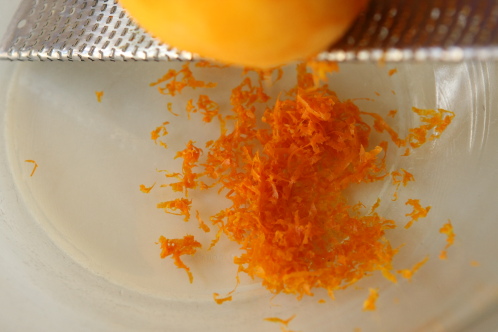 You can already tell this recipe is going to be good.  I love to zest.
You'll also want to melt the butter now so it has time to cool.  And turn on the oven to 400 degrees… and spray your muffin tin with non-stick spray.  I'm not bossy, am I.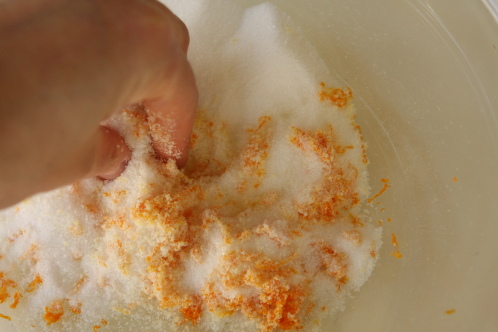 If this doesn't make you happy, I don't know what would.  Using your hand, rub the zest into the sugar until they are well blended and the zest is fragrant.  It smells so unbelievable.  Using your hand also helps release the oils from the zest and that = flavor.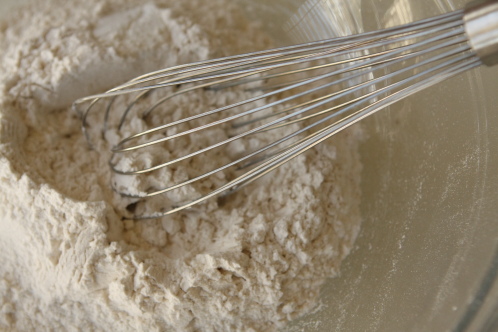 Mix the flour, baking soda, baking powder, salt, and poppy seeds into the sugar mixture.  Mix it really well.  Make sure the baking soda and powder are evenly mixed throughout since you won't be mixing it much once the wet ingredients are added.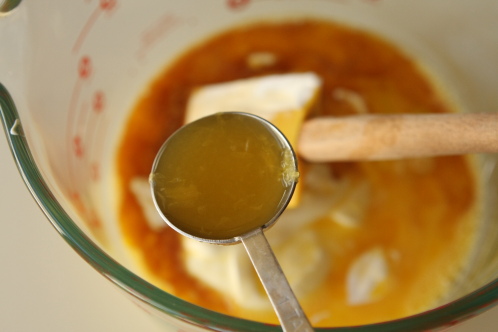 Mix the wet ingredients together.  Sour cream, eggs, melted butter, orange juice and vanilla.  Whisk until smooth.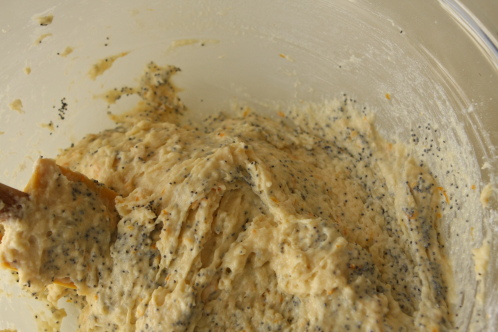 Pour the wet ingredients into the dry ingredients and mix until it's just blended.  This is the key to any muffin, DO NOT OVER MIX.  If you do, you'll have cone shaped muffins.  I learned that in 8th grade Home Economics from Miss Holman, and I've never forgotten that lesson.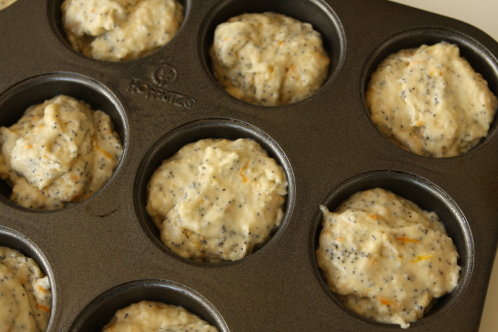 Spoon them into a greased muffin pan and bake in a 400 degree oven until golden brown, about 15 – 18 minutes.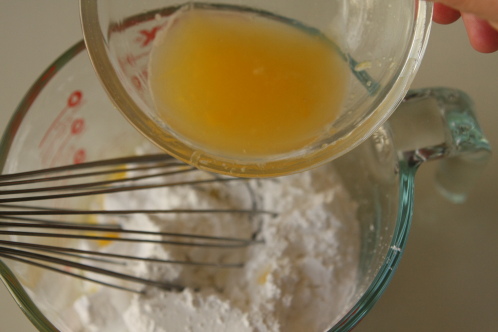 While they are in the oven, whisk up some glaze.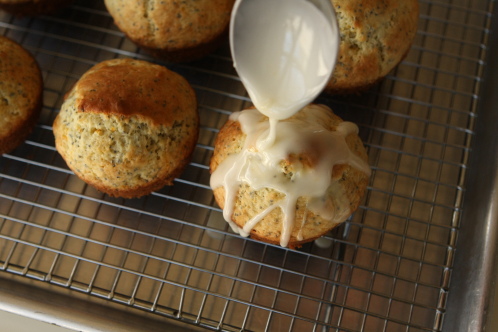 I like to remove my muffins from the pan.  Place them on a cooling rack over a cookie sheet.  That way there isn't glaze all over the counter when you are done.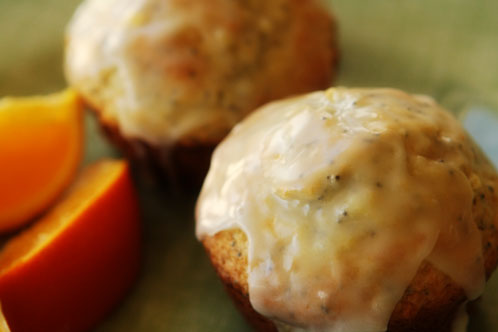 And enjoy.
Orange Glazed Poppy Seed Muffins.  It's the breakfast of champions.

17 Responses to "Orange Poppy Seed Muffins"