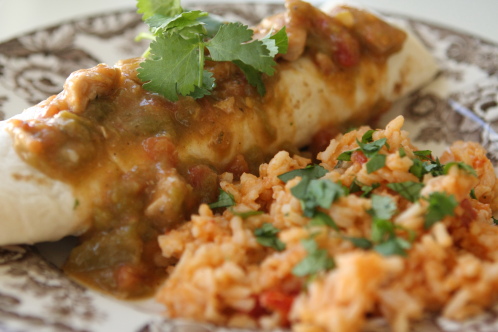 My dad is the man in the kitchen.
This recipe is his creation and it's so darn good I've eaten it for leftovers for the last three days.  Now that I've licked the bowl clean, I'm thinking of making another batch.
OK.  That might be too much of a good thing.  Maybe.
Years ago my dad ate Chile Verde on a trip to New Mexico.  He loved it so much he asked the proprietor of the restaurant if he would be willing to share the recipe.  Being a flattered, but typical restaurant owner, he generously gave my dad a few vague instructions.
Since this was years ago, he was left to try to recreate Chile Verde without a recipe or (gasp!) Google.  The results have long been a family favorite.
New Mexican Chile Verde. Green Chile.
My grandmother used to call Chilly Vurdy.
If you've never eaten Chile Verde before, I'm the first to admit it looks a little daunting, but give it a try, you'll probably fall in love.  In case you're not convinced, yes, even my kids love it.  Need more proof…  my sister's picky eaters love it too.
New Mexican Chile Verde
4-5 lbs. pork loin, trimmed and cut into bite-sized pieces
3 Tbs. olive oil
2 27 oz cans green chiles (or 3 lbs fresh roasted)
1 large onion, chopped
1 Tbs. garlic, chopped
2- 14.5 oz cans Swanson's low salt chicken broth
1- 14.4 oz can Western Family tomatoes with chipotles
1- 10 oz can Rotels diced tomatoes with green chiles
1/3 cup flour (for thickening)
½ tsp. salt (or to taste)
¼ tsp. pepper (or to taste)
¼ tsp. celery salt
Heat a large dutch oven or sauce pot over medium high heat.  Add two tablespoons oil.  Sear pork in batches.  Season with salt and pepper each batch after meat sears.  Spoon pork to a plate and set aside.  Add remaining oil and saute onion until translucent.  Add garlic and cook until fragrant, about 1 minute.  Add the chicken broth being sure to scrape up the brown bits in the pan as you pour it in.  Add the pork back into the pot.  Add tomatoes, chopped chiles and seasoning and simmer for 3 hours until pork is fork tender.
Just before serving, take out a cup, or so, of the broth and mix with flour.  Mix with a wire whip to make a thin paste.  Stir into mixture and simmer for about 5 minutes to cook the flour. Stir several times to prevent sticking on the bottom.
We love it served smothered over bean burritos.
Click on over to my Tasty Kitchen Recipe Box for the printable recipe.
On New Year's Day I headed up to my mom and dad's home with camera in hand to watch him in action.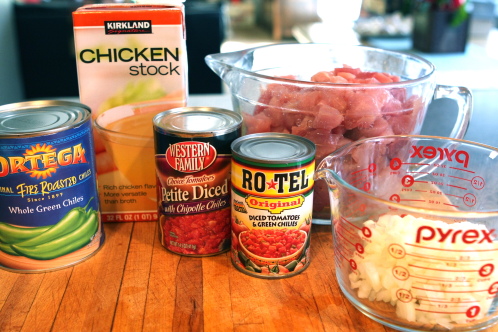 There's the line up.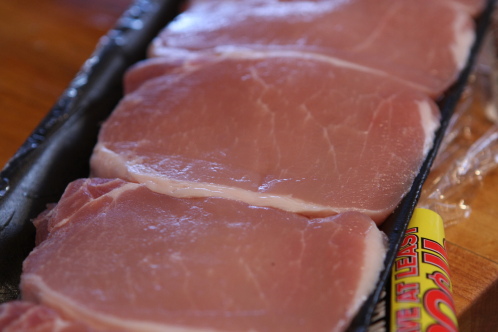 My dad uses pork loin or pork loin chops like these…. which ever is the best price that day. Trim away any fat and chop into bite-sized pieces.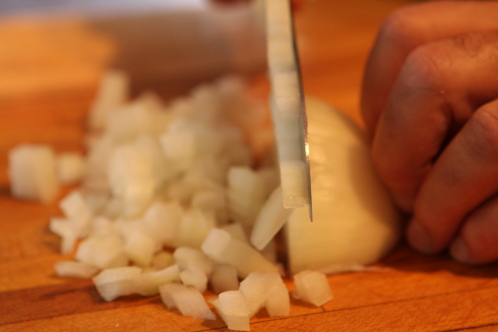 My dad chops an onion like a pro.  Also chop up the garlic.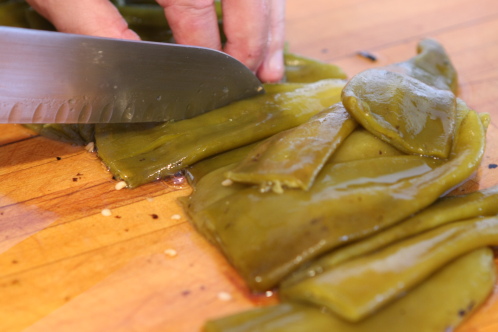 Chopping the chiles… don't worry about the seeds.  These chiles are MILD.  Do be sure to remove any larger pieces of blackened skin, it's tough and not appetizing.  He loves Embasa brand chiles since they consistently have less of those pieces of skin.  It's just hard to find the larger cans sometimes.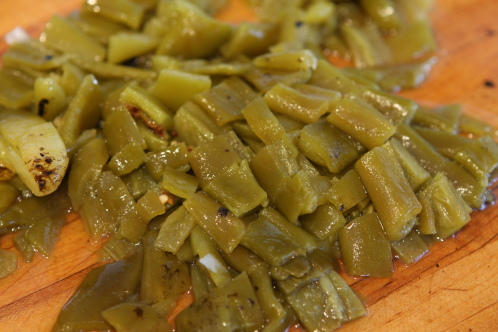 Give the chiles a rough chop.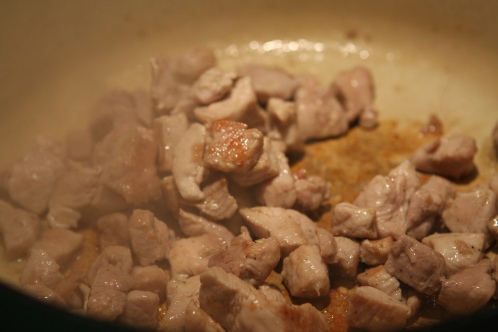 Brown the pork in batches so you don't crowd pan.  I didn't show a photo of the onions….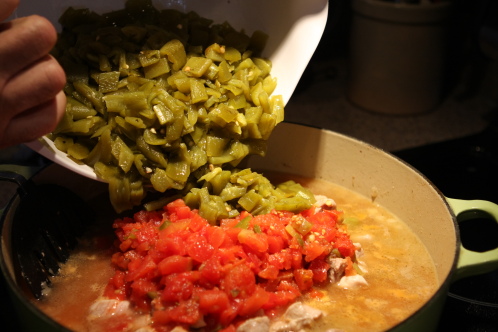 I also didn't show scrapping up the brown bits from the bottom of the pan while adding the broth (or in this case stock)… but that's an important step.  That's a lot of lovely flavor.
Pour the tomatoes and chiles in too. A word about the Rotel tomatoes, they are where this dish gets it's heat.  If you like things REALLY mild, you can use Rotel Mild as a substitute.
Celery salt is one of my dad's favorite seasonings.  He puts it in just about everything!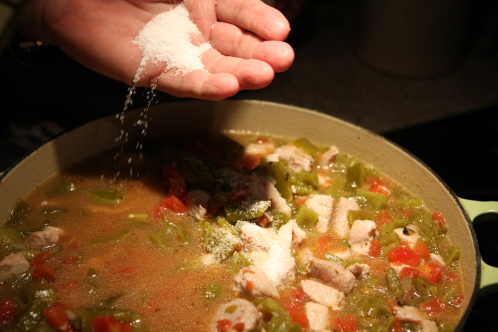 Season to taste with salt and pepper.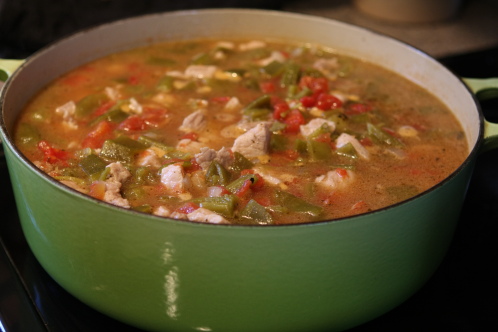 Simmer for about 3 hours until the pork is really tender.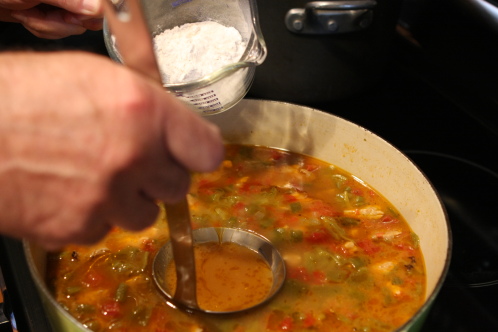 Add the flour to a small container.  Ladle in about a cup of the broth.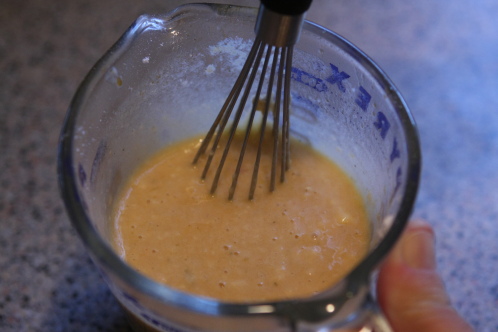 Whisk it together, so there are no lumps.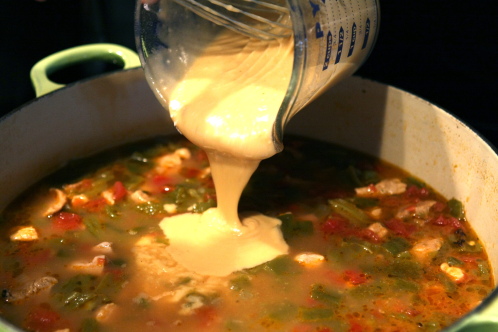 Add the flour mixture back into the pot, whisk it in and cook for about 5 minutes, stirring often.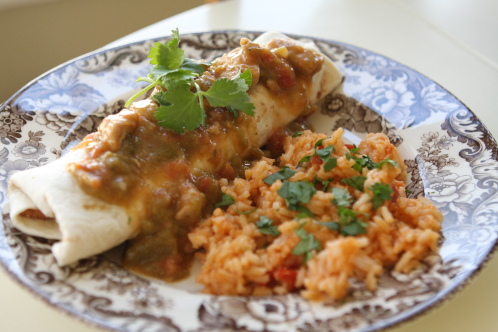 Serve it smothered over a flour tortilla filled with beans and a little cheese.
My dad makes his own beans and Mexican rice… but those recipes are for another day.
Buen Appetito!
27 Responses to "New Mexican Chile Verde from Heaven"