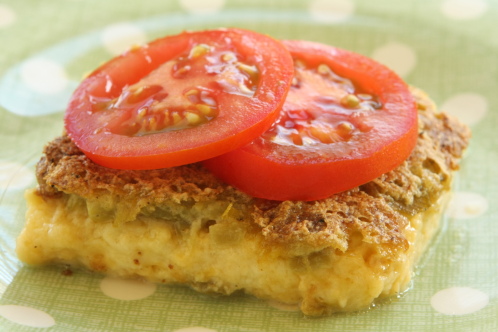 Green Chile Egg Casserole is a big crowd pleaser.  It's the perfect dish to serve when you have guests for breakfast or brunch.
I absolutely love this dish.  It makes me happy to smell it cooking.  It makes me even happier to eat it.  And here's a big surprise, picky eaters and kids love it too, even with eggs and chiles.   The secret to this dish's success is cheese…. lots and lots of cheese.
I love to serve this dish on mornings when I don't want to or don't have time to slave away in the kitchen.  We eat it every 4th of July morning after we come home from the neighborhood parade.  We also eat it every Christmas morning… because who wants to cook on Christmas morning?  Green Chile Egg Casserole is perfect for those special, busy mornings because this dish must be made the day ahead.
Plus it is so good (and bad for you) that you'll want to save it for special occasions.
Here's the recipe:
Green Chile Egg Casserole

2 – 4 oz. can diced green chiles
1 lb. shredded jack cheese
1 lb. shredded cheddar cheese
4 eggs, separated
1 can evaporated milk
½ tsp. salt
½ tsp. pepper
1 Tbsp. flour
Tomatoes for topping
Salsa for topping
*This dish must be prepared the night before baking.
Beat egg whites until stiff white peaks form, set aside.  In a large separate bowl, beat yolks with a fork.  Add one can of evaporated milk, salt, pepper, flour and green chiles.  Mix well.  Gently fold in egg whites.
Sprinkle mixed cheeses evenly in a 8 ½ x 11 casserole dish.  Pour egg mixture evenly over cheeses and spread with a spatula.  Cover and place in the refrigerator overnight.
Preheat oven to 325 degrees.  Bake for 55 minutes.
Allow to rest for about 10 minutes before serving.  Serve topped with sliced tomatoes and salsa on the side.
Serves 12.
Click over to Tasty Kitchen for the printable recipe.
Here's the step by step: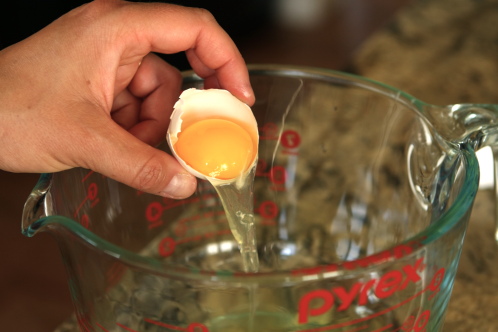 Separate your eggs.  I never use a fancy egg separating tool.  I just use what nature provides… the shell.  If you've never separated eggs before, simply crack the egg in half, gently transfer the yolk back and forth between the two halves of the shell, as the whites drop into the bowl below.  Once separated, place the yolks into a large mixing bowl and set aside.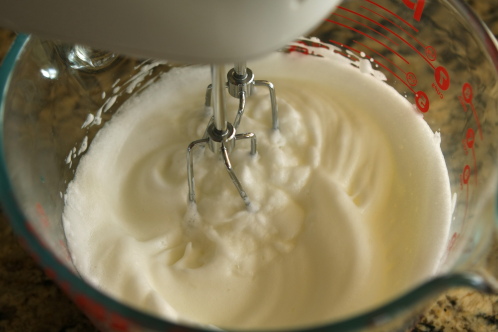 Using a mixer, beat the yolks into stiff peaks.  I am always amazed that egg whites can turn into something so lovely.  Set the egg whites aside for now.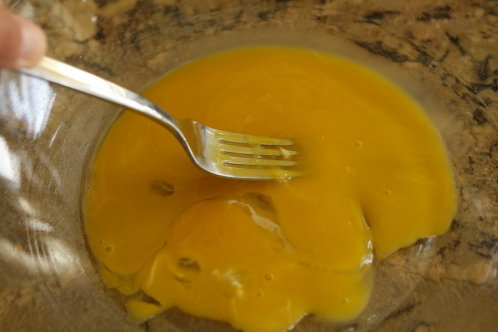 In the large mixing bowl, beat the yolks with a fork.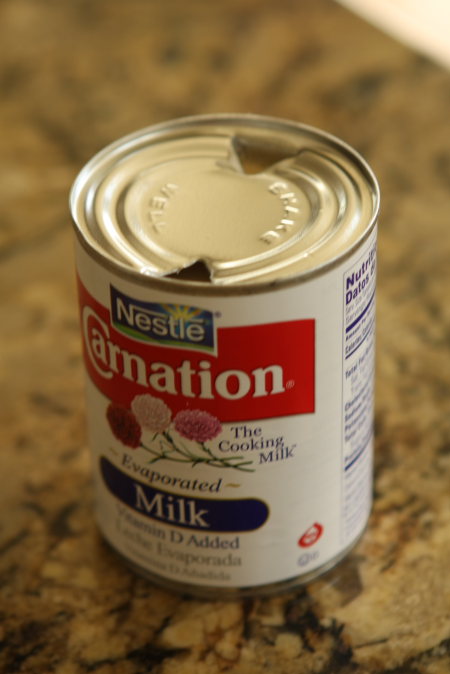 To the yolks add evaporated milk.
Is that how you open a can of evaporated milk?  Whenever I do it this way (as opposed to using a can opener) I think of my mom.  That's how she opens and uses evaporated milk… it seems old school.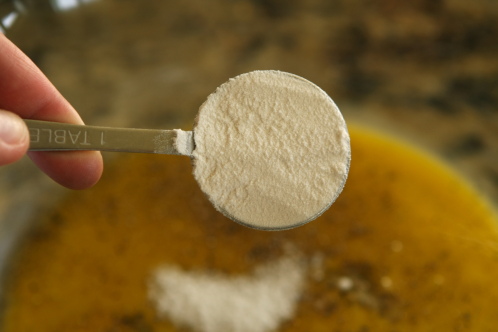 Add flour, salt, pepper….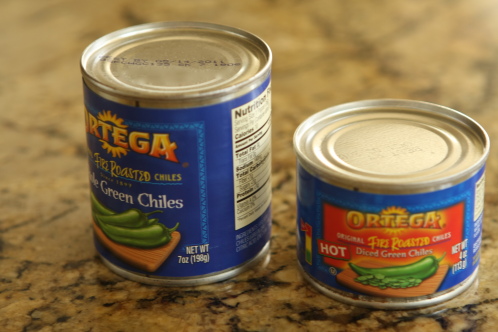 … and the chiles of course.  One of those cans say they are hot fire roasted diced green chiles.  They are not.  Hot, I mean.  If you love it spicy, you could substitute in some jalapenos.  (Or use pepper jack cheese instead of jack cheese later in the recipe.)
Today I'm using a few more chilies than the recipe calls for.  And that's OK.  Just be sure to drain your chilies before adding them in.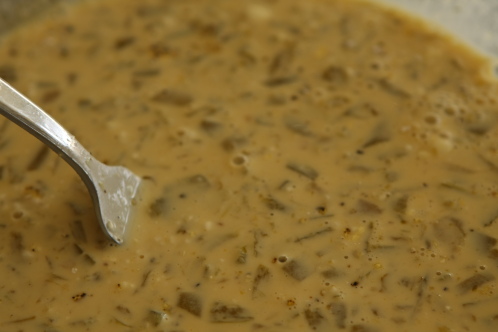 Mix them all together.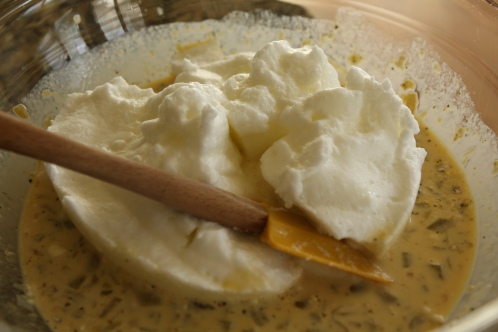 Then add the egg whites.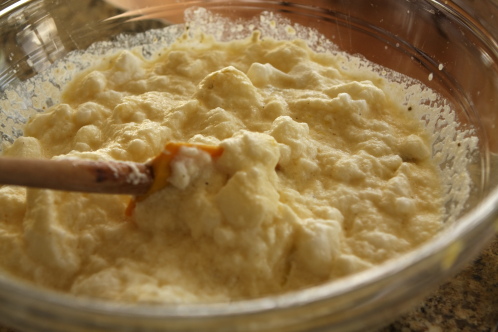 Gently fold them in.  If you stir too hard, you'll loose all the loft and air you've put in by beating the whites to stiff peaks.  Folding is the key.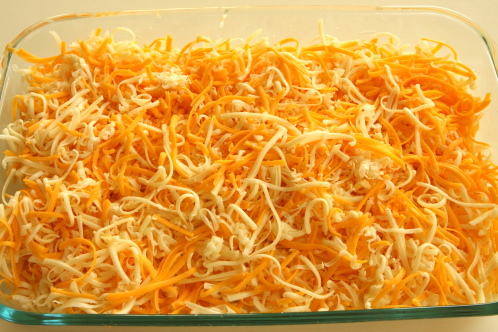 Sprinkle your mixed cheeses into an 8 ½ x 11 casserole dish.  I love to use a Pyrex dish for this casserole.
Two pounds looks like a lot of cheese.  It is a lot of cheese.  That's what makes this dish so sinfully good!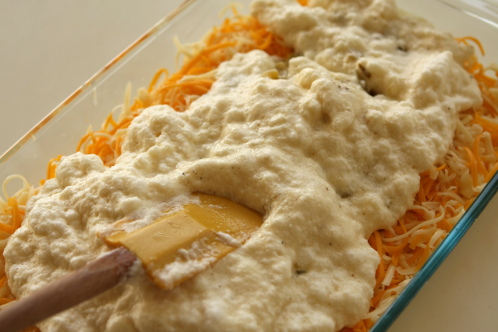 Pour your egg mixture evenly over the cheeses and spread it out with a spatula.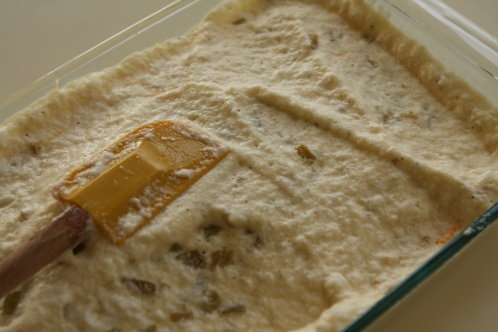 Once it's even.  Cover your dish and place in the refrigerator over night.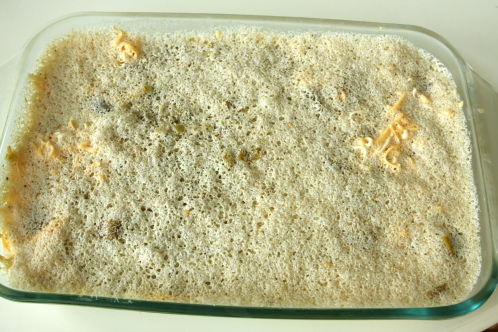 In the morning it's going to look like this.  The mixture has seeped into the cheeses… and magic has happened.
Bake in a preheated 325 degree oven for about 55 minutes.  I love when the top starts to brown a bit…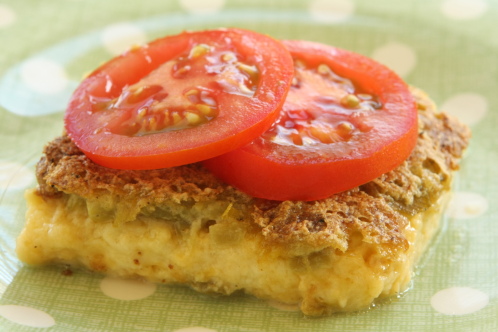 Serve it up with sliced tomato on the top… and salsa on the side.
Ummm… it is mouthwatering good!  Just don't tell anyone how much cheese is in there… and let them enjoy it guilt free.
3 Responses to "Muy Bueno Green Chile Egg Casserole"