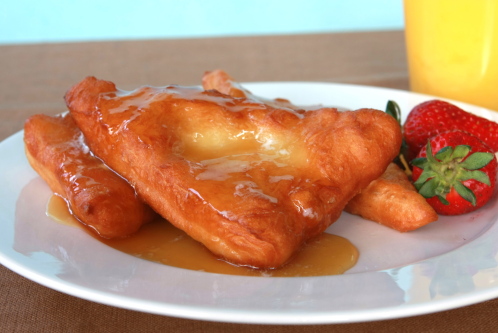 My mom has made "scones" my whole life.  If you ask any of my siblings what favorite foods they think of when they think of mom and scones will be high on the list.
They are family tradition that brings back many warm memories.  Even today, Nan still makes her famous scones that are a favorite with all of the grandchildren.
So imagine my surprise when I found out that the "scones" we love to eat are not what the rest of the world calls a scone.  In fact, the scones I grew up with are a very regional creation… they are sometimes called Utah Scones or Mormon Scones.
What!?  The things I never knew!
The scones in Utah are a raised white bread dough deep fried in hot oil, much like Sopapillas or Navajo Fry Bread.
But whatever you call them, I call them divine.
Here's how to make them: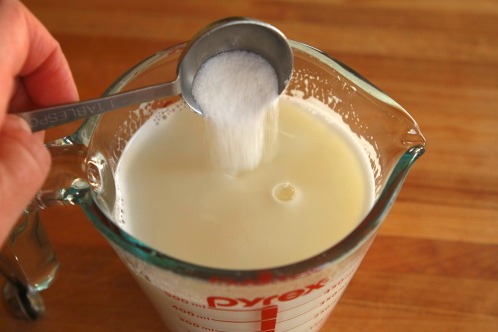 Combine 1 cup of warm milk and 1 cup of warm water.  Add in 3 tablespoons of sugar.  Stir for a moment to help it dissolve.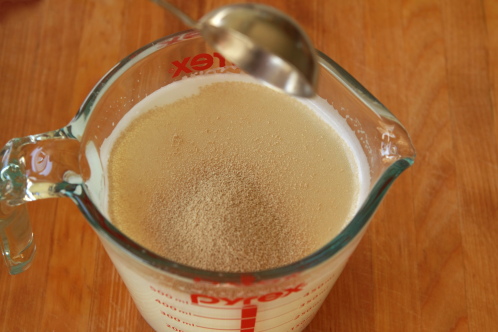 Add one tablespoon of yeast.  A word about the temperature of the water.  Think baby bottle warm and you'll be at the perfect temperature for your yeast.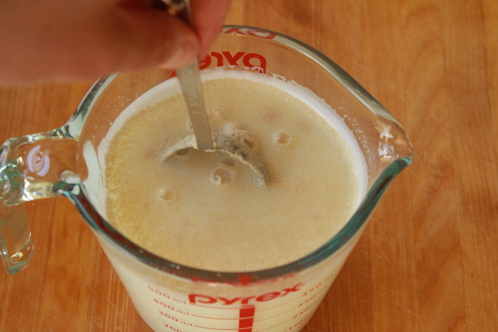 Give the yeast a quick stir.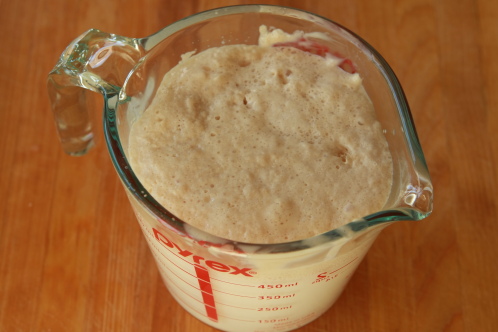 Allow the yeast to activate about 10 minutes.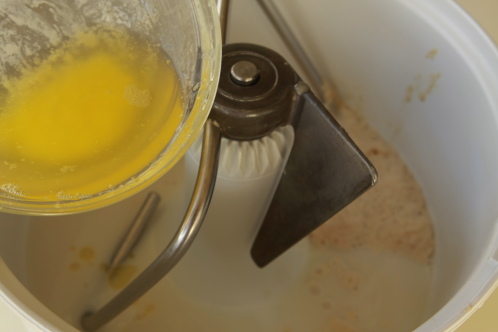 You can allow your yeast to activate right in you mixing bowl, but the pyrex was better for showing activated yeast in a photo.  I've just poured my active yeast mixture into my Bosch mixer.  Pour in your melted, BUT COOLED butter.  Hot butter could kill the yeast.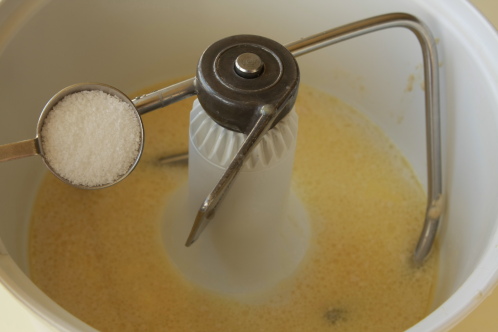 Add one tablespoon of salt.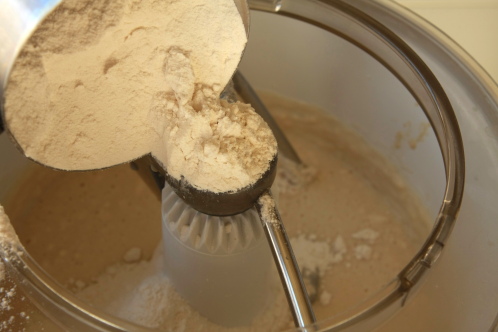 And flour.
I used to hate when a recipe stated "Add 5 to 6 cups of flour."  How am I supposed to know when to stop?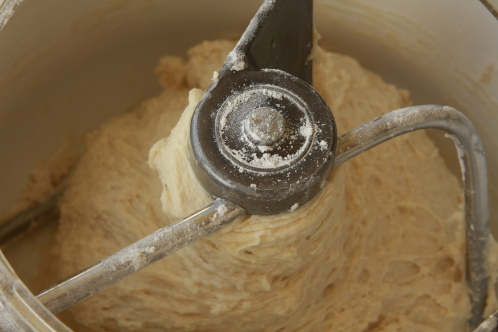 The more you make bread, the more it makes sense.  You start to get a feel for the dough.  One thing I look for when adding the flour is I stop when the dough pulls away from the sides of the bowl.  Then I touch it, is it too sticky to work with?  If it is, add a bit more flour.  For scones you want it slightly sticky… but since you'll be rolling out on a counter without flour… not too sticky.
Set the bowl aside in a warm spot with a towel over the top, and allow the dough to double in size.  This can take up to an hour and a half depending on how warm your home is.  My oven has a warming drawer and it takes about 45 minutes on low warm.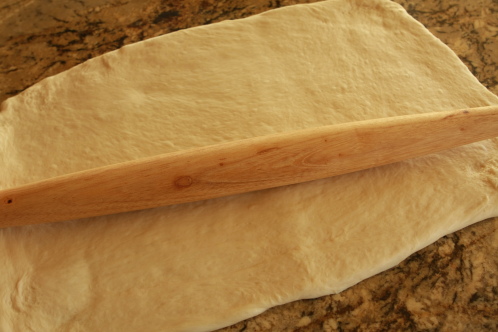 Now is a good time to get your oil heating over medium to medium high heat.  Heat the oil to between 350 – 400 degrees.  I measure the heat of my oil with a candy thermometer.
You will be rolling out and cutting the dough directly on the counter, so if you have a laminate or other type of counter that you don't want to cut on, roll out on a large cutting board.  Roll your dough out on your counter top without flour.  Flour in hot oil is not a good combo.  My mom never even greases her counter top before rolling.  I spread a thin layer of butter or shortening just to make sure it doesn't stick.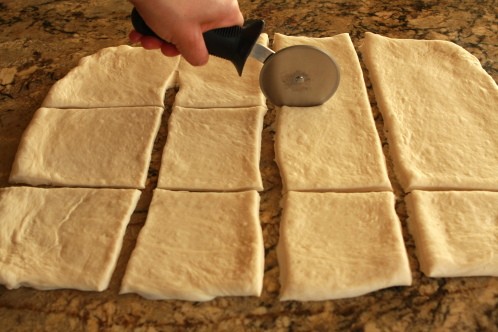 Cut your dough out with a pizza cutter.  You can cut them any size or shape you wish.  My kids requested triangles tonight… so that's where I'm headed.  My mom always did smaller rectangles.
For you quilters.. they are half square triangles… kind of.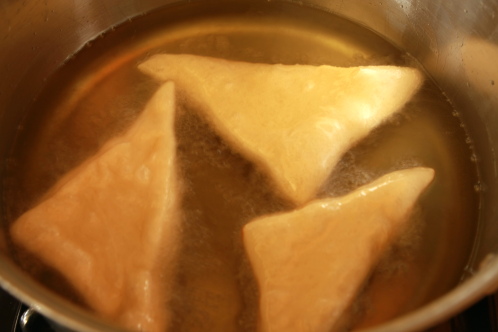 Make sure your oil is hot enough.  Too cold and the scones will really soak up the grease… yuck.  Too hot and they will be brown on the outside and doughy on the inside.
This is important:  Before tossing your scones into the hot oil give the dough a little stretch….
And drop them in… be sure not to overcrowd the pan.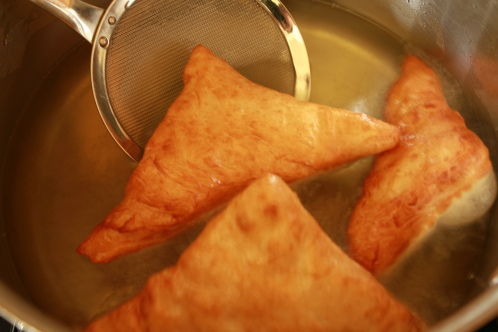 When they are golden brown turn them over.  They are going to rise and puff just like pillows.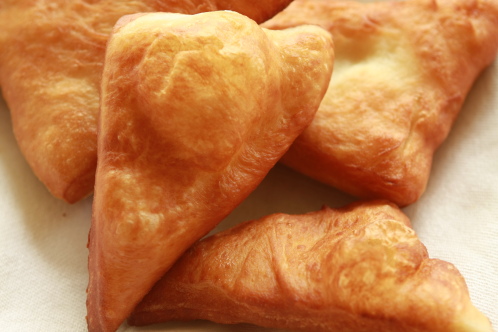 When they are done, let them drain on a paper towel.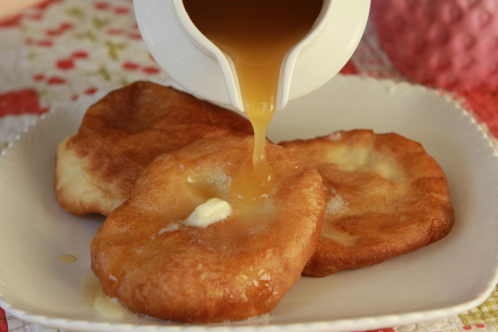 Serve them with butter and your favorite syrup… ours is Buttermilk Syrup on scones… or your favorite jam and powdered sugar.  Honey Butter is also a favorite, classic accompaniment here in Utah.  Utah is the Beehive State after all.
Whatever you top them with, be sure to eat them while they are hot.  I guarantee they are a little bit of heaven.
Here is the recipe:
Mom's Scones
1 cup warm water 1 cup warm milk 1 Tbsp. dry active yeast 3 Tbsp. granulated sugar 1/4 cup melted butter, cooled 1 Tbsp. salt 5 – 6 cups bread flour Vegetable oil for deep frying
Combine warm water and warm milk.  Stir in the sugar.  Add dry active yeast and stir lightly.  Allow yeast to activate, about 10 minutes.  In a stand mixer, fitted with a bread hook, add milk mixture and melted cooled butter.  Add the salt.  Start the mixer and add the flour one cup at a time until the dough pulls away from the sides of the bowl.  Dough should be slightly sticky but workable.  Cover the dough in the bowl with a towel.  Set in a warm place and allow raise until double.
Pour your oil in a large pan (with sides deep enough to fully immerse the scones) or a deep fryer and heat slowly over medium to medium high heat.  While the oil is heating, roll the dough out onto the counter, without flour, into a large rectangle about 1/2 inch thick.  You may choose to butter the counter lightly.  Using a pizza cutter, cut into squares or triangles.
Heat oil to between 350 – 400 degrees and cook scones until golden brown.  Serve immediately.


79 Responses to "Mom's Scones"