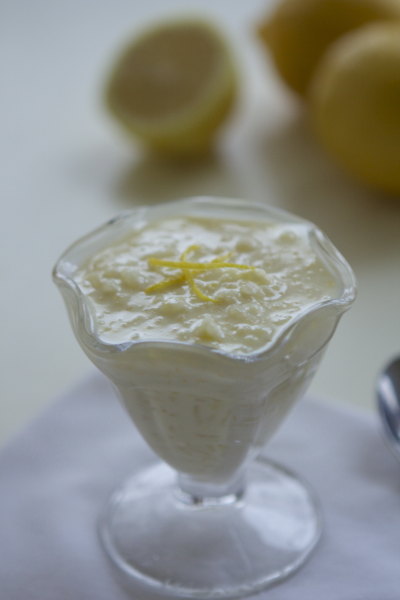 There's nothing quite so nice as warm pudding on a cold, winter night.
This recipe for Lemon Rice Pudding is one of my favorites.  I love lemon anything.  Plus it is easy to make and relatively healthy.
Simple ingredients = Goodness
Here's the recipe:
Lemon Rice Pudding
1/2 cup Basmati rice (you can use any long grain rice, but I prefer Basmati) 1/2 cup granulated sugar 4 cups whole milk (you can substitute a lower fat milk, but your pudding won't be as thick and creamy, you can even use half/half if you love really rich pudding) 1 egg Zest of one lemon 1 tablespoon lemon juice 1/2 teaspoon vanilla
- – - – - – - – - – - – - – - – - – - – - – - – - – - – - – - -
Add milk, rice and sugar to a medium sauce pan over medium heat.  Heat to just before the boiling point, stirring often.  Reduce the heat to simmer uncovered for about an hour, stirring every 5 to 10 minutes. Whisk egg in a small bowl.  Temper egg before adding to pudding, by slowly whisking in 3-4 tablespoons of hot pudding mixture.  Then slowly whisk egg mixture into the pudding stirring constantly. Add lemon zest and cook for about 10 more minutes.  Remove from heat and add 1 tablespoon of fresh lemon juice and 1/2 teaspoon of vanilla. Serve warm or chilled as preferred.  Pudding thickens as it cools. Makes 4 small servings.
- – - – - – - – - – - – - – - – - – - – - – - – - – - – - – - -
Tip:  If cooled pudding has thickened too much, you can stir in a little milk or half/half to loosen it up.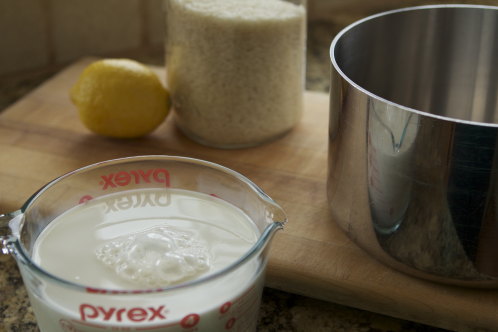 I usually have the ingredients for this pudding in my pantry and refrigerator.
Add the rice, sugar and milk to a sauce pan and bring almost to the boiling point.  Our Grandmother's recipe card would say scald the milk.  That means heating the milk until it looks frothy and bubbles are forming around the outer edge of the pan.
Don't walk away and scorch the milk at this point.  Milk has a nasty habit of boiling over and burning if left unattended : ).  Don't ask me how I know this.
Reduce heat to a simmer and cook uncovered for about an hour.  Stir every 5 – 10 minutes.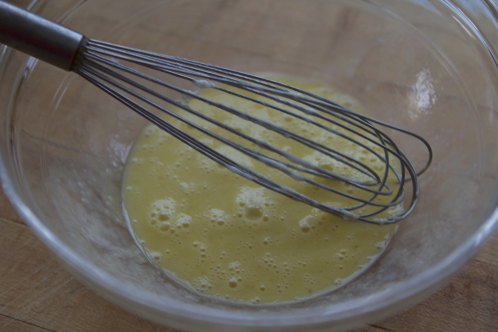 Whisk up your egg and temper it by slowly whisking in about 4 tablespoons of hot pudding, before adding it slowly back into the pudding mixture.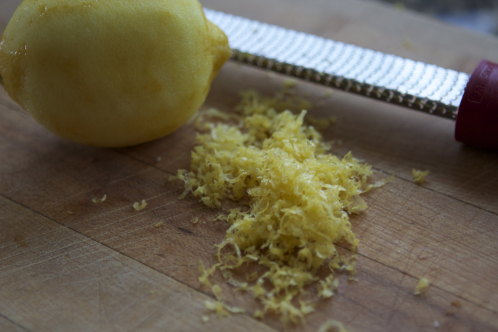 My Microplane Zester
is one of my favorite kitchen tools.  It makes such quick easy work out of zesting citrus.
One quick tip, I sometimes run my knife through the lemon zest to mince it finer… especially if the lemon is a little tough skinned.
Add lemon zest and cook pudding for about ten more minutes.
Remove from heat and add one tablespoon of fresh lemon juice and 1/2 teaspoon of vanilla.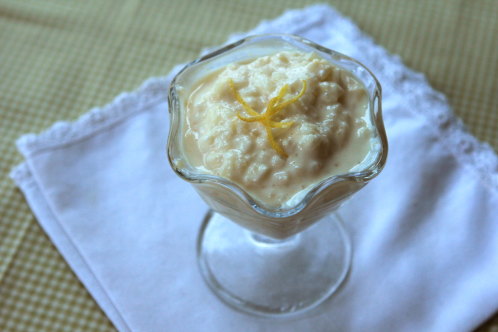 I love my pudding best served warm in the winter.  It is the perfect antidote to the gray chill of January.
7 Responses to "Lemon Rice Pudding"