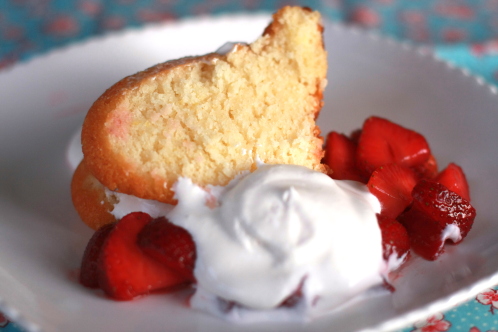 Yes, I'm sharing another lemon recipe.
I can't help myself.  Happy, yellow, optimistic, delicious and tart: lemons are definitely one of my favorite things.
Add strawberries and whipped cream to a wonderful lemon cake, and I think I've died and gone to heaven.  Around here, it's popular to serve Angel Food cake with strawberries and whipped cream and call it Strawberry Shortcake.  I think pound cake works even better.
This recipe started it's life as a Key Lime Pound cake, but I've adapted it to make a lemon version.  (Actually, you don't have to twist my arm too arm to enjoy the Key Lime.)
Make it with lemons or limes, I promise you won't be sorry.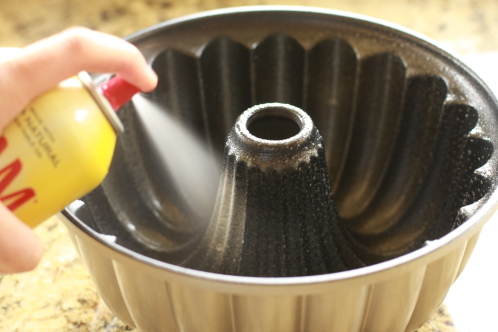 You can make this cake in two bread pans if you wish, but a bundt is very pretty and my favorite way to make Lemon Pound Cake.
The day I made this cake, I actually made three cakes.  This was the smallest of the three bundt pans. (Why can't manufacturers be constistent?)  If your pan is small like this one, just fill the batter to within about an 1 to 1-1/2 inches from the top of the pan- otherwise it will overflow.
When cooking in a bundt, I always use Pam for Baking.  The flour is right in the spray and the cakes always come out perfectly.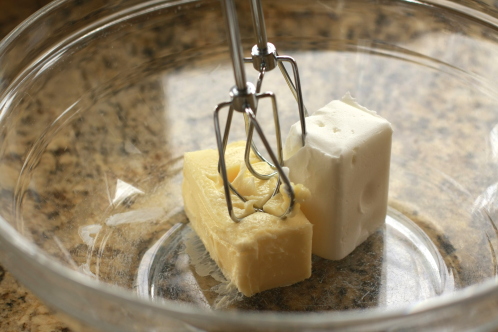 Yes, I know.  I hate when a recipe calls for shortening.  But I forgive this cake since I love it so much.  I buy my shortening in sticks even though its more expensive.  I just don't use shortening enough for the big tub and it always goes bad before I can use it up.  Plus it's SO much easier to measure out.
Cream together the shortening and butter in a large mixing bowl.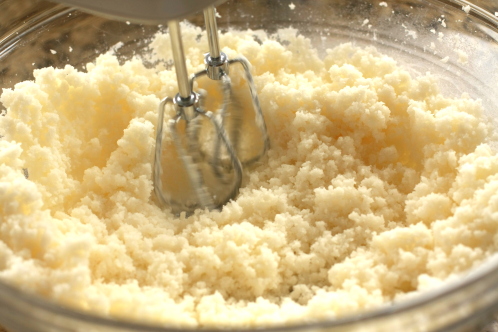 Slowly add 3 cups of sugar and beat until light.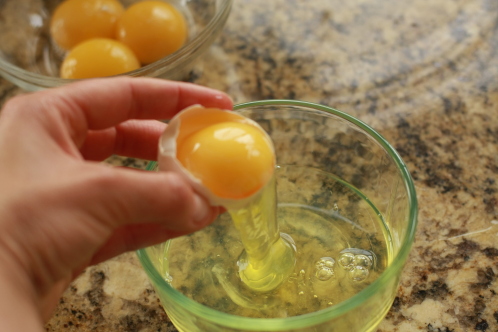 Separate the egg yolks from the white.  I crack the egg in half and pour the yolk back and forth between the two half egg shells until only the yolk remains.  Set the whites aside for later.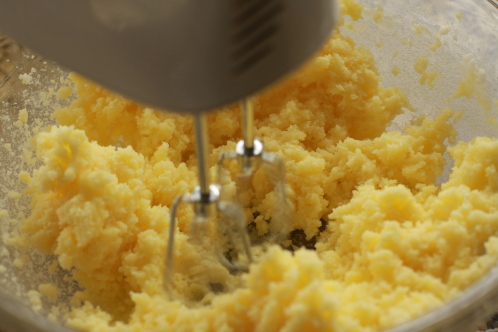 Add the yolks, one at a time, into the creamed butter mixture until light and fluffy.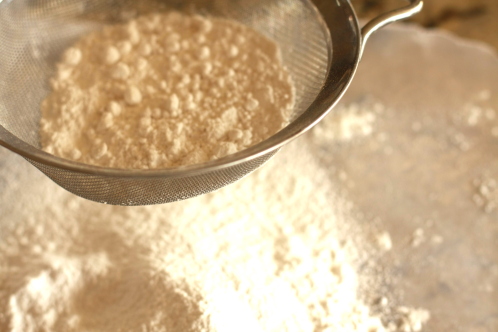 I sift the flour twice for this recipe.  Sift and then measure 3 cups of cake flour.  In a separate bowl sift together the three cups of flour, baking soda, baking powder, and salt.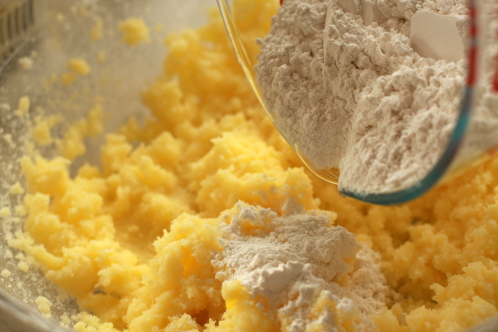 Alternate adding the flour mixture and sour cream into the butter mixture until combined.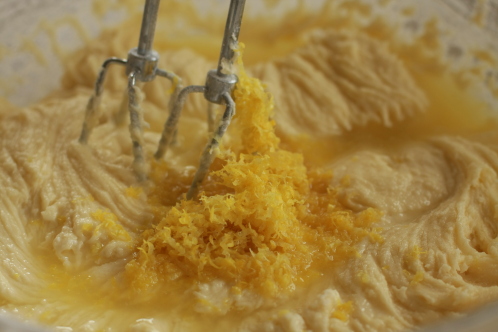 Add the lemon zest and lemon juice and mix until combined.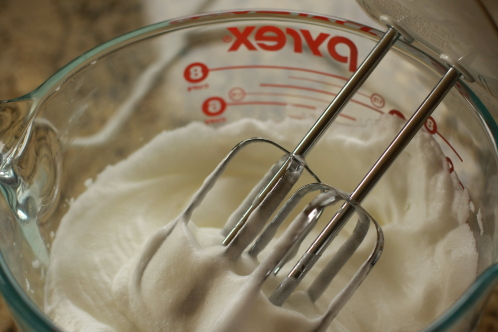 In a separate bowl, beat the egg whites to stiff peaks.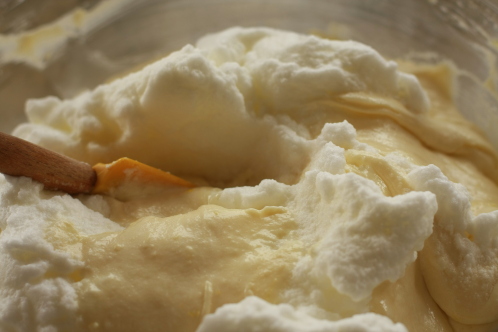 Gently fold the stiff egg whites into the cake mixture.  It gives the cake a perfect texture.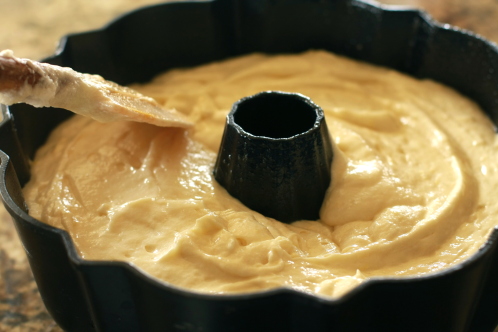 Pour the mixture into your greased (with flour) cake pan and bake at 325 degrees for (sit down) about 1 hour and 20 – 30 minutes.   Wowzers!  It bakes forever.  (Tell me about it when you are baking three cakes on the same day.)  Just be sure to check it at about 1 hour 20 minutes.  A toothpick should come out clean.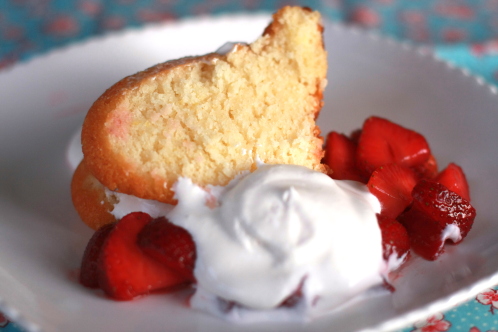 You can garnish the cake with powdered sugar or even make a glaze.  It's best served with your favorite berries and whipped cream.
Enjoy!
Lemon Pound Cake
Makes one 10 inch pound cake (serves 12-15)
½ cup   butter ½ cup   all-vegetable shortening 3 cups   sugar 6 lg.       eggs, yolks and whites separated
3 cups   sifted cake flour ¼ tsp.   baking soda ¼  tsp.  baking powder ¼ tsp.   salt 1 cup      sour cream 2 Tbs.    lemon zest ½ cup   lemon juice (about 2 lemons)
Garnish powdered sugar, lemon twists, strawberries or raspberries, and whipped cream
Preheat oven to 325°.  Spray a 10-inch bundt or tube pan with nonstick baking spray with flour. In a large bowl, beat butter and shortening at medium speed with an electric mixer until creamy.  Gradually add sugar, beating until fluffy. Add egg yolks one at a time, beating well after each addition. In a large bowl, sift together cake flour baking soda, baking powder, and salt.  Gradually add flour mixture to butter mixture, alternately with sour cream, beginning and ending with flour mixture, beating well after each addition.  Add lime zest and juice, mixing well. In a large bowl, beat egg whites at high speed with an electric mixer until stiff peaks form.  Fold into batter.  Pour mixture into prepared pan.  Bake for 1 hour and 20 to 30 minutes, or until a wooden pick inserted in center comes out clean. Let cake cool in pan for 10 minutes.  Remove cake from pan, and cool completely on  a wire rack.  Dust cake with confectioners' sugar, if desired.  Garnish with lime twists and raspberries if desired.
4 Responses to "Lemon Pound Cake"