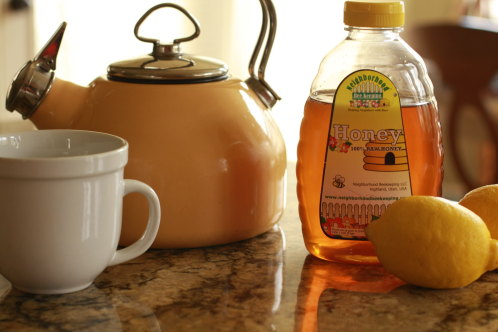 The past few days my kids have been out of school for Fall Break.  Last Thursday, on the first day of their break, we took a trip to the zoo.
While we were there my son began complaining about a sore throat and headache.  By the time we got home, he headed straight for his pajamas and bed.
Uggh.
What a great way to spend a holiday weekend.  Not.  His sore throat soon turned into congestion and a cough.
Since I've been making it this weekend, I thought I'd share one of my favorite home remedies for sore throat and cough.
For my family, there are few things more soothing or effective than a simple Lemon Honey Tea.
To make a cup, I squeeze the juice of about 1/4 to 1/3 of a lemon for the kids or 1/2 a lemon for my husband and me in to a cup of hot water and add enough honey for sweetness. Obviously, for my kids, I make sure it's not too hot when I serve it.
I think it works wonders to calm a cough and make it more productive.  It warms us up and soothes a sore throat and chest.  Even the smell of the tea make me feel better when I'm sick.
I don't really care if it's a placebo effect or if there a good scientific reason why this remedy works so well.  I just love when a simple, healthy thing is what really works best.
I'd love to hear your favorite home remedies too.

11 Responses to "Lemon Honey Tea"