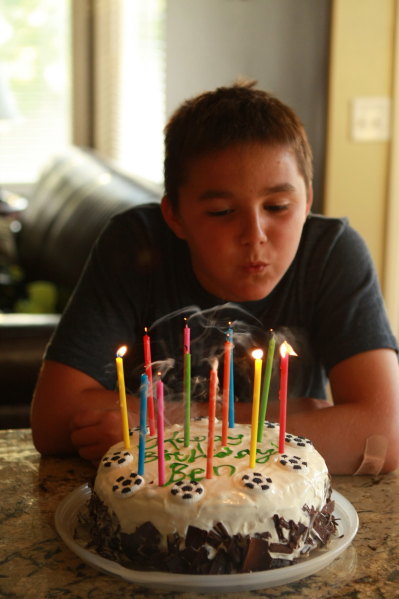 For Ben's birthday this year he requested an ice cream cake.  Since the nearest sore that sells them is a long drive away and since they are expensive to boot, I decided to try and make a cake for Ben.
I was hoping he would ask for chocolate cake with mint ice cream… but he had other ideas.
He recently had cherry chip cupcakes from a box and thought they were awesome.  His choice was cherry chip cake with vanilla.
Okay!
After reading through a few recipes online, I was excited to find that homemade ice cream cake SUPER easy.  The only trick is to start your cake 1 or preferably 2 days before you will serve it.
Here is how I made Ben's cake: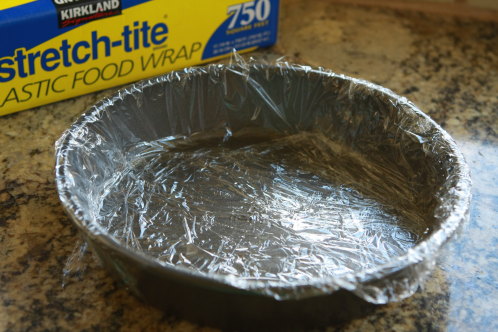 You can make a sheet cake or a round caked, whatever you fancy.
Take the pan size pan you prefer and line it with plastic wrap.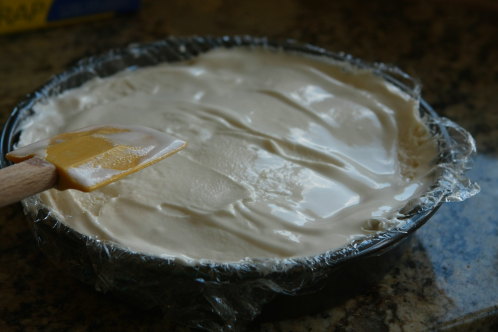 Allow a 1/2 gallon of ice cream (your flavor of choice) to soften enough to be spreadable.  Spread the ice cream evenly in the pan. Place in the freezer until frozen firm.  The next morning I used the plastic wrap to lift the ice cream from the pan, since I needed it to bake the cake.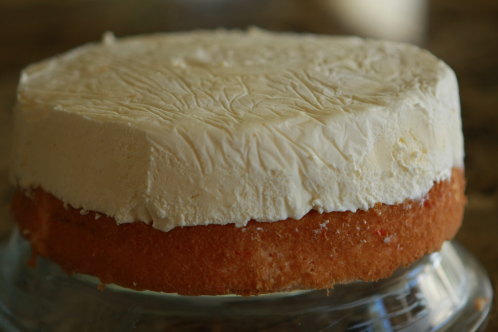 I used a Cherry Chip cake mix to make 1 round cake and the rest into cupcakes.
I placed the cake layer on an upside down pie plate to make it easier to work with.  Layer the ice cream "cake" layer on top of the cake layer.  After I added the ice cream, I decided it might have been nice to add one more layer of cake to make a taller cake… but what was done was done.  The good news was, it's much easier to frost the ice cream layer as the top…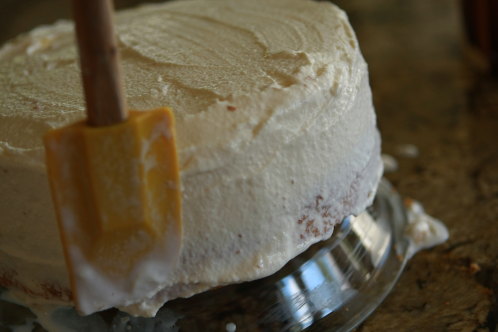 ….especially since I frosted it with more ice cream, just like Baskin Robbins does.  I allowed another 1/2 gallon of ice cream to get soft enough to spread easily.  (Keep the cake in the freezer until you are ready to frost.)
The best way I found was to frost a first layer, which didn't cover it all completely, and put it back in the freezer until frozen firm.  After an hour or two, I frosted the second layer and it covered perfectly.
Because cherries and chocolate are a good combination, I decided to add chocolate around the outside.  I used this tutorial from Pioneer Woman to make curls.  But by this point I was in a hurry and didn't take pictures or make it look perfect.  Perfection is overrated anyway ; ).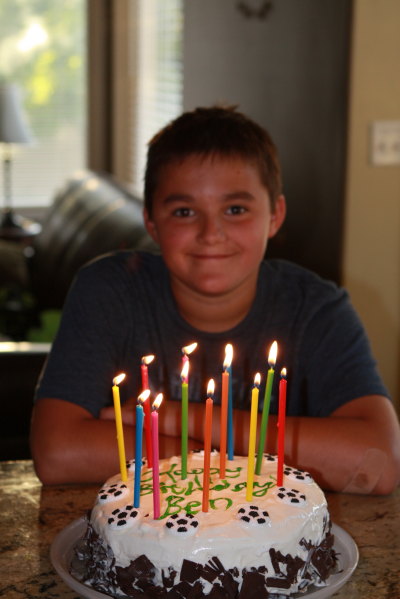 I decorated the cake easily with premade soccer balls from Wilton and some gel frosting from the store.
The best part about the cake was how much Ben loved it.  It was the "yummiest birthday cake off all time!"
I have to admit, it was pretty darn awesome.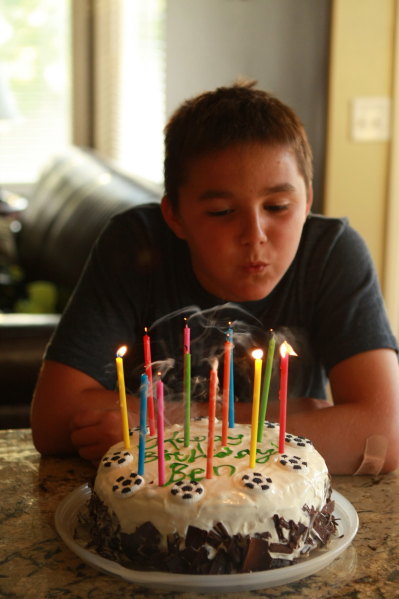 8 Responses to "Homemade Ice Cream Cake"