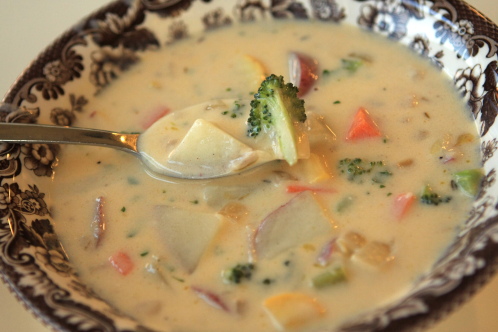 The most remarkable thing about my mother is that for thirty years she served the family nothing but leftovers. The original meal has never been found.
-Calvin Trillin
This soup might also be called, "Anything You Have Left in the Refrigerator Soup."  But that doesn't mean it tastes like an afterthought.  In fact, it's downright delicious.  It's also pretty fast… something I can throw together in about 30 minutes or so.
Here's how: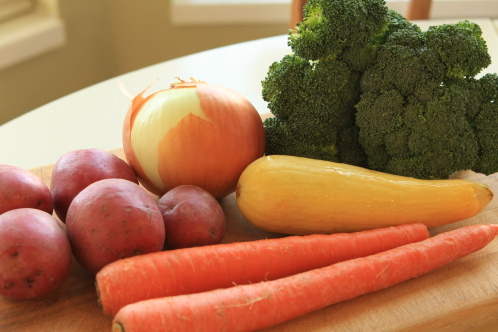 What's in YOUR refrigerator?  Today it's red potatoes, broccoli, yellow squash, carrots, celery, and an onion.
The onion is the only vegetable in this dish that is an absolute must.  If you don't have an onion, you'd better think of something else to make for dinner.
You can also use cauliflower, zucchini, red pepper, or mushrooms.  You can even use things like frozen broccoli… whatever you have… whatever tickles your fancy.
I'd say about 5 – 6 cups of vegetables in addition to the onion.  To be perfectly honest, I never measure.  I just add what looks right.  You can use more or less depending on what you like.  This soup is flexible if you get my drift.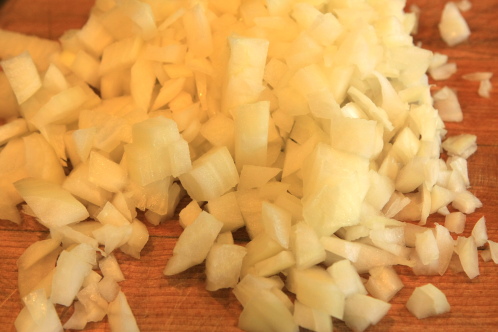 Chop up an onion.  In a large stock pot, add a tablespoon of olive oil and saute your onion until translucent, about 5 minutes.  Add 4 cups of chicken broth (or water with a heaping tablespoon of bouillon).  Add cubed potatoes and bring to a boil.  I like to use red potatoes with the skin on.  They are a good choice because they cook fast and because they are more waxy, they have great texture in the soup.  Plus, I don't have to peel them, and they add great color to the soup.  You can use other kinds of potatoes, but a Russet potato will take longer to cook.  Reduce to a simmer and cover with a lid.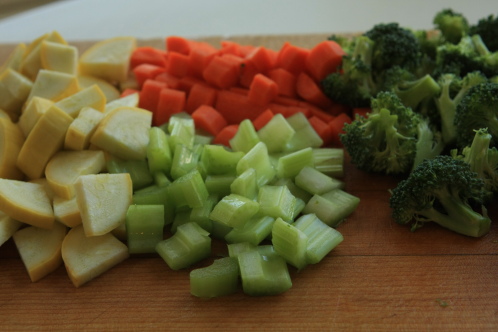 While that's simmering, chop up the rest of your vegetables into bite-sized pieces.  As far as how many vegetables to use, shoot for about 5 – 6 cups.  Today I used 2 large carrots, 2 celery sticks, just more than 1/2 of large head of broccoli, 1 whole yellow squash, and about 6 medium red potatoes.  In a separate large saute pan, pour 2 tablespoons of olive oil and saute your vegetables.  You can saute them in batches so you don't crowd the pan.  Season with salt and pepper.  Saute them until they are just getting slightly soft and golden.
Remove the sauteed vegetables to a plate and set aside.  The veggies are still a little firm, but that's OK, they will finish cooking in the soup.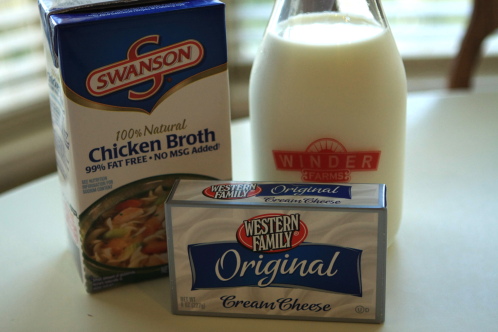 Add 1/2 cube of butter (1/4 cup) to the pan.  Once melted, gradually add 1/2 cup of flour, whisking to incorporate to make a roux.  Whisk in 4 cups of milk and cook until thickened… a few minutes.
By this time your potatoes should be cooked through.  Pour the thickened milk mixture into the stock pot with the potatoes, and add the rest of the veggies into the pot.
Then add cream cheese.  If you want a very creamy soup, add 8 ounces.  I usually use 4 ounces, to reduce the calories.  I like to pinch my cream cheese into smaller pieces to make them quicker to melt.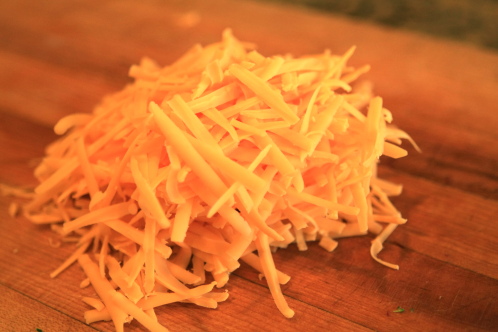 Add in the cheese.  This is also a matter of taste, but about 2 cups of grated medium cheddar is about perfect in my book.
Once it's all melted, the veggies are usually finished cooking.  Check for seasoning and add salt and pepper as needed.  I especially love pepper.  You don't have to, but I give it one good shot of Tabasco.  It doesn't make it even remotely hot, it just brightens the rest of the flavors.
And it's ready to serve.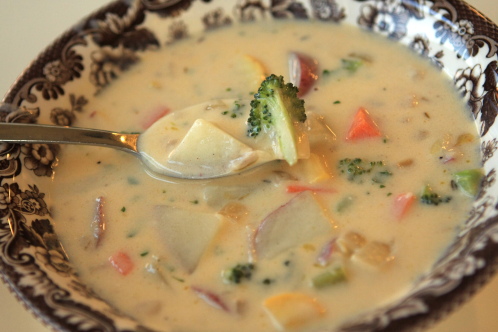 It's hardy and delicious, and one of my favorite autumn weeknight meals.  I love to serve it with homemade buttered wheat bread.
Here's the recipe:
Harvest Vegetable Soup
1 medium onion, chopped 3 tablespoons olive oil 4 cups chicken stock (you can use vegetable stock if you prefer to keep it vegetarian)
5 – 6 medium red potatoes, cubed
vegetables of choice
1/2 cube of butter (1/4 cup) 1/2 cup of flour 4 cups milk 4 – 8 ounces cream cheese 2 cups cheddar cheese salt and pepper to taste 1 shot of Tabasco (optional) In a large stock pot, pour in 1 tablespoon of olive oil and saute onion until translucent.  Pour in chicken stock and chopped potatoes.  Bring to a boil and reduce to a simmer.  Cover with a lid. Prepare remaining vegetables into bite sized pieces.  In a large pan, saute vegetables until starting to soften and golden.  Remove to a plate and set aside.  Add butter and allow to melt.  Slowly whisk in the flour and allow to cook for 1 minute while stirring to make a roux.  Whisk in the milk and allow to thicken.
Pour thickened milk into the stock pot with stock.  Add the remaining vegetables.  Add cream cheese by pinching into smaller pieces.  Add grated cheddar cheese.  Allow cheeses to melt.  Season with salt and pepper to taste.  Serve immediately. (If you do make this soup ahead, don't cook it all day.  You don't want overcooked vegetables.  Refrigerate and heat before serving.  You may need to add some chicken stock to get a good consistency.)
16 Responses to "Harvest Vegetable Soup"