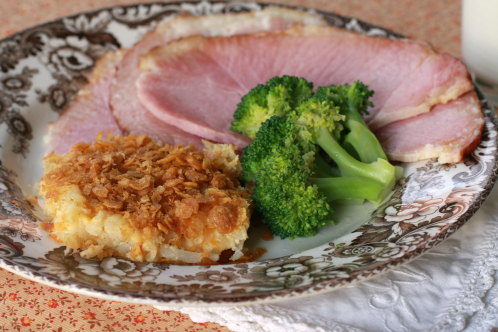 Here in Utah, there are few dishes that are more mocked… and secretly loved, than Funeral Potatoes.  I think they had some other name once upon a time, since I doubt anyone creates a dish, then names it anything so Debbie Downer as Funeral Potatoes.
When someone dies, it is a tradition that after the funeral and graveside services, the family returns for a meal made and served by the women of the neighborhood.  Since Funeral Potatoes are delicious and so easy to make for a large crowd, they became a staple at large gatherings and potlucks.  And I think someone noticed along the way that there was rarely a funeral without this potato casserole… so Funeral Potatoes they became.
They were also a staple at my large family parties when I was a kid.  One of my aunties (or another) could be counted on to bring Funeral Potatoes.  I loved them as a kid and I still think they are deliciously awesome now.  They are good old comfort food.
If you are a foodie… you may want to skip my post today.  This dish contains Cream of Chicken Soup (or Mushroom if you prefer vegetarian) and Corn Flakes.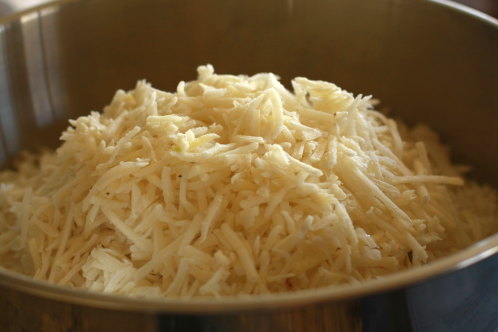 Start with hashbrown potatoes.  You can bake and cool russet potatoes, then grate them.  Or you do what I did, and buy preshedded hashbrown potatoes.  Buy the kind that are not browned.
I was making four times the recipe last week.  A wiser person would have made it in smaller batches, but I quadrupled the recipe in one LARGE bowl. At 2 pounds of potatoes per batch for a whopping 8 pounds of potatoes,  it was a great workout for my biceps.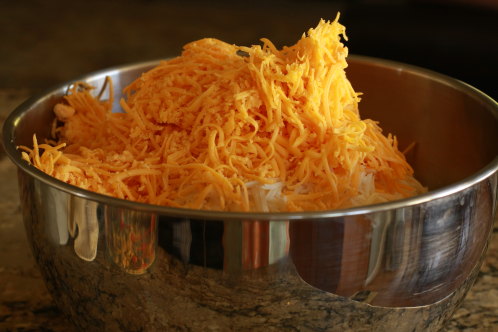 Here is the other reason this dish tastes good- 2 cups of cheddar cheese.  I prefer sharp.  If that looks like more than 2 cups, it's because it's 8 cups!  That's quadruple for you.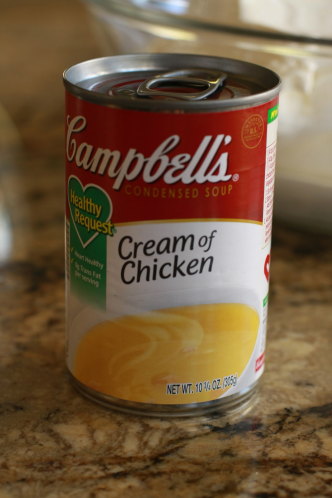 Since I was making such a big batch, I forgot to take a picture of the "sauce" ingredients together in a bowl.  I was also crying my eyes out over my very strong grated onions.
In a separate bowl, add 1 can of Cream of Chicken soup, 1 pint of sour cream (I never said this is low fat!), 1/2 cup of grated yellow onion, 2 teaspoons salt and 1 teaspoon black pepper.  Stir ingredients together until well combined.
Fold into the potato and cheese mixture, until well combined.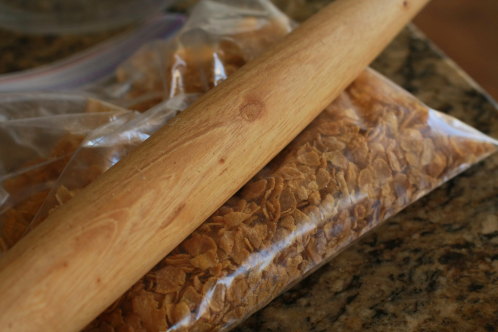 Place 1 -1/2 cups of cornflakes in a bag and crush them with a mallet or rolling pin.  I tend to like the no name brands of cornflakes better, since they are more crunchy.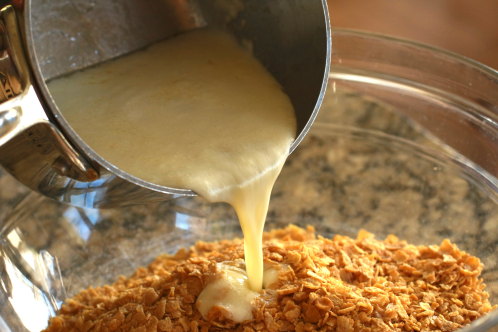 Pour 1/2 cup (1 stick) of melted butter over the cornflakes and stir well.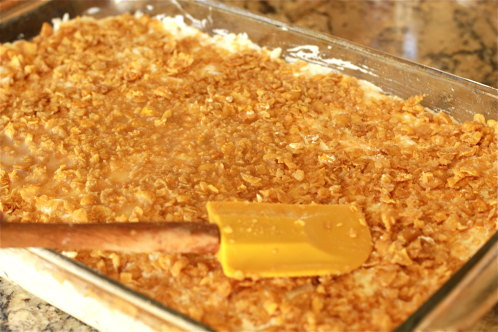 Press the potato mixture evenly in a greased 9 x 13 casserole dish.  Top with cornflake mixture and spread out evenly.
Bake at 350 for 1 hour to 1 hour 15 minutes.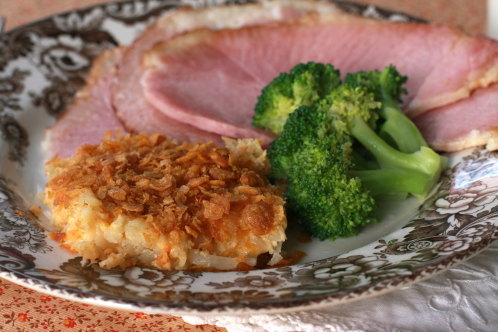 These potatoes are best served warm, but can be served at room temperature.  They are crunchy, cheesy and delicious.  You can choose to leave off the cornflake top, but I love the added texture and crunch.
Don't wait for a funeral to try these yummy, crowd pleasing potatoes.  If you take them to a potluck, you don't even need to mention their name ; ).
Here's the recipe:
Funeral Potatoes
2 pounds hashbrown potatoes (unbrowned) 2 cups grated cheddar cheese 1 pint sour cream 1 can Cream of Chicken Soup (Cream of Mushroom soup can be substituted for a vegetarian option) 1/2 cup grated yellow onion (or minced very fine) 2 teaspoons salt 1 teaspoon black pepper 1-1/2 cup crumbled corn flakes 1/2 cup (1 stick) melted butter Preheat oven to 350 degrees.  In a small bowl combine cornflakes and butter.  In a separate bowl combine other ingredients.  Press into a greased 9 x 13 pan.  Top with cornflake mixture.  Bake at 350 degrees for 1 hour to 1 hour 15 minutes.
15 Responses to "Funeral Potatoes"