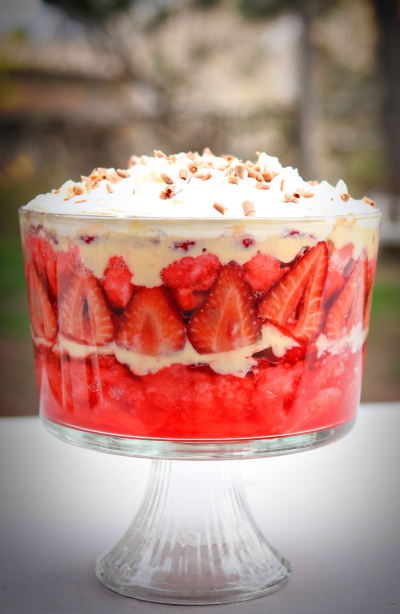 Have you ever made an English Trifle?
I haven't either.
This lovely treat is is my husband's creation.  It's a bit of a Mother's Day tradition for him to whip up a Trifle, since I love it and so does his mom.
My husband lived in England before we were married.  He learned to love Kebabs (a gyro to me), malt vinegar on chips, Hob Nobs, and trifle.  A friend in Nottingham showed him how she makes her version of trifle and he's been making it ever since.  Over the years he has never written down a recipe, since trifle is more of  a technique than anything else.
One last note, there is no good way to speed make a trifle.  You are going to need several hours in between the layers for set up.  Do yourself a favor and make it early.
Here's how he makes it:
You will need a trifle bowl if you want it to look right.  But a trifle would taste the same made in any tall sided bowl.
A homemade sponge cake – store bought or made from a box mix will work in a pinch.
Large box of jello (6 oz. size)- flavor and color of choice- my husband often buys the flavor that matches the fruit he's using.
Custard – he thinks Bird's Brand is the ONLY custard to use because it's English, and it's not overly sweet.
Fruit of choice- today it's strawberries, bananas and kiwi. We try to pick something that is in season and then match the flavors.
Whipping Cream
Chocolate for garnishing the top-  he usually buys Cadbury Milk Chocolate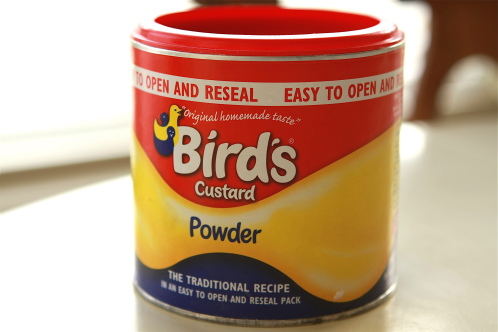 Start by making the custard.  My husband always doubles or even triples the batch of pudding (4 -6 cups of milk) for a trifle.  He doubled this last time and wished he had more so that the custard layer is more distinct. He also uses less sugar rather than more (there is a range on the recipe on the back of the can.)  If you are American and you buy Bird's… don't be confused by the recipe which tells you to make the pudding "ON THE HOB"…  that's the stove top, folks.
Its not instant, so plan on spending some quality time with your "hob."  While we were making this batch, he happened to see an infomercial for some silly self stirring robotic whisk and was sorely tempted to buy it.  I personally don't mind making puddings or custards on the stove top.  It's peaceful work… and well worth it.  An instant pudding just doesn't cut it by comparison.
Put your custard in the refrigerator to set up.
If you don't like or can't find Bird's, you can use tapioca or vanilla pudding as a substitute… or whatever pudding suits your fancy.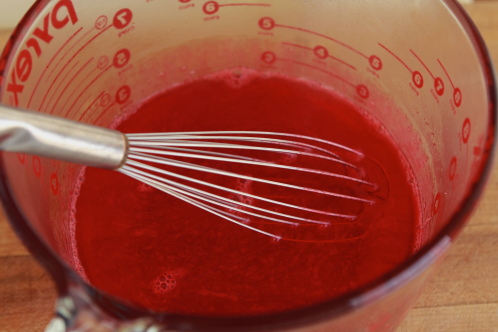 Once the custard is well on it's way to cooling in the refrigerator, make a large box of Jello.  Drew used Strawberry Jello.  DO NOT REFRIGERATE THE JELLO.  You want it to remain liquid for as long as possible.  Don't make the speed method either.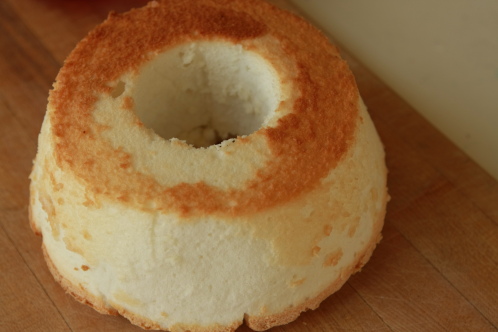 This time we used a store bought sponge cake.  We usually make a sponge cake from a mix, but the boxed cake mix was $2.99 and one in the bakery was $3.99.  So, I saved myself some time.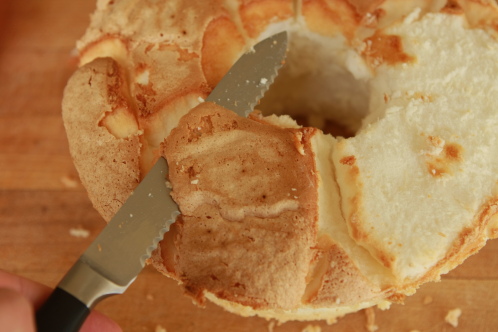 This is a matter of preference, but your trifle will be prettier if you cut off the dark parts on the outside of the cake, usually just from the top and the bottom.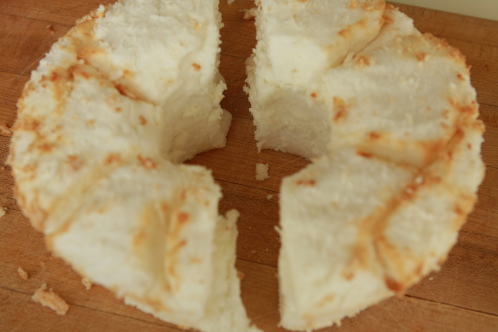 Here's a quick tip:  Decide how many layers you want to make.  Three is extra fancy.  Two is more reasonable on time.  We made two so he cut the cake in two.  That way the layers are even.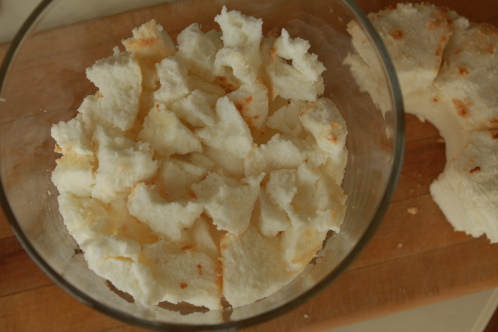 Tear up the cake into bite-sized pieces and arrange in the bottom of your trifle bowl.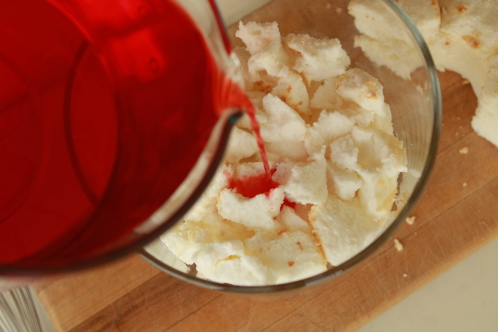 Pour enough Jello to totally soak the cake.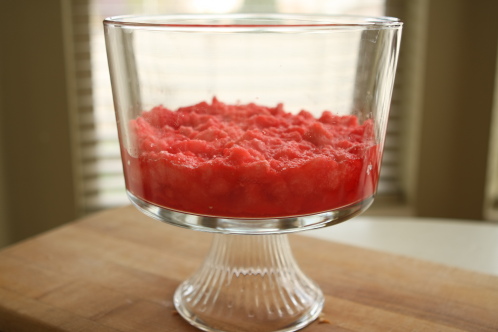 Like so.  My husband presses the cake down until it soaks up all the Jello.  This goes into the refrigerator for setting up.  The remaining Jello needs to remain out on the counter so it doesn't set up.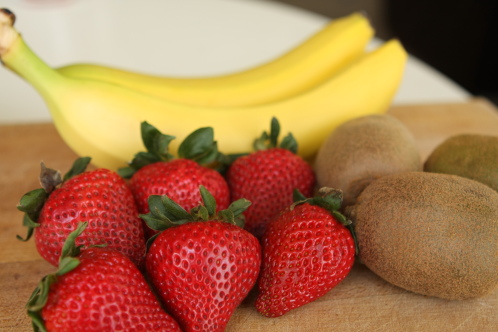 When the Jello/cake mixture is firm enough to start setting layers on – which is about 40 minutes or so, slice up some fruit.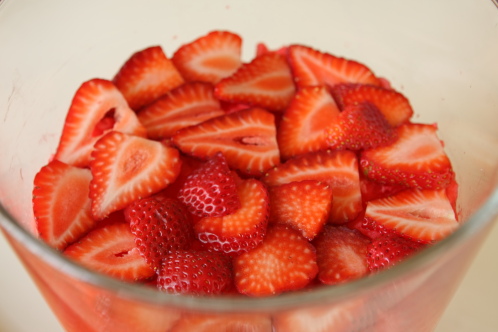 Lay out a single layer of strawberries… and bananas (or whatever fruit your using.)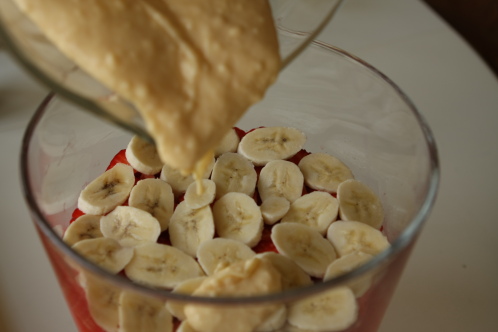 Pour on a layer of the pudding.  For some reason the pudding looked a little lumpy once it set in the refrigerator, but it didn't taste lumpy… it was perfect.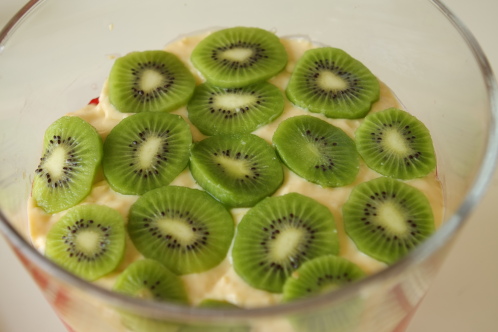 He separated the kiwis, 'cause he wanted to.  There are no rules on how to layer your trifle.  He also placed the strawberries around the edge flat against the bowl because they look nice.
Then repeat all the layers again:
Tear up the sponge cake.
Pour more Jello and press the cake so it soaks it up.
Back to the refrigerator to set up the Jello- 30 minutes is OK this time.
Layer more fruit.
Layer more custard.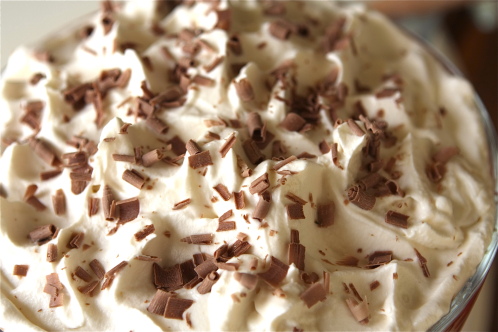 By this time you are getting to the top of the bowl.  Spread fresh whipped cream over the top.  I jumped in and did the "meringue peaks" thing with the cream.  I love how that looks.
Drew uses a potato peeler to shave his chocolate bar over the top… just enough so it looks purty.
The final step is to put the whole thing back into the refrigerator for at least a couple hours to let it set up completely.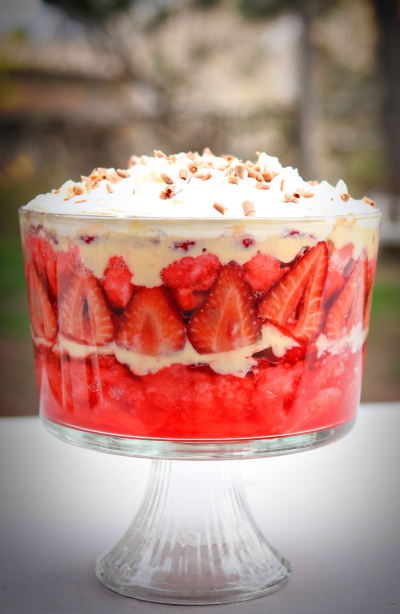 And serve.  This is celebration food.  It's party food.  It's light and fresh.
It's "I love you" food.
I only have one question.  Is it alright to eat dessert first?

14 Responses to "English Trifle- A Beautiful Mothers Day Dessert"