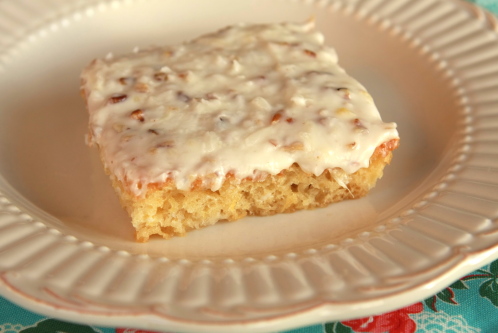 The end of the school year is one of the busiest times of the year.  I've been on the go so much this week I feel like I'm on a sprint.  It's one fun activity or project after another.  Today I'm off to Pioneer Day at the park with the 3rd grade.  I've got gunny sacks for races,  clothes pin and jars for a clothes-pin drop game, and I'll be helping the kids make butter in mason jars.  My 3rd grade girls and I can hardly wait.
Yesterday we made lunch for the teachers and staff at our elementary school, about 70 people in all.
Instead of playing it safe, making a tried and true recipe for dessert, I made a new recipe – Pineapple Sheet Cake.  Having never made it before, I didn't know what to expect.  Happily, this cake took me less than 10 minutes to mix together and get in the oven.
Its a good thing too, because my 2nd cake (did I mention I'm cooking for around 70?) met with a disaster.  I really liked how the first cake came together so I decided to photograph the second to share here on Make it Do.
I removed the hot cake from the oven, to my kitchen table and set the camera up.  Then I walked into the next room for about 2 whole seconds.
When I came back, my twit-faced imp of a dog was helping himself to the corner of the cake.  It was still hot and I said, as I sent him smacking his lips out into the yard,  "I hope you burned your tongue you #!%@&* Bumpess Hound!"
Needless to say, I was not going to serve a cake sampled by my dog to my favorite teachers.   So I made a new cake.
Not exactly what you want to be doing when you are cooking a whole meal for so many.  But since the cake was so easy to make, I was able to forgive my poor dog before the day was out.
For such an easy cake, I thought it was down right delicious.  It is very moist and keeps well too.
Here's how to make this Easy Pineapple Sheet Cake: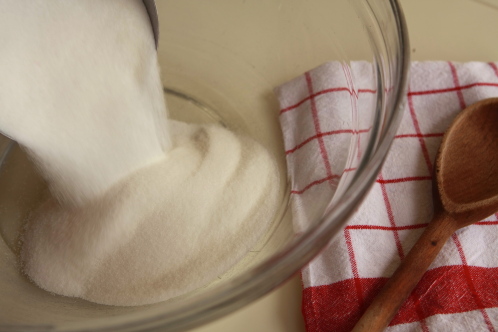 Preheat your oven to 350 degrees.  In a large mixing bowl, or your stand mixer, add all the ingredients…. at once.  This is not a fancy, fussy cake.  It's a "dump it all in and mix it all up cake."
Add 2 cups sugar and 2 cups flour into the mixing bowl.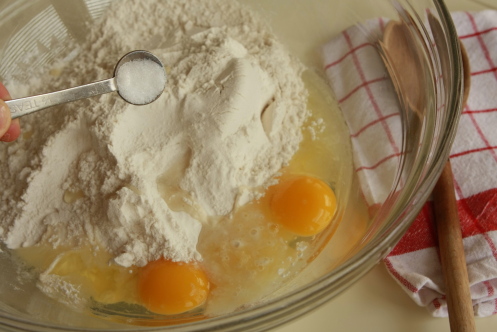 Two eggs.  Also add 1/2 tsp of salt and 1-1/4 tsp. baking soda.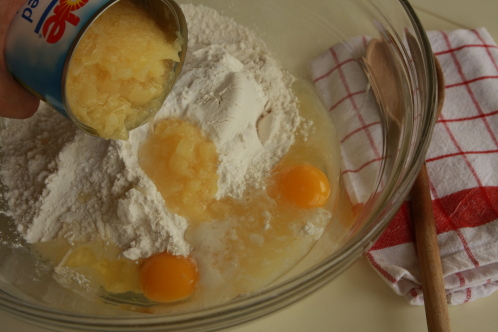 Open one 20 oz. can of crushed pineapple (do not drain), and scoop out 1/4 cup of the pineapple and set it aside for the frosting.  Add the rest of the can, juice and all into the cake.
That's it.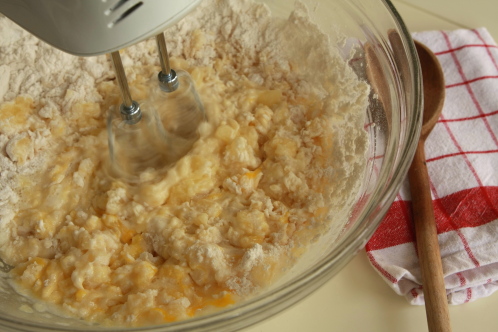 Mix it all together until well blended.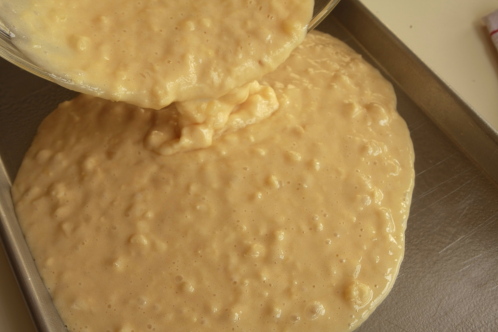 The recipe says to pour the batter into a greased 12 x 17 inch baking pan (with sides of course).  I used my 13 x 18 inch bakers half sheet pans and they worked perfectly.
Put your cake into a preheated 350 degree oven for 20 – 25 minutes.  Until a pressed finger in the center of the cake doesn't leave a depression.  For my oven it was about 22 minutes.
While the cake is baking, make the frosting.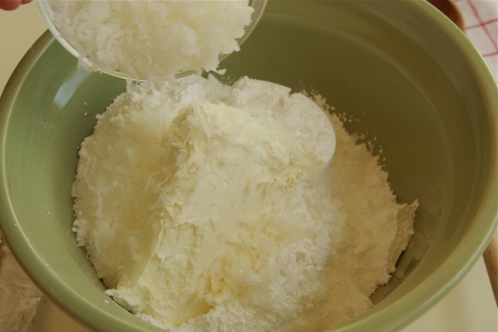 Add 5 cups of powdered sugar, 8 oz. of softened cream cheese and 1/2 cup of coconut….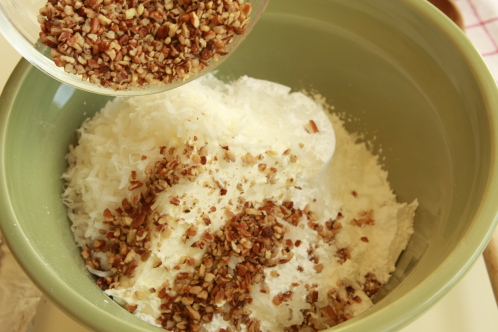 and 1/2 cup finely chopped pecans.  I toasted mine because it was the right thing to do.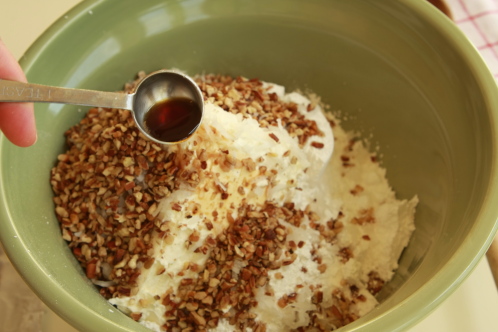 Add 1 tsp. of vanilla…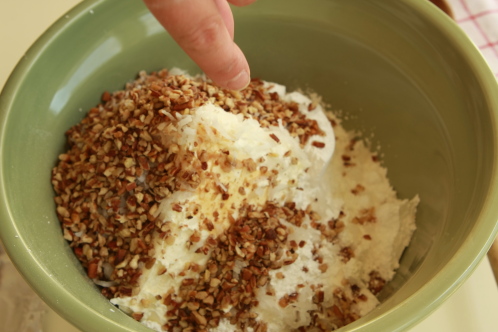 and a dash of salt… which for me is a heavy pinch.  Also add 1/4 cup (1/2 cube) softened butter.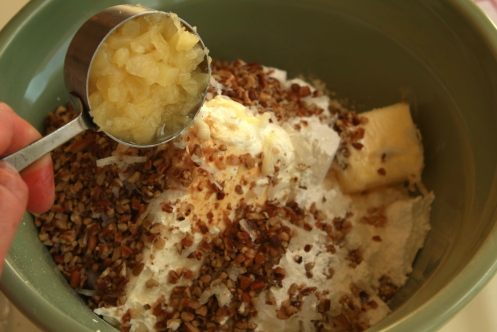 And the 1/4 cup of reserved pineapple.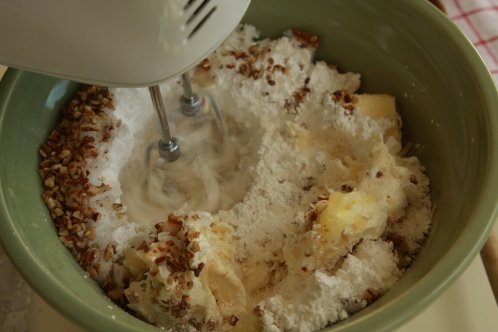 Mix it all together until well blended.  If the frosting is too thick, you can add a LITTLE bit of milk.  Mine was just fine and no milk was needed.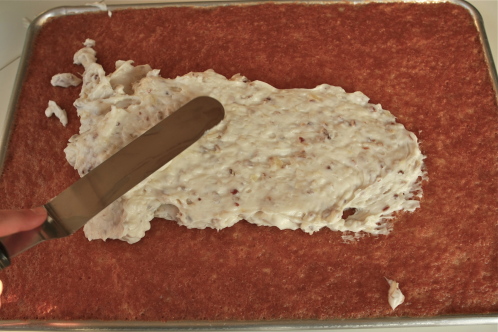 When your cake is out of the oven, put your dog outside and place it in a safe place to cool completely.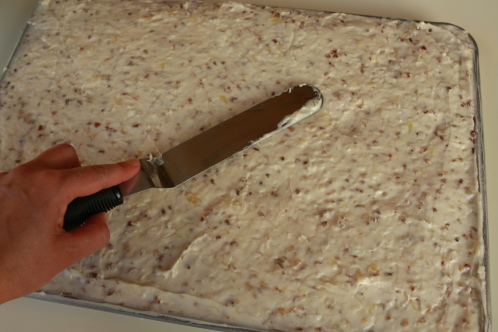 Once it's cooled  frost it….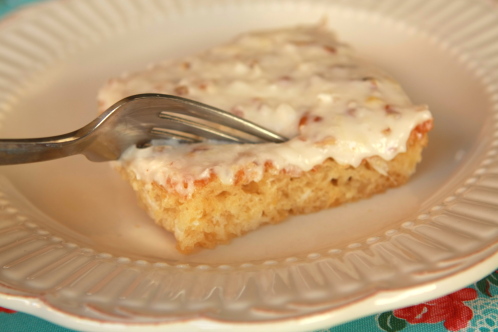 And serve.  It tastes great immediately… but I think it was actually yummier the next day.  It will keep nicely for as many as 4 days.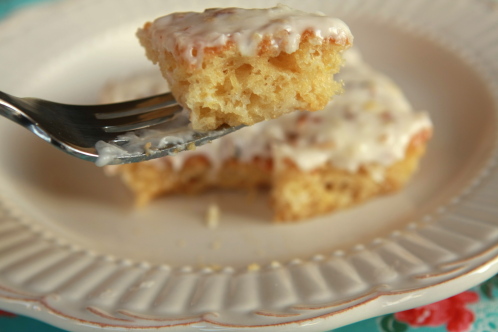 It's light and sweet… and tastes like Hawaii.  It's a perfectly lovely cake.  Just ask my dog Finn.
Here's the recipe:
Easy Pineapple Sheet Cake
2 cups Flour 2 cups Sugar 2 Eggs 1/2 tsp. Salt 1- 1/4 tsp. Baking Soda 1- 20 ounce can Crushed Pineapple with it's Juice (remove 1/4 cup and reserve for frosting) Preheat oven to 350 degrees.  Mix all ingredients together.  Pour into a greased 12 x 17 inch baking sheet.  Bake at 350 degrees for 20 – 25 minutes (until a finger pressed in the center of the cake does not leave a depression).  Cool completely before frosting.
For the Frosting: 5 cups Powdered Sugar 8 ounces softened Cream Cheese 1/2 cup Coconut 1/2 cup finely chopped Toasted Pecans 1/4 cup room temperature Butter 1 tsp. Vanilla a dash of Salt 1/4 cup Crushed Pineapple Mix together all ingredients until well blended.  A small amount of milk may be added if frosting is too thick.
19 Responses to "Easy Pineapple Sheet Cake"