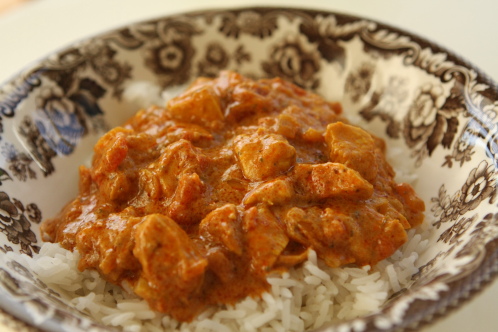 I love to cook when I have time to relax and enjoy the process of cooking.  But busy weeknights can be challenging for me.
Slowly I've been adding some quick and easy meals to my recipe box, things I can make with very little time on my hands.  I think of them as "short cut meals".  Some, like the curry I'm sharing today, are made from a store bought mix which I can keep in my pantry, and come to my rescue in a pinch.  These shortcut meals are fast, easy, and of course, delicious.  Fast doesn't always mean you have to give up on eating great food.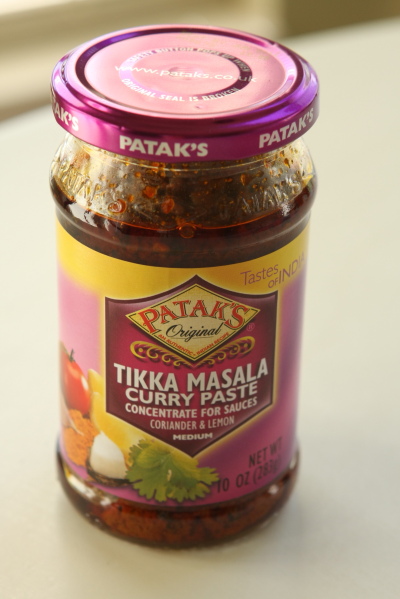 Here's the secret to the speed of this meal.  I live in a pretty small community and yes, my local grocery store carries this Tikka Masala Curry Paste Concentrate in their new, small, British Food section.
If you've ever made Tikka Masala from scratch or even glanced at a recipe, you'll know, this isn't the type of meal you can throw together. Patak's concentrates run about $5 a jar, which might seem expensive, but one jar usually makes two meals for our family of five.
The other thing I love about this meal is it tastes better if you prep ahead.  Any meal that I can start in the morning gets high marks from me.  It means I can do the work when I have more time, instead of during the crazy busy hours from after school to dinner time.
You may worry about whether Indian Curry is too spicy for the kids.  That's why I make Tikka Masala.  It's big on flavor, but very mild.  Even my child who hates spicy food, loves this dinner.  If you love spicy, Patak's makes other concentrates with more punch.
Here's how to make this delicious meal: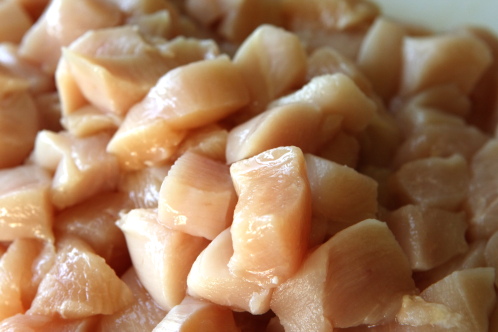 Chop up your chicken breasts.  For my family of five, I usually chop up three large chicken breasts.  Ugh, I hate the look of raw chicken!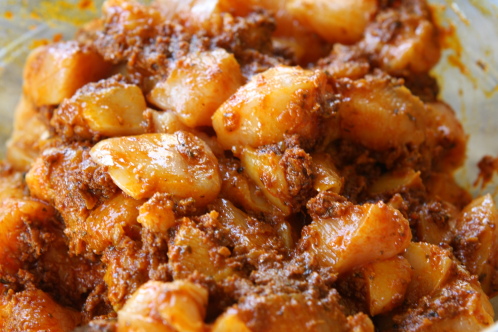 Now stir in the paste.  For three large chicken breasts, I stir in about the half the jar.  If I am making it last minute (which you can do) I use more paste to get better flavor.  If I start it in the morning, half a jar is enough.
Cover it with a lid or plastic wrap and pop it in the refrigerator.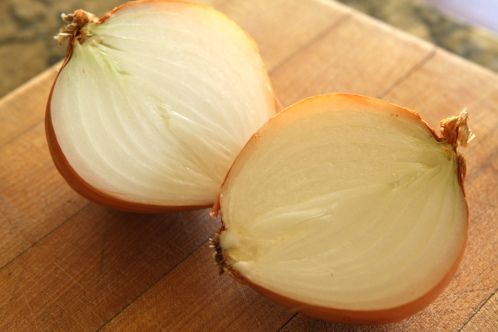 If you are really on the ball, you can even chop up the onion in the morning too.
Now this recipe is for Curry in a Hurry…  so today, I am only using an onion.  However, there are variations to this recipe that are delicious.  You can add chopped green pepper, mushrooms, peas, carrots, or potatoes and yam.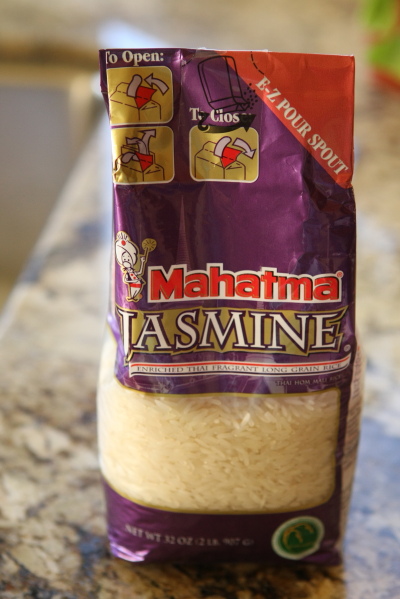 30 to 40 minutes before serving, I start my rice in my rice cooker.  My favorite rice with this meal is a Basmati or a Jasmine rice.  I love brown Basmati rice.  If you are in a pinch you can just use plain long grain brown or white rice too.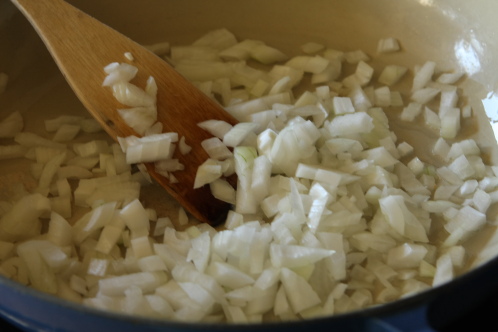 Next, in a large skillet, pour about 1 tablespoon of vegetable oil and saute onion until translucent.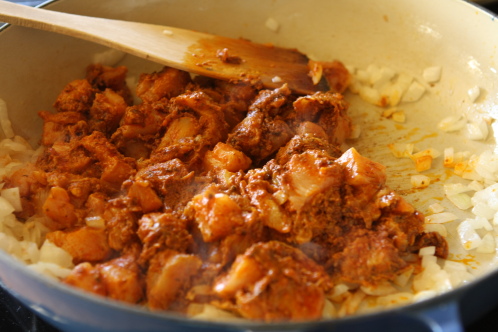 Next add the chicken and cook until sealed.  ***In other words, sear the chicken.  Since it's in the marinade, it won't brown, but look for the chicken be opaque on all sides.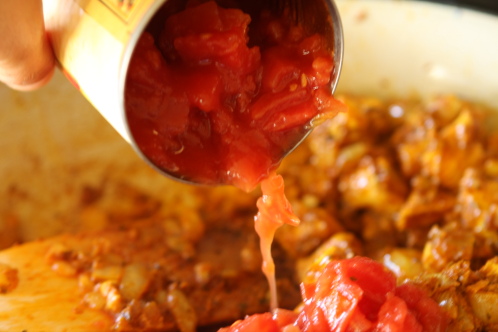 Once sealed, add 1 -14.5 oz. can of tomatoes and about 1/2 cup of water.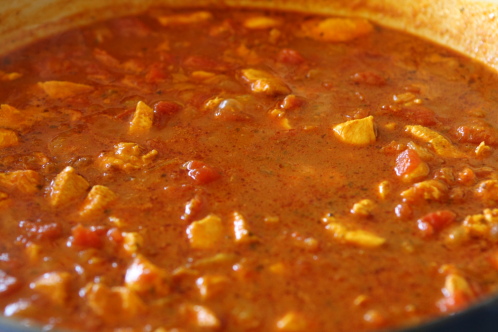 Bring to a simmer, cover pan with a lid and simmer for about 25 minutes, until the chicken is cooked through.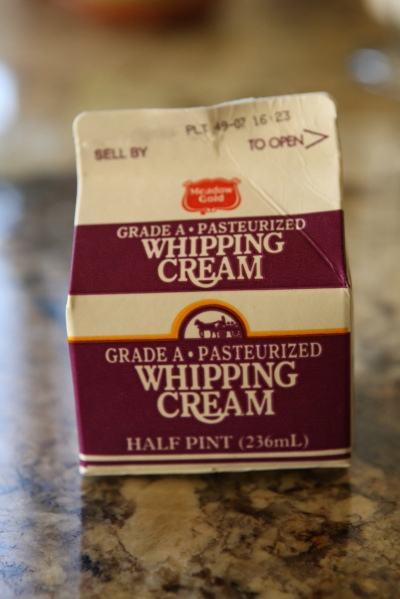 To finish the dish, add 1/4- 1/2 cup plain yogurt (for the healthiest option) or sour cream.  You can even use whipping cream or half and half in a pinch… like I did the other day, since I was out of yogurt.   When I add cream, I use less.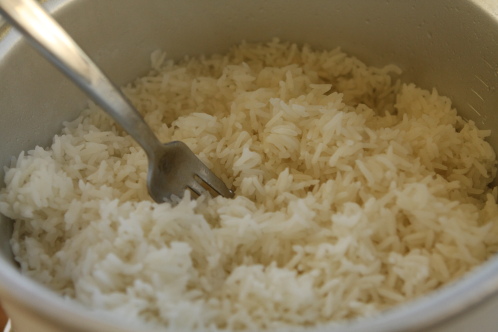 Be sure to fluff up your rice with a fork.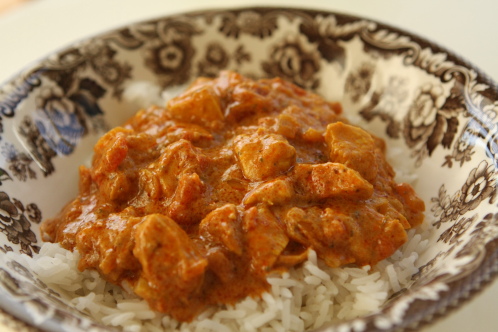 Serve the Tikka Masala over rice.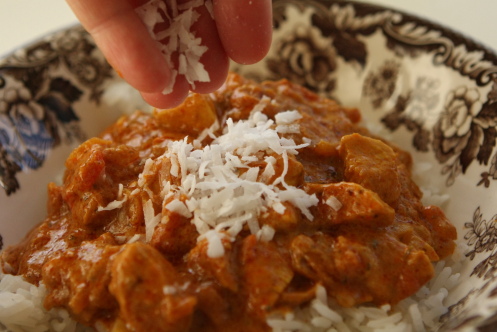 We love to kick it up a notch by adding a little coconut on top.  I'm not even a fan of coconut, but I like it on Tikka Masala. It's also great served with sliced cucumbers (or a cucumber salad) and some Naan bread if you have a more time on your hands.
I LOVE this dinner. Its quick and easy and is a great way to shake up a boring weekday meal.

15 Responses to "Curry in a Hurry"