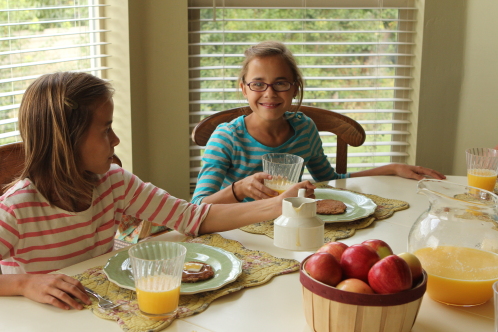 No matter how busy life is, the best weekends are when we take the time to make and enjoy breakfast together.
Hopefully we've got no better place to be, than at home, where we can relax and spend time as a family. What could be better than a plate of waffles… a chance to talk… pass the syrup… talk some more… pass the bacon…hear about each other's week… and just be together.  It's real breakfast, as it's supposed to be.
Now that my kids are in school, and the weekdays are filled with school, homework, soccer, friends and more- taking that time on the weekend is precious to me.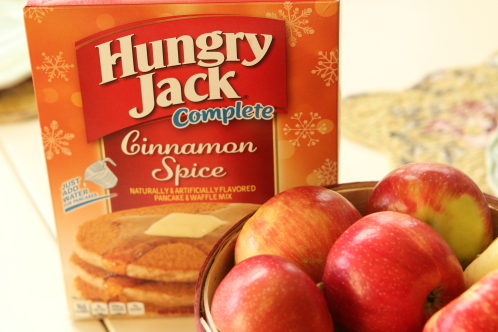 When the folks at Hungry Jack™ asked if I would like to be a "Bring Back Breakfast" Ambassador, and share a few ideas for making breakfast a tradition on the weekend… I was thrilled to say yes.
Since I typically make most of my meals from scratch, I knew I was going to be picky about boxed pancakes. I do use boxed pancakes when we go camping, and I've also wanted a few good mixes in my pantry for mornings when I need a quick breakfast because of an early morning soccer game, or for when my husband or kids want to treat and make breakfast, so I couldn't wait to try the Hungry Jack Cinnamon Spice mix.
Since I just bought apples from my favorite local farm, I couldn't resist…..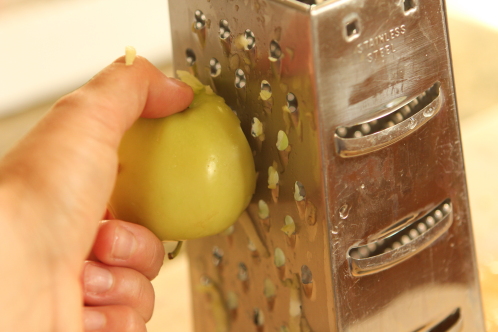 adding a little grated apple to the mix…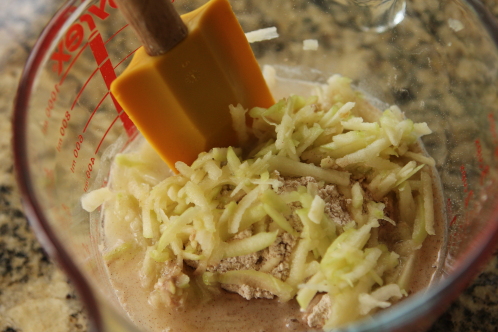 I used about 1 cup of apple to 2 cups of mix and added 1-1/2 cups of water. Stir together until combined, but the batter is still slightly lumpy.  Whether from a box or from scratch, don't over mix pancakes or waffles.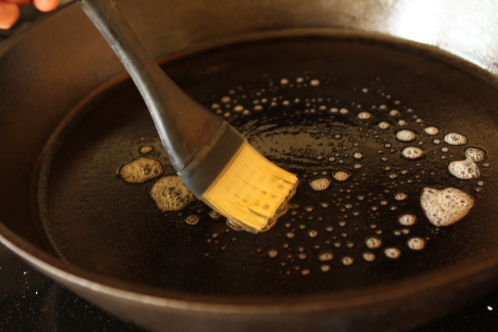 Heat a frying pan or griddle to medium heat and brush with butter.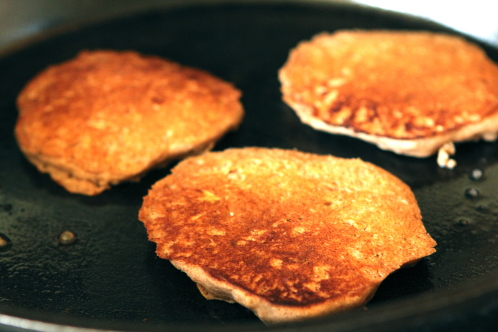 Cook until golden brown on both sides.  (Be careful not to have your pan too hot, or they will be doughy in the center.)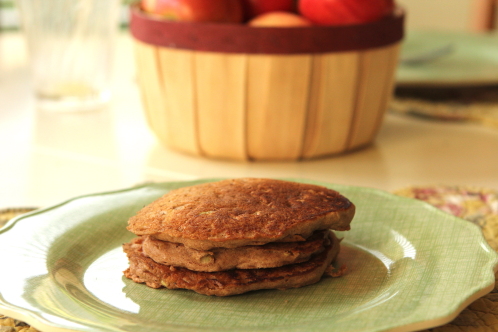 My family loves short stacks.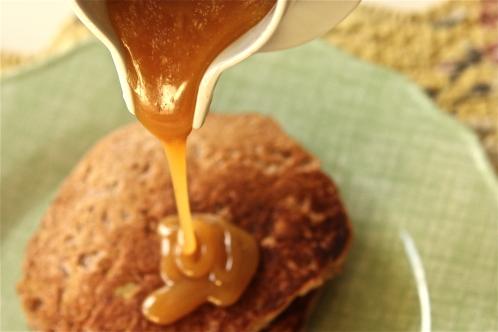 Do yourself a favor and serve your Cinnamon Apple Pancakes with homemade Buttermilk Syrup.  It's a match made in heaven. My kids said it tasted like eating carmel apples – one of our favorite fall traditions.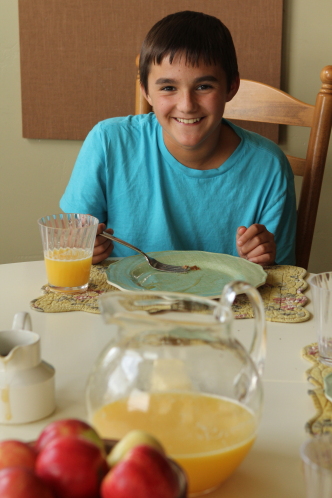 Ben made short work out of his stack.  And I even got a big smile from him… and a request for seconds.  This is high praise since he is my most discerning eater.  These are seriously yummy pancakes my friends… and a pleasant surprise to discover.
It takes a little effort to carve out time to enjoy a relaxing weekend breakfast with those you love.  But it is so worth it.
Here are a few tips to bring back breakfast on the weekend:
Plan ahead and put in on the schedule. Decide when and what what you like to serve.  Then be sure to have the ingredients on hand.  Or have key ingredients for several favorite meals in your pantry at all times.
Make it special. On weekdays we have meals like oatmeal, fruit with yogurt and granola, a smoothie, quick scrambled eggs with a bagel, or even cold cereal .  The weekends are for our favorite breakfasts… they may take a little more effort and aren't necessarily as healthy.
Involve your family. Let the kids take turns deciding on the meal and helping you to cook.  They will be more excited about it, with the added bonus that they are learning to cook too.
Make it a tradition.  One of the best things about traditions is they become a habit.  When we all look forward to it, it's easier to make it happen.

- – – – – – – – – – – – – – – – – – – – – – – – – – – – – – – – – – – -
Hungry Jack was also kind enough to include a wonderful giveaway for you today.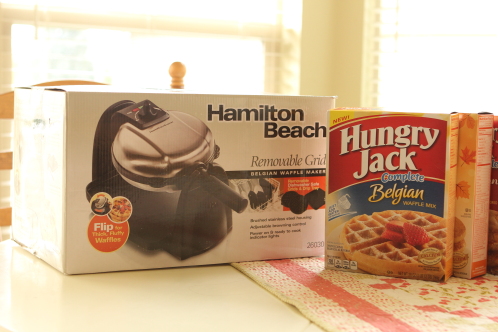 To enter to win a "Bring Back Breakfast this Weekend" Kit that includes new Hungry Jack products and one Hamilton Beach Belgian Waffle Maker leave a comment answering this question:
What is your favorite weekend breakfast food or tradition?
The Rules:
Contest closes on Monday 14, October 1, 2013 at 10:00 pm MDT
Only one comment per person please.
Random winners will be announced on Tuesday, October 15
Thank you to my friends at Hungry Jack for sponsoring this giveaway!   Be sure like Hungry Jack on Facebook where you can find recipes, promotions, and more.  You can find more recipes and promotions on the Hungry Jack website.
- – – – – – – – – – – – – – – – – – – – – – – – – – – – – – – – – – – -
This is a sponsored post written by me on behalf of Hungry Jack.  All opinions and ideas are my own.
92 Responses to "Bring Back Breakfast {Giveaway!}"