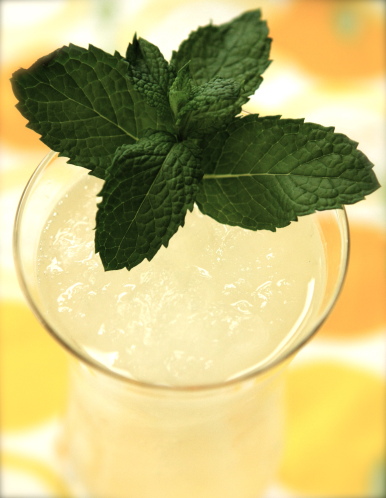 It's 100 degrees outside today.
I want to sit in the swing in the shade and drink lemonade.  And read a book.  And do nothing.
There is only one thing better than that idea.  It's sitting in the swing drinking Becky's Lovely Mint Lemonade Slush.
On a hot day, it is divine.
I might not get to do nothing… but I'll can still enjoy a cup of Becky's wonderful slush.
Becky is a very old friend of mine.  Once upon a time, when I was a teenager, I used to babysit for Becky.  And I idolized her.
She has a heart of gold and talent to spare. Her sense of style and decorating is amazing.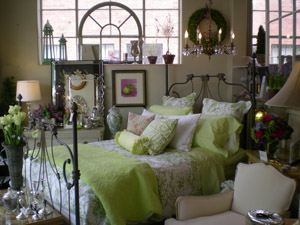 If you don't believe me, drop by her store, Details, located in Sugar House in Salt Lake City, Utah.  It is truly a feast for the eyes.
I called Becky the other day and asked if she would be willing to share her recipe.  I was so thrilled to hear how simple it was, I could hardly wait to make it.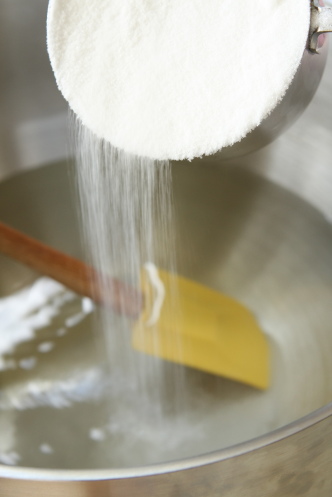 Bring 8 cups of water to a boil.  Remove from heat and stir in 3 cups of sugar.  Stir to dissolve.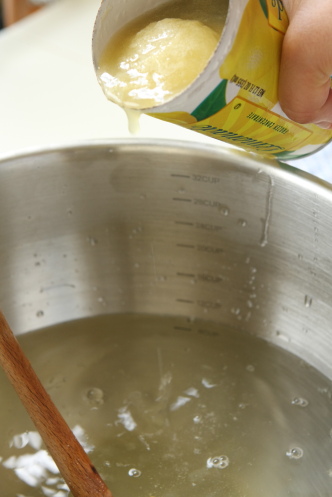 Add one 12 ounce can of frozen concentrated lemonade.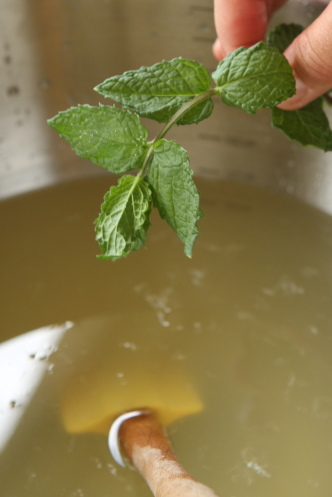 And six fresh sprigs of mint… right into the hot liquid.  The mint will steep like a tea and absorb the wonderful flavor.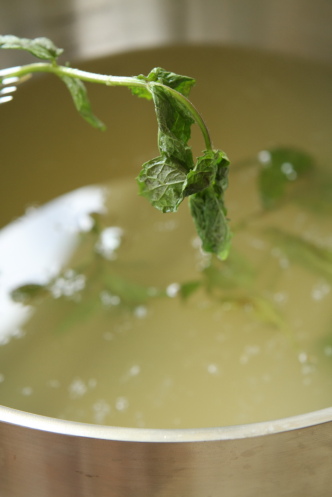 Once it's steeped and the mint has wilted, even turned a bit brown, remove it from the mixture.
Throw the mixture in a container and into the freezer overnight.  Becky highly recommends using a 1 gallon plastic ice cream bucket.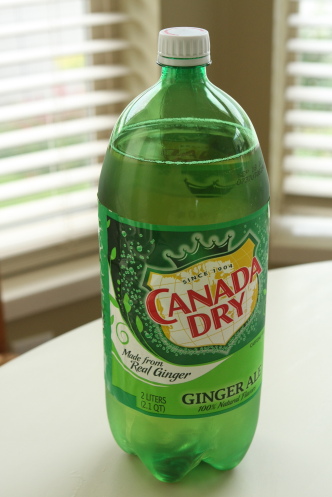 Remove from the freezer about an hour before serving.  Add a 2 liter bottle of Ginger Ale to the slush and serve.
It is truly lovely and refreshing.
The perfect refreshment in this sweltering heat.
Thanks, Becky!
Becky's Lovely Mint Lemonade Slush
8 cups of water
3 cups granulated sugar
1 – 12 oz. can frozen lemonade concentrate
6 sprigs of fresh mint
2 liter bottle of Ginger Ale
Bring water to a boil and remove from heat.  Stir in sugar until dissolved, making a simple syrup.  Add can of lemonade concentrate and sprigs of mint on the stem.  Allow to steep until mint becomes wilted and even slightly turning brown.  Remove the mint and place the lemonade mixture in the freezer overnight. Becky recommends using a plastic gallon ice cream bucket for the job.
Remove from the freezer about one hour before serving.  Mix with 2 liter bottle of Ginger Ale and serve.
Click over to Tasty Kitchen for the printable recipe.
Don't forget to enter to win a Gift Certificate to Silver Lime Hand Stamped Jewelry.
To be entered simply leave a comment in the Giveaway Post.
6 Responses to "Becky's Lovely Mint Lemonade Slush"