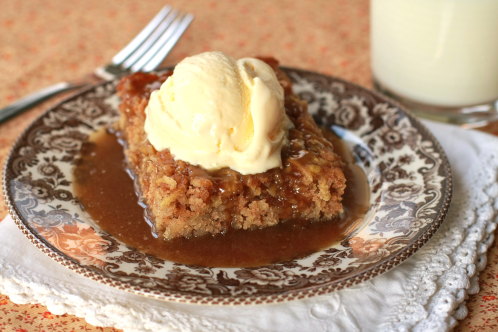 This time of year the days are crisp and cool just like apples being harvested here in Alpine.
Have you ever walked through an apple orchard in the fall?  I did last week.  It smelled like ripe apples.  The light was soft and the air was so peaceful, I thought this is what my heaven must be like.
This apple cake recipe is quick and easy and tastes just like the season.  The caramel sauce drizzled over the top takes it from good to great.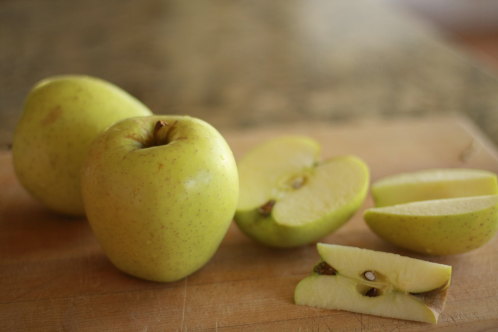 Start by coring 4 of your favorite apples- any variety suitable for baking.
Today I'm using golden delicious.  Golden Delicious were NOT my favorite apple for a long time.  I had only ever had mushy old ones from the grocery store.  But Rachel from S&R Fruit, my favorite local fruit farmers, talked me into trying one just picked from the tree, an me-oh-my, they went right to the top of my list- right along side with Honey Crisp.
There is no need to peel.  Yeah!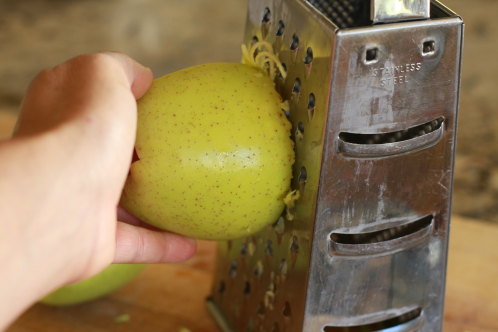 Grate the apples.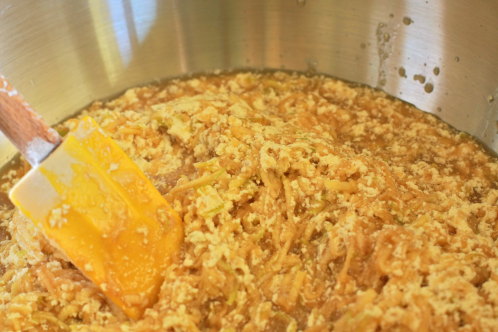 In a large mixing bowl with a hand mixer, or in a stand mixer, cream butter and sugar.  Add eggs one at a time.  Add in the apples.  When you add the apples, the mixture looks a bit curdled, but it's all good.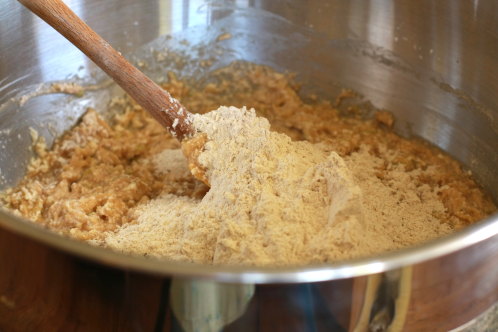 In a separate bowl, sift together the flour, soda, salt, cinnamon and nutmeg.
Add half the flour mixture and stir until just combined.  I do this part by hand to avoid over-mixing.  Add the second half of the flour and stir until just combined.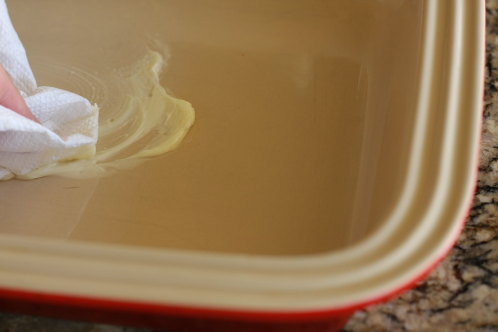 Grease a 9 x 13 pan.  More and more lately, I've been going old school and buttering or greasing my pans with a paper towel and butter or Crisco, rather than with cooking spray.  Grease which ever way you prefer.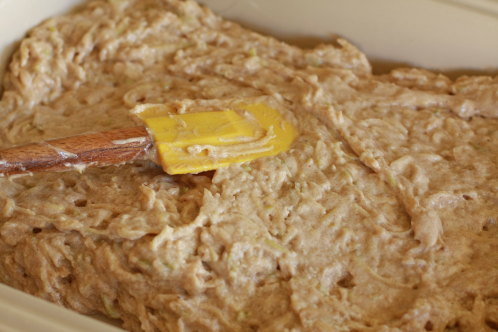 Spread the mixture out evenly in your pan and bake in a 350 degree oven for about 40 minutes, until a toothpick, inserted in the center, comes out clean.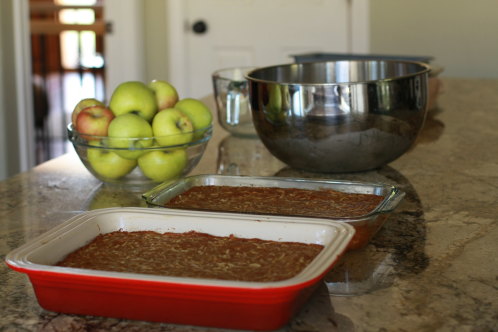 I love this cake best served warm… but room temperature works too.
But whatever you do, don't serve it without the caramel sauce….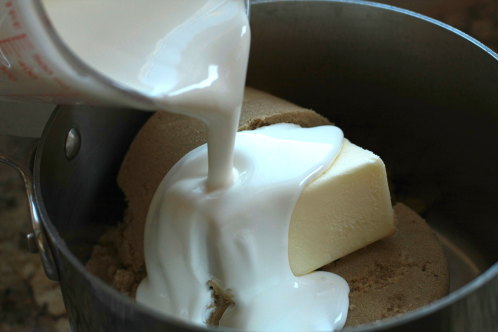 In a medium sauce pan add 1 cup of brown sugar, 1 stick of butter (1/2 cup), 1/2 cup of heavy cream, and a dash of salt.
Stir over medium heat until butter is melted, and the sugar is dissolved.
Remove from the heat and add vanilla.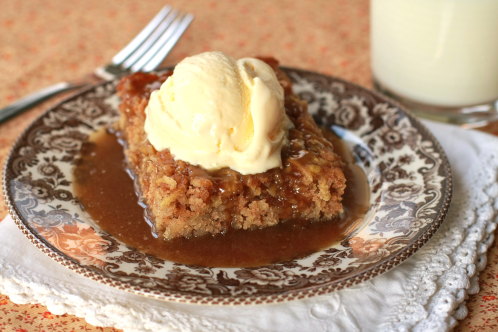 Pour over your cake and serve with whipped cream (my favorite) or vanilla ice cream (super good to0).
I hope you love this slice of autumn as much as I do.
I had caramel apple cake for breakfast today, and I don't feel one bit guilty about it.
Here is the recipe:
Apple Cake with Caramel Sauce

2 cups sugar 1/2 cup softened butter 2 eggs 4 large apples, cored and grated 2 cups all-purpose flour 1 teaspoon soda
1/2 teaspoon salt 2 teaspoons cinnamon 1 teaspoon nutmeg 1 cup chopped nuts (optional- I leave them out)
Cream together sugar and butter.  Add eggs one at time.  Add grated apples.  Sift together flour, soda, salt, cinnamon, and nutmeg.  Add in half of flour mixture stir in until incorporated, add second half and still until just mixed. (I stir in the flour by hand to avoid over-mixing.)
Pour into a greased 9 x 13 baking dish.  Bake at 350 degrees for 40 minutes or until cake tester comes out clean. (less if you bake convection)
_________________________________
For the caramel sauce: 1 cup brown sugar 1/2 cup butter 1/2 cup cream dash of salt 1- 1/2 teaspoons vanilla In a saucepan over medium heat, stirring constantly, heat sugar, butter, cream and salt until sugar is dissolved and butter is melted.  Remove from heat and add vanilla.  Serve warm over cake. Serve cake with whipped cream or vanilla ice cream.
7 Responses to "Apple Cake with Caramel Sauce"