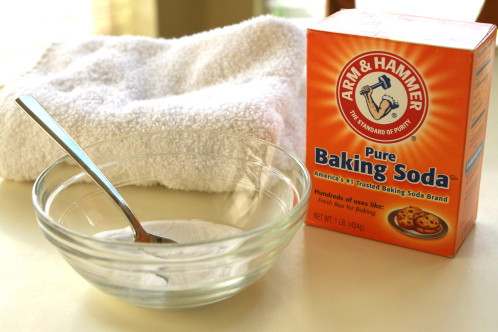 More today about Arm and Hammer Baking Soda as part of the Switch & Save Challenge.
My mom has often talked about her mother's kitchen in the 1950′s, how cheerful and sparkling clean it was.  She had yellow wallpaper with cherries and a big table where she would line up her canning jars to cool in late summer and fall.
Growing up, my mother's family never had a lot of money.  My mom was one of eight children, so being resourceful was essential.
My grandmother used baking soda as an all purpose product… from scrubbing sinks to brushing teeth and soothing bee stings.
I find it ironic that despite all the fancy products that have been created since the 50′s, I'm happiest using the same product my grandmother loved.
If any of my kids get a sting from a hornet, the first thing I do is mix up a thick paste using baking soda and a little cold water then pack it on the sting.  It provides almost immediate relief from the pain.
Baking soda still does an amazing job scrubbing a sink, or cleaning a dirty pan without scratching.  But, just like for my grandma, the low cost is also a big motivator in today's tough economy.
Since I use so much of it, I buy baking soda in a large bag from my favorite warehouse store.  It's a good bargain and very convenient.  You can also print great coupons at Arm and Hammer's website by clicking here.
*******************************************************************
This is a sponsored post for Church & Dwight Co., Inc, the maker of ARM & HAMMER branded products, who is compensating me to try different products. Save 50¢ off two 2lb or 4lb boxes of ARM & HAMMER® Baking Soda. And be sure to visit The Switch & Save Challenge to tap into more resources and enter to win $25,000.

4 Responses to "Using Arm and Hammer Baking Soda"