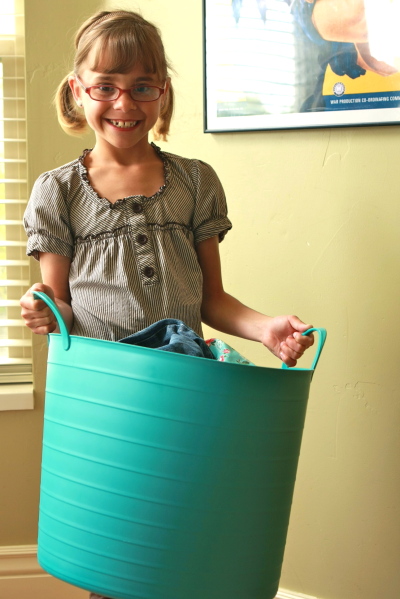 Today, as part of the Arm and Hammer Switch and Save Challenge series, I'm sharing some timely summer laundry tips and giving away a $25 Visa card courtesy of Arm and Hammer!
Is it just me or is summer the MOST challenging season for laundry?  Dirty clothes from camping trips, wet pool towels, grass stains, summer barbecues, and fruit Popsicle stains all wind up in huge piles in my laundry room.
To manage my laundry this summer, I've got a plan.   The kids make most of the messes, so they can be part of the solution.  My pep talk went something like this…  "We all want to have fun this summer.  The more messes we have to clean up, the less time we have for play!"
Then I laid down the rules:
If it's not dirty, it doesn't belong in the dirty clothes hamper.  My kids, well mostly my girls, love to wear something for a short time and then change.  If it still looks and smells clean, DON'T throw it in the laundry, fold it back up and put it away.
Things like swim suits and towels need to be used more than once. Suits can be rinsed out and dried on the line along with the towels… as long as they're relatively clean.
Clothes dropped in the laundry need to be right side out.  I know this is a shocker, but socks can be pulled off by the toe. Pants don't need to be in an inside-out wad.  It may seem like a little thing, but it saves me so much time when the clothes start out right.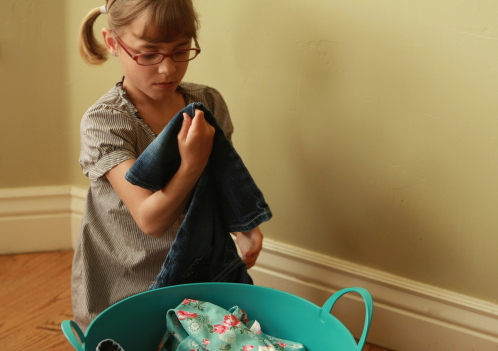 If the kids know their clothes have a stain, they need to put it in our stain bucket.  I've invested in a $5 flexible bucket from the garden section at Walmart.  This bucket is for

stained

clothing only.  I will try to check the bucket everyday since fresh stains are much easier to get out.  Another idea I've heard for marking stains is to have the kids clip a clothes pin to the stain.  The trick is finding what works for your family.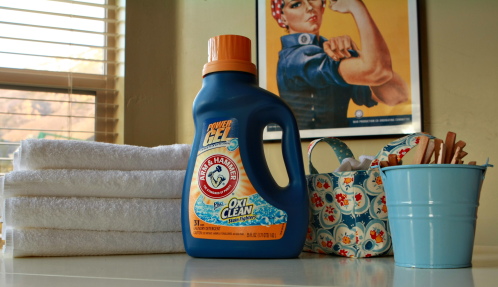 Since I know there will be stains we miss, a detergent that get stains out without pretreating is a real life saver.  Last week I reviewed Arm and Hammer plus Oxiclean Power Gel Laundry Detergent to wash stained clothes without pretreating.  It impressively took out almost every untreated stain I tested.  I've been using it for a month now and couldn't be happier with it's cleaning power.  I also love how affordable it is when you get coupons from Arm and Hammer.
Each day one of my kids is assigned (on their job chart) to gather the dirty laundry from the hampers and sort it to the proper laundry bin. I use a triple laundry sorter in my laundry room. This is a job my kids have done since they were very little.  Even preschoolers can sort laundry with some help, and it's a great job to learn decision making skills… "Is this a light or a dark?"
This is a difficult thing for me, but the kids need to put their own clean laundry away.  My kids seem to have a knack for shoving clean clothes into messy piles in their dresser drawers or putting clothes away in the wrong drawer.  Then I hear something like this…"Mom, MAAUM, I can't find my soccer shorts anywhere!"  Uh… that's because they're in your sock drawer.  It is a great idea to show your kids how to put their clothes away nicely…. and then chill out when it's not done right.
I know I have high hopes…. but with any luck, the laundry won't get the better of me or the kids this summer.
Now for a Giveaway!
Enter to Win a $25 Visa Gift Card
Just perfect for picking up some laundry supplies…. or better yet… use it for a fun summer activity.
To enter leave a comment answering either: "What is your biggest summer laundry problem?   OR leave your favorite laundry tip.  Oh, how I love good laundry tips!
The Rules:

Contest closes on Thursday, June 9th, 2011 10:00 MDT
Only one comment per person please.
Random winner will be announce on Friday, June 10th
Be sure to head over to the Arm and Hammer Switch and Save website and enter for a chance to win $25,000!  Oh my good gracious!  $25,000 would do a whole lot more than buy laundry supplies.
****** This is a sponsored post for Church & Dwight Co., Inc, the maker of ARM & HAMMER branded products, who is compensating me to try different products. Click here for a coupon to Save $1.00 on any 2 ARM & HAMMER Laundry Detergents.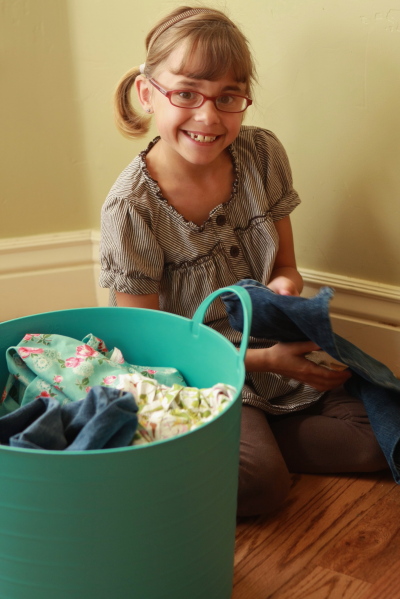 128 Responses to "Summer Kid Laundry Tips and a Giveaway!"