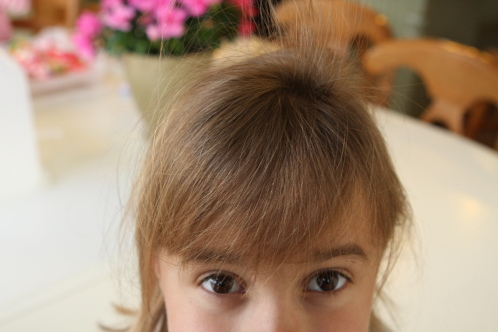 Last week when I saw Pioneer Woman at her book signing, she mentioned that she was having a tinsy static problem at that moment. Her shirt, she said, was completely stuck to her back.
"Shocking, simply shocking…"
Welcome to Utah, PW.  With our ultra dry air, static is a way of life here.  It's especially bad in the winter.
Do you have static problems in more humid climates?  I'm not sure.
Here's a few things I've found to combat the static invasion.
1/4 cup of white vinegar in my rinse cycle seems to be helping- and once my clothes are dry, there is no vinegary smell.  The vinegar also works wonders for keeping my clothing soft.
If I use my dryer, I don't dry the clothes 100%.  My dryer automatically stops when the clothes are slightly damp dry.  For some reason this seems to help.  I wish I knew why.
Clothes that have been dried on my drying rack have much less static, I'm sure the same science applies here.
My natural fiber clothing are less prone to static.  It's an incentive to buy 100% cotton or linen clothing.
When I do put on a skirt with a liner and a pair of stockings, and the liner sticks to my legs, a quick spray with WATER from a water bottle does the trick.  The static instantly disappears.  Yes, I did say water.  Isn't that amazing?  And free!
Applying body lotion really helps too.  On my body…. not the clothes, of course.
Static is a sticky problem and I hope a few of these tips help.
What do you do to combat static?

18 Responses to "Static Cling Tips"