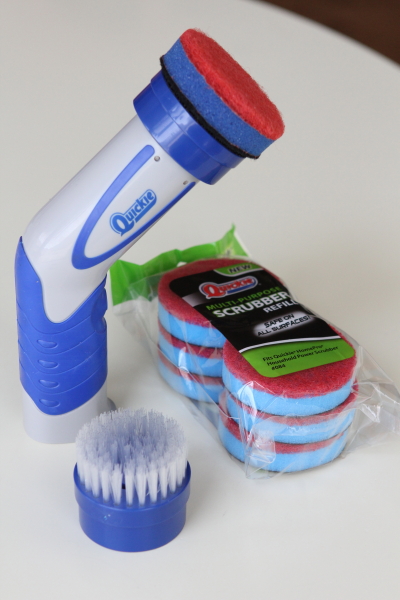 I love the opportunities I get from time to time to try out and review new products. Especially new cleaning products.
Recently, I received the Quickie Household Power Scrubber in the mail.
I opened it up and couldn't wait to give it a try.  It felt sturdy and well made.
But no sooner had I opened the package than my girls came in… "What's that Mom?"  "Can I try it?"
"Can I clean the sink?"
"What?  Can you clean the sink?  Uh, yes!"
Normally Saturday mornings are our cleaning day.  That's when we clean bathrooms, dust, mop, and make our home sparkling clean.
But the past two Saturdays have been crazy busy, we've been gone from morning 'til night.  So our bathrooms have only had quick wipe downs, not a good cleaning.  Clean away Emma!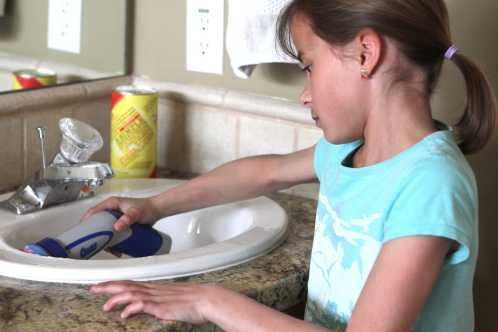 How nice is it to have your child want to clean?
Emma got right to work on my sink.  The Scrubber was easy enough to use, she didn't need any instruction.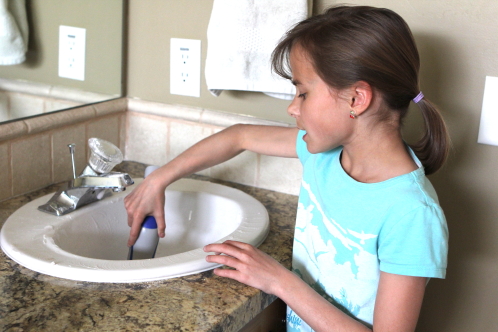 Emma loves to sing as she works.  I think she is singing "Ring of Fire."
She's a big Johnny Cash fan.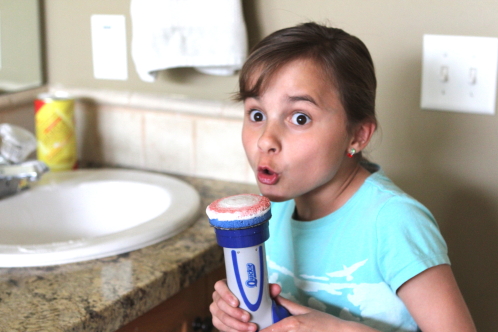 OK!  She is really getting into Johnny Cash…. and the Power Scrubber microphone!
According to Emma, the Quickie Household Power Scrubber makes cleaning "way fun!"
When turned on the Power Scrubber rotates in a powerful circular motion.
It comes with a Multi-Purpose Scrubber is like a sponge scrubber.  It is super easy to replace since it has a Velcro backing.
It's also easy to pop off the Scrubber and replace it with the brush cleaning head.
Another nice feature is that it's fully submersible.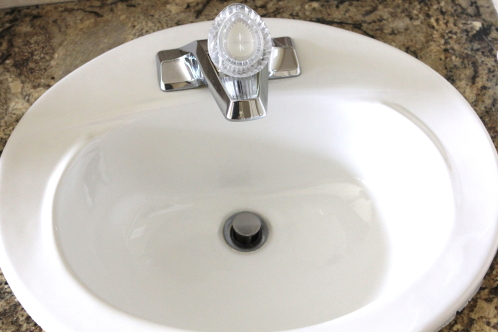 "I'm goin' to Jackson" notwithstanding, my sink was sparkling clean.
When my husband saw the Scrubber, he said he'd be happy to clean with it.  For some reason, he's happy to do any cleaning job if there's a power tool is involved.
I was talking about the power scrubber with a friend.  She has Crohn's disease and had struggled with her health.  Jobs like scrubbing the shower can really wear her out.  She loved the idea of the Power Scrubber to make those weekly cleaning jobs easier.
The Quickie Power Scrubber can be purchased here at Walmart online or in the store.
There's nothing like Spring to make me want to Power Scrub my whole house!
- – – – – – – – – – – – – – – – – – – – – – – – – – – – – – – – – – – -
This is a sponsored post by Quickie.  All opinions and ideas are my own.
4 Responses to "Quickie Household Power Scrubber Review"