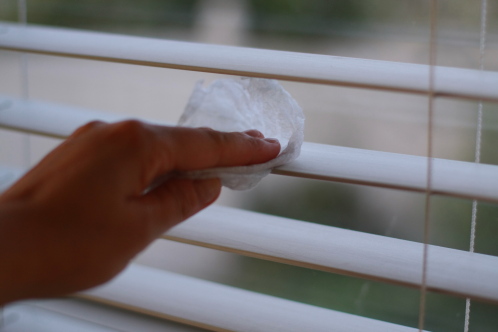 Today I'm sharing a great quick tip as part of the Arm & Hammer Switch & Save Challenge:
There are lots of jobs I like to do around my house.  I love to cook.  I enjoy folding laundry, dusting, and vacuuming.
But there is one job, maybe the only job, that I really hate…
and that's cleaning the blinds.
There is no great or easy way to clean them I'm convinced.  I've tried taking them down and putting them in a soapy tub.  I've scrubbed them out on the patio.  I've wiped each slat individually as they hang.
But whichever way I try, they are slow, tedious, and a big old pain in the rear.
That's why I lit up when a dear friend of mine, Amy from Diary of a Quilter gave me a good tip for cleaning blinds.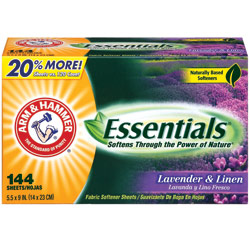 Dryer sheets.
A used dryer sheet to be exact.  They have antistatic properties so the dust clings to them.
She uses the dryer sheets to do a quick dusting job on her blinds periodically.  If you dust periodically, the dirt doesn't have a chance to build up, and they are easier to keep clean.  An ounce of prevention is worth a pound of cure.
As part of the Switch & Save Challenge the folks at Arm & Hammer are giving away another $25 Visa Gift Card here on Make it Do.
To enter, leave a comment on this post answering:
How often do you clean your blinds?  Once a week?  Once a month?  Once a year?  Or maybe never if you can help it?
The Rules:
Contest closes on Thursday, September 1, 2011 10:00 MDT
Only one comment per person please.
Random winner will be announced on Friday, September 2
Be sure to head over to the Arm and Hammer Switch and Save website and enter for a chance to win $25,000!
————————————————————————-
This is a sponsored post for Church & Dwight Co., Inc, the maker of ARM & HAMMER branded products, who is paying me to try different products. Save $1.00 on ARM & HAMMER Essentials Fabric Softener Sheets. Then head over to The Switch & Save Challenge to keep up with all of the bloggers and enter to win $25,000.

100 Responses to "Quick Tip for Cleaning Blinds and a $25 Visa Gift Card Giveaway"