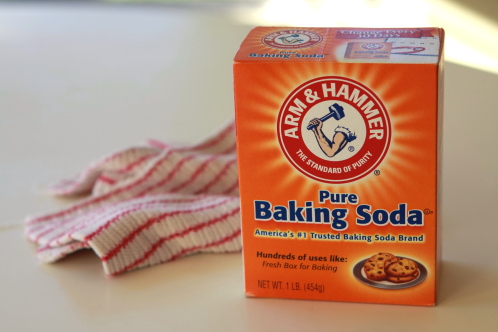 Where do I start when writing a review for Arm and Hammer Baking Soda?
There are no two ways about it, baking soda is my favorite product for cleaning my home.  It is the most versatile and hardworking of any product I've ever tried.
A quick look through my cleaning posts and you'll see what I mean… I use baking soda for everything from cleaning greasy pans to deodorizing carpets and laundry.
If you don't use baking soda for cleaning you may be wondering, with so many fancy cleaning products out there, why do I turn to baking soda again and again?
There are a few reasons.
The first is cost.  Baking soda, especially when purchased in bulk from a warehouse store, or with a coupon, is such a good value.  It certainly costs less than buying a lot of separate cleaners.
The second reason is the eco-friendly impact it has on my home.  I've been able to replace highly toxic products with baking soda- a product I also use in pancakes and cookies.  After I became a mom, I started worrying about the products I was using around my kids. I didn't want to "pollute" my home (and expose my family to toxic chemicals) in an attempt to clean.  So I started looking for safer solutions.  I tried different brands of environmentally friendly products, but cost was an issue.  Many of the "eco-friendly" products were too expensive to use on a regular basis, and some of them just didn't work all that well.
Which brings me to the last, and best reason I turn to baking soda most often.  It works.
It really works.
It takes the odor out of stinky clothes.
It cuts through greasy splatters on my barbecue grill.
It removes crayon from walls and pencil smudges from my cream painted kitchen table.
It'll scrub right through soap scum.
Basically it's a rockin' multipurpose cleaner… that really works.  And in the end that's why I love Arm and Hammer Baking Soda.
***********************************************************************
This is a sponsored post for Church & Dwight Co., Inc, the maker of ARM & HAMMER branded products, who is compensating me to try different products. Save 50¢ off two 2lb or 4lb boxes of ARM & HAMMER® Baking Soda. And be sure to visit The Switch & Save Challenge to tap into more resources and enter to win $25,000.

6 Responses to "Product Review: Arm & Hammer Baking Soda"