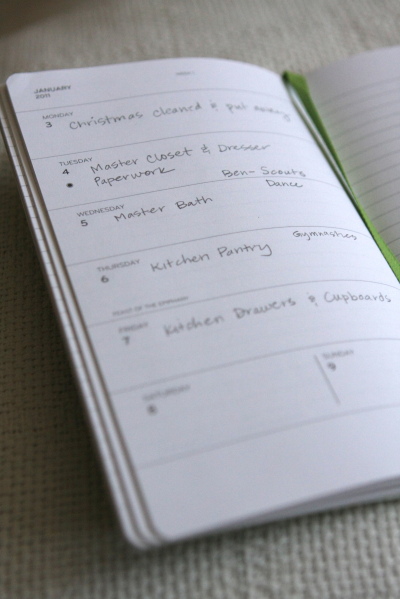 OK, I know I said I didn't make a long list of resolutions this year.  You know, those pesky, guilt-invoking resolutions that go by the wayside when life gets busy.
This year I simply decided on a few things that need to happen.  Just a few.  They aren't resolutions.  They are just things that NEED to happen… yahdah, yahdah… a rose by any other name?
First on my list is, I need to get in shape.  Is that on your list too?  Yes, I ate too much Bread Pudding, and CHOCOLATE and Spinach Dip over the holidays.  I'm feeling guilty…. and sluggish.   Now that it's January, I need to kick my rear end into shape!
But that's not the resolution thing that needs to happen that I want to talk about.
It's my home that needs help.  It's been a busy few months, and when I haven't been working, we've been having fun.  My home has been the bottom of my priority list and it shows.  It needs a serious, deep-down cleaning and organizing.
For me, spring cleaning never works out that well in the spring anyway.  I want to be out in the garden in the spring.  Cleaning in January just feels right.  It's darn cold outside, what better thing is there to do?  Plus all the organizers are on sale.
Today I've been making a cleaning schedule.  My messiest, highest priorities come first.  I've also got a few projects in mind to help my family keep things organized.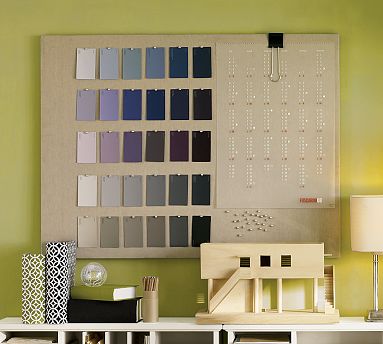 We need a big calendar that is accessible to all.  We also need a place to keep notes and reminders.  I love the look of this Linen Pin Board from Pottery Barn.  And my first thought was: "I can make that… and cheap."  I just need to work out the calender part of it.  It needs to be big and something I can write a lot of stuff on.  My creative wheels are turning and I can't wait to get it done.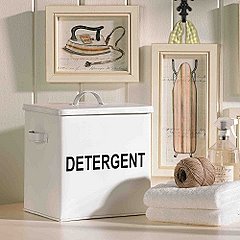 My next project is a detergent can for my Laundry Room.  I use the big box of detergent from Costco and it doesn't fit in my cupboard or under my counter.  I saw this tin long ago in my Ballard Design catalog and loved it.  What I didn't love was the price tag, so I never ordered it.  Even if I did want to splurge, they don't carry it any more.  That's OK it's also something I can make.  Char from Crap I've Made shows exactly how.  It would look great in my laundry room and be functional too.  With a price tag of less than $10, it's on my "To Do" list along with a few other fun projects for my laundry room.
I've also got some sewing projects for my home in mind… finishing my son's quilt, new pillows for the family room, a duvet cover, and maybe, just maybe bean bags for the kids.  I can't wait to hear the whir of my sewing machine!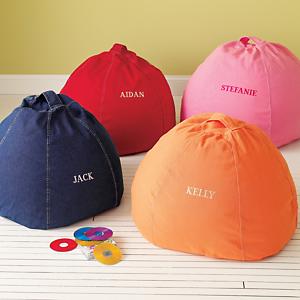 6 Responses to "One Little Resolution"