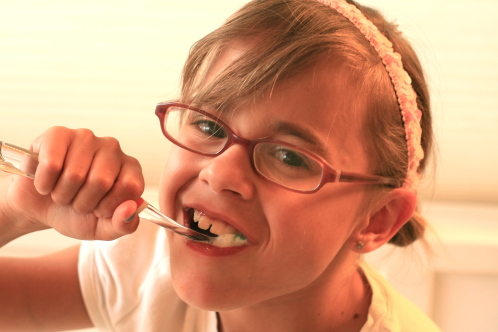 Today as part of the Arm & Hammer Switch & Save Challenge, I'm aiming to tackle my biggest bathroom pet peeves.
I'll give you a hint, it has to do with toothpaste.
My kids started brushing their teeth on their own several years ago. In other words, I stopped putting toothpaste on their toothbrushes morning and night.
While I was very happy to see them growing up and becoming more self sufficient, their new found independence came at a price.
Here and there little globs of toothpaste appeared in the sink, on the counter, on the floor, or mashed into the bathroom rug.  The toothbrush drawer held even more surprises. Most days the tube is shoved back in the drawer without its lid, left to dry out or makes a mess.
Have you ever cleaned dried on toothpaste?  Good times.
If your kids are as messy with toothpaste as mine, here are a few solutions for us both:
It's an old adage that you should clean up your own mess.  Why didn't I think of this sooner?  This past week, I've assigned one child each day (on their job chart) to wipe off the sink and counter each day. The spills are so much easier to clean when they are new.  I'm also hoping the kids will be more careful when they know they will have to clean up the mess.  To make their job easy, I've provided a stack of small towels under the counter.  (A tub of cleaning wipes would work great too.)
I'll spot check the bathroom and give the kids bonus points for keeping it clean.
New rule: the last person to brush needs to replace the lid and squeeze the toothpaste up to the top of the tube.
Have a stool in front of the sink for the little ones.  It's hard to spit in a sink that is at eye level.  My girls are 9, and are very petite, they still use the stool for brushing their teeth.
Another new rule: stay in the bathroom while you brush. This eliminates the occasional drops of toothpaste on the carpet down the hall.
One of the unexpected benefits of switching to Arm & Hammer Advance White Brilliant Sparkle Toothpaste is the ease of cleaning it up.  My kids had been using a blue gel toothpaste, the white is SO much easier to clean.  Maybe it doesn't show up as much in the white sink, or maybe it's the baking soda in the paste.  Either way, I'm happy with the change.  Bye, bye blue.
And now for another $25 Gift Card Giveaway from the Arm & Hammer Switch and Save Challenge.
To enter leave a comment on this post sharing how you would spend $25 dollars if you won it.
Contest closes on Thursday, August 4, 2011 10:00 MDT
Only one comment per person please.
Random winner will be announced on Friday, August 5th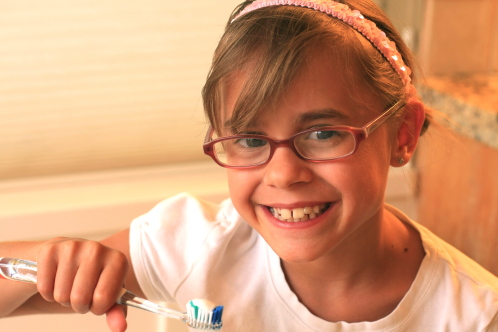 - – - – - – - – - – - – - – - – - – - – - – - – - – - – - – - – - – - – - – - – - – - – - – - -

This is a sponsored post for Church & Dwight Co., Inc, the maker of ARM & HAMMER branded products, who is paying me to try different products. Sign up for a free sample of Advance White Brilliant Sparkle Toothpaste. And then head over to The Switch & Save Challenge to keep up with all of the bloggers and enter to win $25,000.

58 Responses to "Messy Toothpaste and a $25 Gift Card Giveaway"