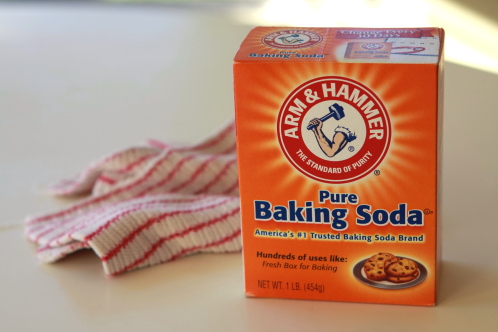 The Arm & Hammer Switch & Save Challenge is in full swing.  I have loved being part of the Switch & Save series, since making conscious choices to save has been a big part of my life over the last few years.
I've cut back and tried to simplify in lots of ways.  We are more deliberate about our purchases, less wasteful and we are MUCH more resourceful.
I feel happy….. even a little smug when I find a new inexpensive way for cleaning and taking care of my home.
Like when I used baking soda and vinegar to unclog a slow drain in my kids bathroom.  I used to turn to one of the most toxic products in the grocery store to do the job.  Baking soda and vinegar are simple, inexpensive and healthy and they worked like a charm on my drain.  The difference in toxicity is reason enough for me, but when you calculate the difference in cost savings, I was downright smug at my success.
In the end, these little changes have really added up.  It all means my pocket book, my home and my attitude are all a little healthier.
Now for another $25 Visa Card Giveaway courtesy of the Arm & Hammer Switch & Save Challenge.  To enter leave a comment on this post answering: "What little or BIG changes have you made lately that you are happy about?"
The Rules:
Contest closes on Thursday, July 7th, 2011 10:00 MDT
Only one comment per person please.
Random winner will be announced on Friday, July 8th
If you haven't already, be sure to check out the Arm & Hammer Switch & Save site and enter to win $25,000.
*********************************************
This is a sponsored post for Church & Dwight Co., Inc, the maker of ARM & HAMMER branded products, who is compensating me to try different products. Save 50¢ off two 2lb or 4lb boxes of ARM & HAMMER® Baking Soda. And be sure to visit The Switch & Save Challenge to tap into more resources and enter to win $25,000.

104 Responses to "Little Changes and a $25 Visa Gift Card Giveaway"