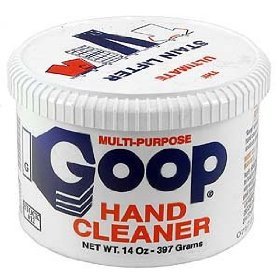 A few weeks ago, I ran a load of laundry.
When I went to switch the load to the dryer, I noticed pink on the clothes.  Then I found my daughter's empty lip gloss in the bottom of the washer.
Somehow I had missed the container in her pocket and now the entire load was covered in pink smudges.
I tried scrubbing the it all with Fels Naptha and even added the stain cycle to my washer, but they came out still covered in pink.
So I did some checking and saw that waterless hand cleaner might be a solution.
Oh ya!  I had bought a container of Goop
long ago to clean lipstick that had run through a load.
I opened the container and rubbed it into all the smudges and gave it a few hours to work before running the load through the washer again.
Much to my happiness, all the wash came out perfectly clean.
I was even happy to see on the container that Goop is biodegradable and non-toxic.
There are some great tips for laundry stains on their website found here.
I love sharing a good laundry tip.

9 Responses to "Lipgloss in the Laundry"