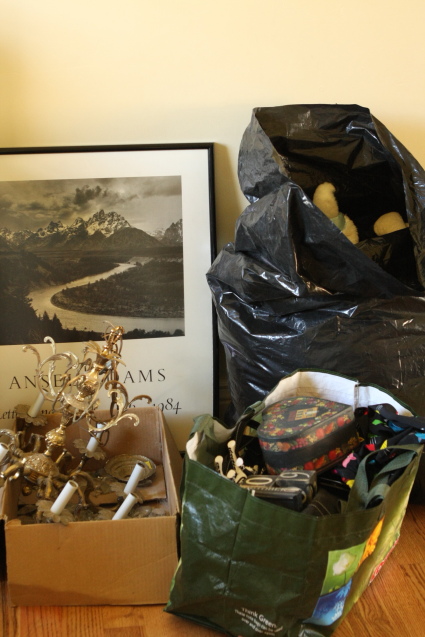 Vanessa over at V & Co. has a challenge going on…
Saturday morning my husband headed out the door help his dad move out of his office.  He's retiring after a long career.
It was just me and the kids at home for the day.  Vanessa's "Get the Crap Out of My House Challenge" had woken me up early with an idea.
I mustered the troops to roll call.  "Soldiers, I barked, "we've got a big job ahead."  "But I know you have the physical and mental toughness for it." "You've been well trained."
On Friday I had taken some of my fabrics down into my unfinished basement.  To get to where I keep my fabric in boxes, I needed to carve a path.  I tripped and think I nearly broke my little toe.  Seriously.
I still have boxes down there from when we moved over seven years ago.  They are also old toys, old clothes, papers, and the detritus from my many varied craft projects.  I like to think that creativity comes at a cost.  And that cost is a messy basement.  My kids don't help either.  They love to play down there on very hot afternoons.  There are so many old toys down there, that some of them, newly discovered, seem almost new again.  The floor was strewn with toys, dress ups, and their art projects.
Saturday morning, I woke up and knew that the time had come…  I needed to get that crap out of my house.
After a hard days work on Saturday, I am excited about a few things.
I can see vast amounts of my swept and clean basement floor.
My recycling and garbage cans are full to the brim.
I have a huge pile of nice things to donate.
Cherry Coke Zero and Johnny Cash are essential tools for heavy duty cleaning.
My kids know how to work.  This gives me such a warm feeling in my belly.
I've also realized one important fact.  The only thing that stood between me and my clean basement was inspiration and elbow grease.  And the end results feel so good, I'd like to keep going through the rest of my house.
Thanks Vanessa for the inspiration.  And thanks to my kids for the elbow grease.  It's a very liberating feeling to de-junk.
3 Responses to "Liberating"